"Please Change This" – Fans Pointing Out This "Blunder" In "Ponniyin Selvan" Poster !!
Written by Dhiwaharan Published on Jul 08, 2022 | 23:48 PM IST | 85
Follow Us
Comments: 0
As soon as one of the main posters of "Ponniyin Selvan" that had actor Jayam Ravi as "Ponniyin Selvan" released, fans, especially those who read the book, started flooding the comment section of the production house's post with their opinions. With many commenting on the casting choice and poster design, a number of online users pointed out that it is not "Arun" mozhi Varman but "Arul" mozhi Varman. They even comment on how Jayam Ravi should have posed for the first look.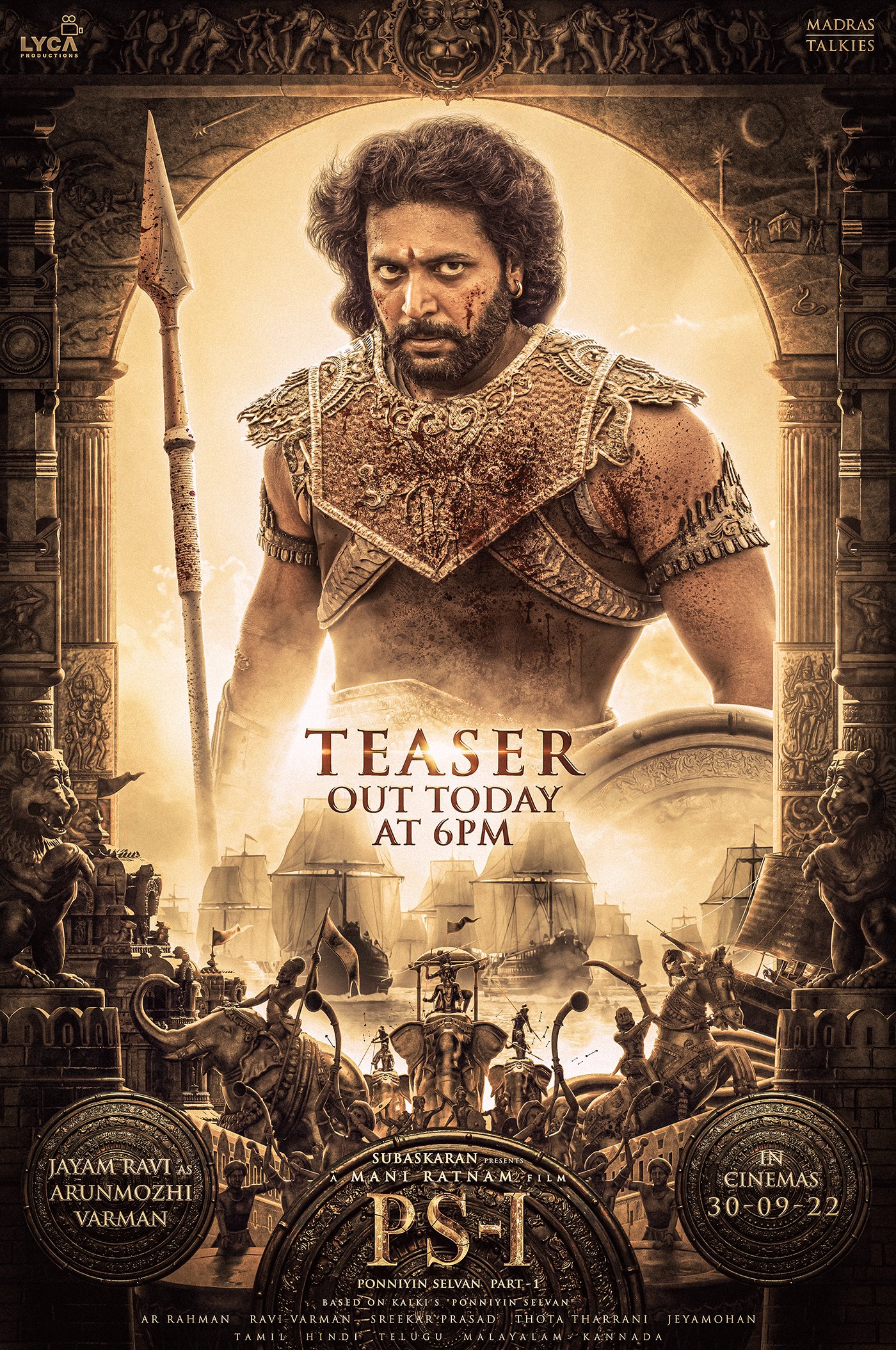 Makers of "Ponniyin Selvan" announced that the teaser of the film is going to be released on Friday evening 6 PM. For the past one week, posters of actors Karthi, Vikram, Aishwarya Rai, Trisha has been releasing and the main poster of the titular character got released hours before the teaser release.
"Hail the Visionary Prince, the Architect of the Golden Era, the Great Raja Rajaa Chola…introducing Ponniyin Selvan!" Lyca production wrote while sharing the poster and reconfirmed the teaser release timing.
Hail the Visionary Prince, the Architect of the Golden Era, the Great Raja Raja Chola…introducing Ponniyin Selvan! #PS1 TEASER OUT TODAY AT 6PM.@madrastalkies_ @LycaProductions #ManiRatnam @arrahman @Tipsofficial pic.twitter.com/pNukbhu0nY

— Lyca Productions (@LycaProductions) July 8, 2022
Based on the classic Tamil novel "Ponniyin Selvan" written by eminent writer Kalki, the film is expected to tell the story of prince Arulmozhi Varman, who later went on to be known as the great Raja Raja Chozhan. The film , first part of which will release on 30th of September this year, is expected to be released in five languages that includes Tamil, Telugu, Kannada, Hindi and Malayalam.
Coming back to the character name issue, after seeing the poster of the titular character released, an online user said "Ennadhu அருண்மொழி யா? 🙄 யோவ் அது அருள்மொழி 😓" whereas another one said "Aditha Karikalan ah Adithya karikalan ah mathiteenga….. Arulmozhi varman ah Arunmozhi nu mathiteenga🤦🏻🤦🏻🤦🏻"
Check out some of such opinions of the online users below :
Ennadhu அருண்மொழி யா? 🙄 யோவ் அது அருள்மொழி 😓😓

— வந்தியத்தேவன் 🏇 (@itzmeMagesh) July 8, 2022
Aditha Karikalan ah Adithya karikalan ah mathiteenga….. Arulmozhi varman ah Arunmozhi nu mathiteenga🤦🏻🤦🏻🤦🏻

— MSR (@Saravanaraj7) July 8, 2022
Arunmozhi varman ah🤧 adeii Arulmozhi varman da🤬

— 𝐆𝐨𝐰𝐭𝐡𝐚𝐦 𝐕𝐉⚡ (@Its_GowthamVJ) July 8, 2022
Pls fix the name, it is Arulmozhi Varman aka Rajaraja Chozhan aka Ponniyin Selvan,
The posters has Arunmozhi varman which is not correct, @Sowmi_here #ps1 #PonniyinSelvan

— CBShare💧✨ (@CBShare4) July 8, 2022
😭😭 Raja Raja Cholan character should be young – less than 20 yrs. Why such a matured look?
Name is #ArulmozhiVarman not ArunmozhiVarum.

— preethi (@pretvibrant) July 8, 2022
That really shouldn't have been the picture you should have chosen, you guyssssssss!!!

In the book, AMV is such a cutie-pie. He is adorable, kind, polite…yes, he was a fierce warrior but also a best friend and loving brother…come on, guys! https://t.co/optKmf5UP3

— masaladosaikaapi (@onechennaigirl) July 8, 2022
You had one job to not screw up the name . 🤦🏾‍♂️ https://t.co/5NVjoyegAy

— Blackagar Boltagon (@ProdigalFists) July 8, 2022
He's Arul Mozhi Varman.. not some Arun..! 🤦🏻‍♂️ https://t.co/gBt4bI9apL

— Shankar Narayanan (@Shankar_2494) July 8, 2022
#அருள்மொழிதேவன் (ர்) என்பதே சரி
அருண்மொழிவர்மன்னு எங்க கல்வெட்டு இருக்கு? https://t.co/JIDH4x9CCf pic.twitter.com/wydTVLd5Xp

— 𝘼𝙧𝙪𝙣 𝙈𝙪𝙠𝙞𝙡𝙖𝙣 𝘼𝙢𝙗𝙖𝙡𝙖𝙢 (@arun_mukilan) July 8, 2022
Man's playing the titular role and the team got his name wrong in the poster, he is arulmozhi varman fgs😭 https://t.co/9OMUSrIzae

— Anju💛 (@JuInAWonderland) July 8, 2022
Arulmozhi Varaman… can't you guys get the name of greatest tamizh king right? https://t.co/C08xjMO2S1

— ULTRACREPIDARIAN (@thengaai) July 8, 2022
https://t.co/qFt58CtExY சண்டய நிறுத்துங்க ப்ரண்ட்ஸ்

— SuperMan (@Nivas_thinks) July 8, 2022