Netizens Can't Keep Calm After Seeing This Object In Superstar's House!!
Written by Dhiwaharan Published on Oct 30, 2022 | 10:20 AM IST | 199
Follow Us
Comments: 0
Superstar Rajinikanth invited Rishab Shetty to his house to laud him after watching his recent flick "Kantara". Pictures of the Tamil superstar spending quality time with Rishab in his house were trending in social media platforms. On seeing them, a number of users noted the mosquito bats in his house and wondered that even Superstar has to use the bat in his house to get rid of the insects.
"Kantara" is a film originally released in Kannada language. Due to the popularity, the film, later got dubbed and released in other languages including Tamil. Distributed by SR Prabhu who distributed KGF 2 in Tamil nadu, the film garnered huge reception among the Tamil audience after actor Karthi watched it and promoted it.
The film's plot revolves around Shiva (played by Rishabh Shetty) and the beliefs of his village people about their God. With Kishore playing a pivotal role, Achyuth Kumar of KGF Chapter 2 fame played the role of the main antagonist. The way the film talked about the culture and rituals of a forest based village located in Karnataka, impressed people due to the engaging screenplay and action packed climax.
"The unknown is more than the known" no one could have said this better in cinema than @hombalefilms #KantaraMovie you gave me goosebumps @shetty_rishab Rishab hats off to you as a writer,director and actor.Congrats to the whole cast and crew of this masterpiece in indian cinema

— Rajinikanth (@rajinikanth) October 26, 2022
Apart from tweeting, the actor also invited Rishab Shetty to his house to appreciate him. In one of the pictures that were going viral, users noted the two mosquito bats in the Superstar actor's house.
Here's the photo :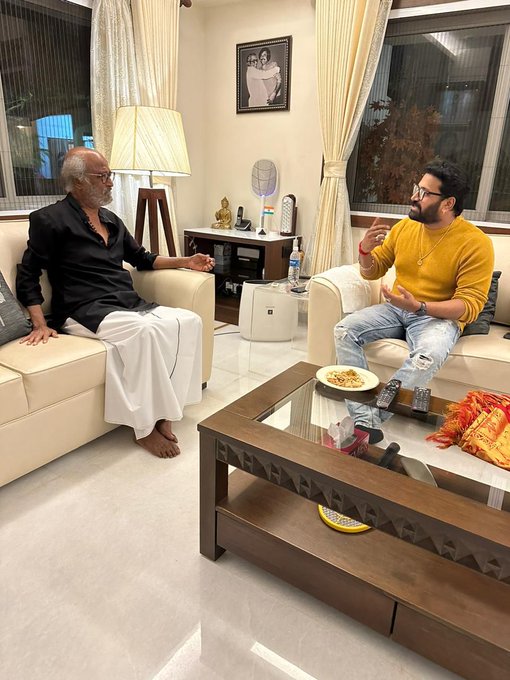 "Might be funny – but actually shows you some reality. Two mosquito bats in the pic. Even the posh poes garden is facing serious mosquito menace. Imagine the rest of the chennai city" said reviewer Prashant on seeing the photo whereas another one said "Happy to know that even the superstar uses a mosquito bat in his house. I thought this object was restricted to middle class homes"
Check out some of the reactions below :
Happy to know that even the superstar uses a mosquito bat in his house. I thought this object was restricted to middle class homes. pic.twitter.com/mpJ9G3GE9x

— Raisa Nasreen (@RaisaNasreen) October 28, 2022
Might be funny – but actually shows you some reality. Two mosquitoe bats in the pic. Even the posh poes garden is facing serious mosquito menace. Imagine the rest of the chennai city. https://t.co/dd2vuw5fHt

— Prashanth Rangaswamy (@itisprashanth) October 29, 2022
Happy to know that mosquitos fly at his home too. I thought it was a middle class thing..

— ks (@kplusyes) October 29, 2022
South Indian actors r down to earth I feel
All this international n elitist attitude, only B'wood has
Most of them don't know d difference between dhaniya ya kadi patta
Look at Indian things n go .." what is this" https://t.co/AVPaDYRO6y

— Shamika_ke_vichar 🖋️ (@Sakhi_0_Sakhi) October 29, 2022
Rajanikanth did not buy mosquito bat.

Mosquitos gifted it to him. https://t.co/3TDn7xW2Bm

— Ananda Sangeetam (@anuswaram) October 29, 2022
https://twitter.com/UgraVishnu/status/1586440662408658944?t=RNSwx_vv18hPFOgywjoihg&s=19