Phone Conversation Between Army Officer Tamizh Selvan & Actor Vijay Goes Viral !! Check Out !!
By Dhiwaharan
Tamizh Selvan is in the Indian Army. He hails from the Theni district in Tamil Nadu. It so happens that Tamil Selvan had come down to his native for holidays. Due to the tension existing between India and Pakistan in Kashmir, he is now called back for duty.
[wp_ad_camp_1]
The Pulwama attack increased the tension between Pakistan and India, and it further got escalated when Indian Air Force struck back. IAF bombed terror camps in Pakistan, according to reports. During the attack, one of the India Wing Commander Abinandhan was captured and later released by Pakistan.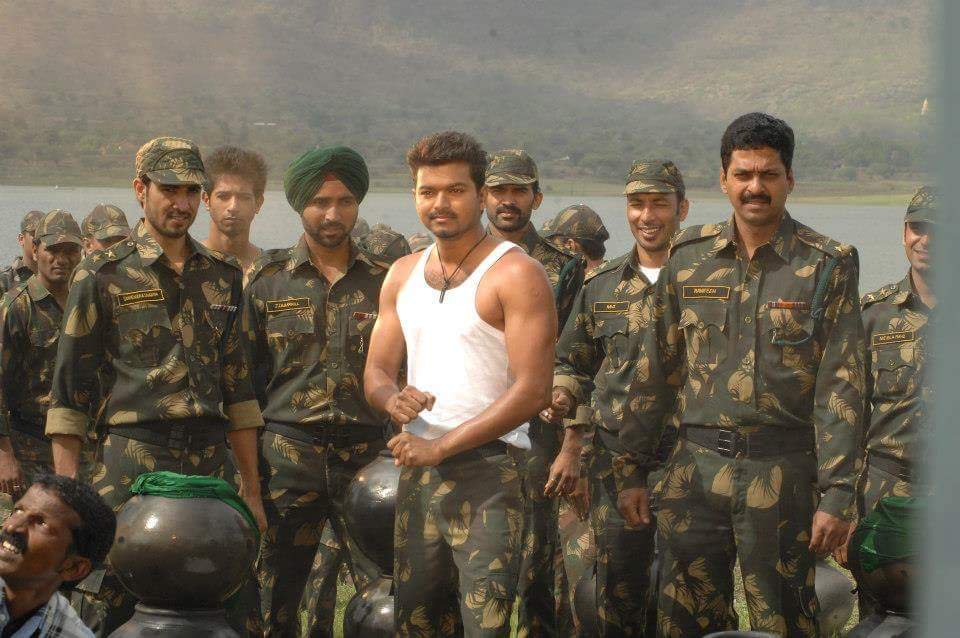 However, the tension between India and Pakistan is high and many army officers are called back to Kashmir to join the duty.
[wp_ad_camp_1]
Now an audio clip of actor Vijay talking to Tamizh Selvan goes viral in social media.
Source : Galatta 
In the audio it is heard Vijay asking Tamizh Selvan about his health. "They said that you are reaching Kashmir today for duty" asks Vijay to Tamizh Selvan who seems to be surprised by the call greets Vijay with "Vanakkam". "Don't worry, nothing wrong will happen to you. After finishing the duty, please come, let's meet" says the actor to which Tamizh Selvan says that he is waiting for a long time to see Vijay. Tamizh "thanks" Vijay multiple times before finishing the call where Vijay heard thanking him back.
Tamizhselvan is a ardent fan of actor Vijay since many days. Many fans have gone crazy over the audio clip and have circulated it on social media.
It's awesome feeling when hearing conversation between #Thalaivar #Vijay and Army officer but this kind of call recording and spreading out is not good for him

Then how Vijay will speak to others without frustration? Next time onwards he will think twice before call to anyone..

— Vijay Rules (@amtherockfan) March 1, 2019
#thalapathy vijay anna voice
Army officer…#loveyou so moch anna…🔥🔥❤💟❤💗❤💗❤💗💟❤💗💟💗 pic.twitter.com/onXCBpFOF3

— 😉 Jilla udhaya 😎✌ (@Kudhaya07250901) March 2, 2019
#Thalapathy ❤️
Very sweet gesture @actorvijay Anna
V R Proud To Be yr Fans

Thalapathy VIJAY's Phone Call to Army Officer Thamizh Selvan ❤️

I love you Thalaivaaaaaaaaaaaaaaaaaaaaaaa pic.twitter.com/VSYPLf9t1w

— MICHAEL VIJAY (@Michael90835876) March 1, 2019
Anna voice #ThalapathyVijay to Army officer Tamilselvan #fanmoment #support #vijay @BussyAnand @EcrPSaravanan @actorvijay @rameskhan1 pic.twitter.com/29e8FlJ0bc

— Maha💗vijay na uyir (@mahalakshmikvk) March 1, 2019
[wp_ad_camp_1]
#ThalapathyVijay encouraged an army officer #தமிழ்செல்வன் over the phone and promised to meet him once he s back from Kashmir. pic.twitter.com/3Q4wkRdP6l

— Joseph Vijay (@VTLTeam) February 28, 2019
Thalapathy Vijay Motivated An Army Officer Named #Tamizhselvan and informed him that he will meet him after his job is done at Kashmir..!
Tamilselvan wish is to take a pic with Thalapathy Vijay😍🔥
அடேய் ஆமைஸ் ஆர்மி ரசிகர்கள்னு சும்மா வடை சுட்டா பத்தாது இப்பிடி எதாவுது பண்ணனும்🔥 pic.twitter.com/oKlfBfOoRd

— Cʏʙᴏʀɢ ™ (@Cyborg_VJ) February 28, 2019
Thalapathy VIJAY's Phone Call to Army Officer Thamizh Selvan ❤️ @actorvijay @pcvijay630 @VijayFansTrends @KamalOfcl @Kutty_Nayan @AssaulttSethu @StalloneVJ @ramk8060 @gowthamvjfan @Vijaysm_Kerala @mangathadaww @ajithkumar_acto @Vijay63_Movie pic.twitter.com/Fd4b9gBS4x

— என்றும் தளபதிக்காக அமீர் (@sarkar_ameer) March 1, 2019
Vijay has earlier acted in the film called Thuppaki, which paid tribute to the army soldiers, who spend half of their lifetime at the border guarding the nation.
Vijay is currently busy with his film with Atlee, which has not been titled yet. The film has Nayanthara in the female lead role.