Peter Paul Died Due To This Reason ??
Written by Dhiwaharan Published on Apr 29, 2023 | 19:50 PM IST | 329
Follow Us
Comments: 0
The sudden demise of Peter Paul, who was married to veteran actress Vanitha Vijayakumar, has caused a stir on social media. It is reported that he passed away due to health reasons after being hospitalized for a heart attack a few days ago. Many celebrities are consoling to his death.
Vanitha Vijayakumar and Peter Paul's marriage in Chennai on June 27, 2020, became a controversy and made headlines. Peter, who was a visual effects director, met Vanitha when she approached him to narrate a script, and the two eventually fell in love. However, their union was not accepted by everyone, as it was Vanitha's third marriage and Peter Paul's second marriage. Peter's first wife, Elizabeth Helen, lodged a complaint with the police, alleging that he was not legally divorced, and their new marriage stood null and void. In an interview, Peter stated that he had entered wedlock with Vanitha and would marry her officially after getting a divorce.
Their marriage lasted only a few months, and Vanitha parted ways with Peter Paul in October 2020. It was reported that his drinking problem and misbehaving with her led to their separation. Peter Paul was allegedly an alcoholic and had even been to a rehab centre in the past.
The news of his death has reignited the controversy surrounding their marriage and relationship. Some people are blaming Peter Paul's drinking problem for his untimely demise, while others are consoling Vanitha Vijayakumar and her family during this difficult time.
The sudden death of Peter Paul has once again highlighted the importance of taking care of one's health and seeking help for any addiction problems. It is a reminder that addiction can have severe consequences and can cause harm not just to oneself but also to loved ones.
While announcing her break up with Peter Paul, Vanitha Vijayakumar confirmed that the former got addicted to alcohol and was not living with her now. She said that he has been absconding from her for the past three days and is consuming alcohol continuously. Recently, when Peter Paul had an heart attack, Vanitha Vijayakumar admitted him in a private hospital and took care of him. She managed all the medical expenses to save him from death and brought him back to home. After that, due to regular smoking habit, his health got worsened and got admitted to hospital again, says Vanitha Vijayakumar.
Doctors advised him to forget cigarette and Vanitha requested him the same. Vanitha planned for a trip to Goa to reduce the mental pressure the family is going through due to the media ruckus and reached there couple of weeks ago. At that time, Peter Paul consumed alcohol after hearing about his half brother's health illness. "When we were leaving Goa, I felt the heavy smell of alcohol and realized that he was drunk. I drove the car for 14 hours straight while he was sleeping in a drunken state. After reaching Chennai, he escaped when we were leaving from car to the apartment." she said.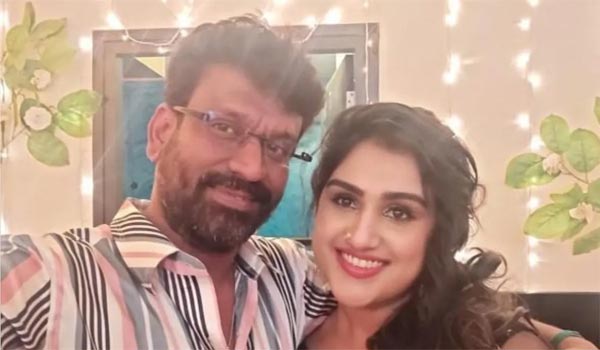 "From that on, for 1 week long, he has been drinking and smoking. He asked money to many people to buy alcohol but no one encouraged it. I found him in a drunken state with the help of my costumier. At that time, his brother who was ill, died. I advised him to avoid drinking alcohol as he has two families with four children. As his brother was died, he said that he wants to attend the funeral. I gave him some money and sent him. But he didn't go to the funeral. He used the money to consume alcohol and attended the funeral in an alcoholic state the next day." said Vanitha in that video. Also Read : Vanitha Vijayakumar Broke Up With Peter Paul !! 
Peter Paul's death has left many shocked and saddened. It is a reminder of the fragility of life and the importance of taking care of one's health. We extend our deepest condolences to his family and loved ones during this difficult time.