The popular "Grand pa" of "Grand pa Kitchen", Narayana Reddy is no more. Being India's favourite youtuber, Narayana Reddy, is known for making delicious meal and for providing it to the unprivileged children and orphans.
[wp_ad_camp_1]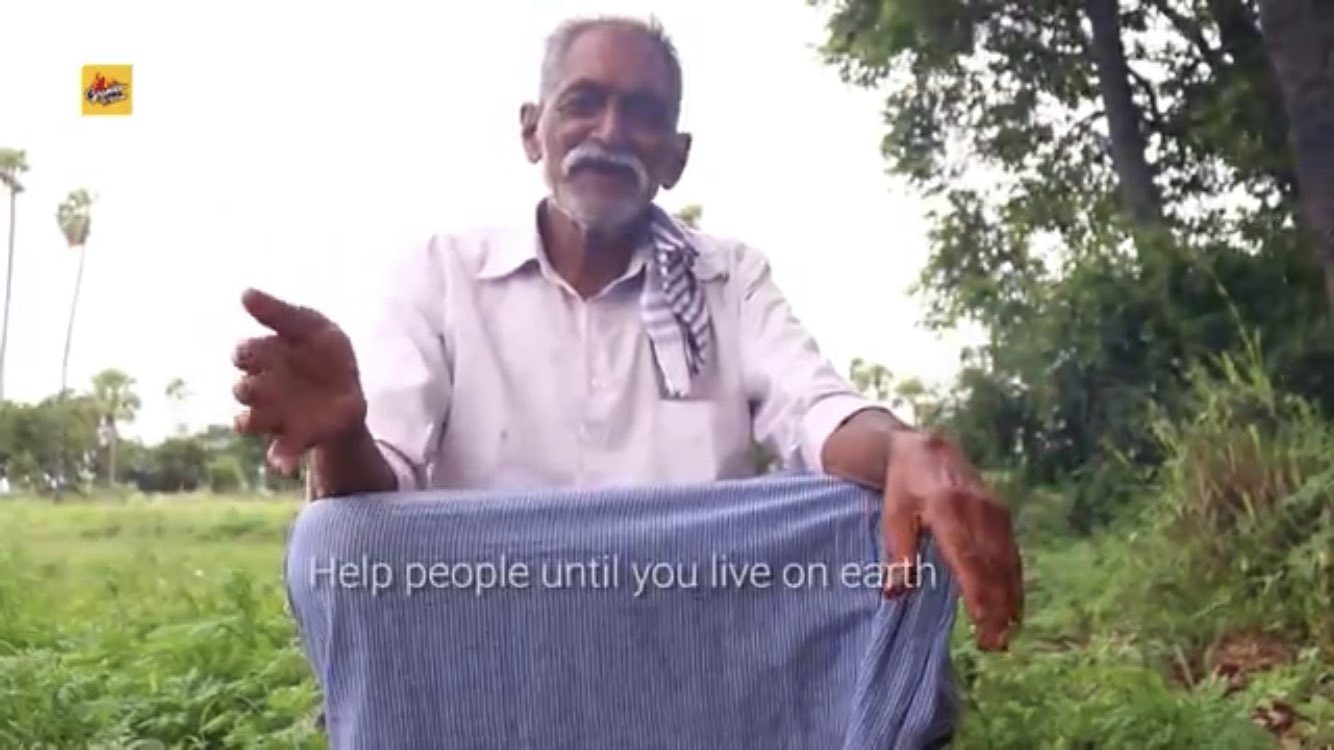 The 73-year-old had more than six million subscribers on YouTube. Grandpa would cook everything, from potato wedges to burgers to biryani for the younger lot. The news has shattered fans from India & abroad, as they take to Twitter to mourn his death. Reddy's iconic one-line, 'Loving, caring, sharing. This is my family," at the start of each of his video, will always be remembered.
Here's some of the tweets on the demise of "Grandpa" :
This made me cry. I was not expecting this. Grandpa you'll be always remembered.

Help people until you live on Earth.
-Grandpa An#grandpakitchen pic.twitter.com/QTgFQKlc69

— 𝓖𝓪𝓫𝓻𝓲𝓮𝓵𝓵𝓮 (@sunshaynnnn) October 31, 2019
Grandpa Kitchen is dead. I am so so sad . He was one of the best youtuber. He was so kind , so generous!
He is used to prepare large meals and share it with orphans. Rest in peace♥️. #GrandpaKitchen #grandpaskitchen pic.twitter.com/BQFW1Xci3E

— Bad Bitch✨ (@KheiraDye) October 31, 2019
[wp_ad_camp_1]
Omg. Huy seryoso?! 😭
I always love to watch his cooking vlog on yt. Now he's gone. Cooking will never be the same anymore without him saying the line
"Loving, caring, sharing. This is my family." 💔#GrandpaKitchen #RIP 🙁 https://t.co/k3ux4A36cg

— 𝓟𝓼𝔂𝓬𝓱𝓮 (@hannacabido) October 31, 2019
RIP Granpa 😢 I still love the way you pronounce Cooking ingredients, we will miss you #GrandpaKitchen pic.twitter.com/UCTVYLzjkF

— Noob 420 (@Rj54762678) October 31, 2019
good people always pass away !! RIP #GrandpaKitchen pic.twitter.com/ARKhQsU2Wb

— عذبه ➹ (@azibaaa) October 31, 2019
Just found out that grandpa from Grandpa's Kitchen YouTube channel has passed on. This man is a real hero, cooking to feed the less fortunate kids. Loved his videos.

I hope whatever he started is carried on by someone else. RIP grandpa Narayana Reddy, the world has lost a hero. pic.twitter.com/aYepGxBmRf

— Meeran Siva (@MeeransGTR) October 30, 2019
[wp_ad_camp_1]
Grandpa from Grandpa's kitchen is dead. He was the most wholesome man on all of youtube, making large meals which he shared with orphans in his community. Been following him for a long time, and I cant really put into words how painful this is for me.

Rest in Peace pic.twitter.com/ULgDPAUQD6

— Horrifying cheese (@YellowishCheese) October 30, 2019
Started in 2017, "Grandpa Kitchen" found viewers from all over the world who loved to watch Grandpa cook massive portions of meal in just one sitting. Often seen amid a calm backdrop of lush, green fields, his seemingly modest approach to cooking earned Grandpa great popularity on YouTube.
Watch this heart melting video from one of his follower :
LOVING SHARING CARING, This is my world #grandpakitchen Fav YouTuber 😭 Orphans gonna miss ur hospitality #RipGrandpa pic.twitter.com/bB51kMpC8W

— Mohan Golakoti (@gmks1010) October 30, 2019
'We entertain people by cooking food and donate the proceeds to charities. Our goal is to provide basic necessities like food, clothing, school supplies and birthday gifts to the orphans', the bio on Grandpa Kitchen's Patreon account read.
Let us pray for Grand pa's soul to rest in peace !!