A cricket Wold Cup advertisement by a Pakistani channel featuring a spoof using IAF Wing Commander Abhinandan Varthaman lookalike as a prop has not gone down well with the Twitterati back home, many of whom have termed the "mocking" act "cheap" and "shameful".
[wp_ad_camp_1]
Just ahead of the World Cup clash between India and Pakistan on Sunday at Old Trafford Cricket Ground in Manchester, a Jazz TV advertisement for its live coverage of the match has sparked controversy. The advertisement mocks the captivity of Indian Air Force pilot Abhinandan Varthaman in Pakistan.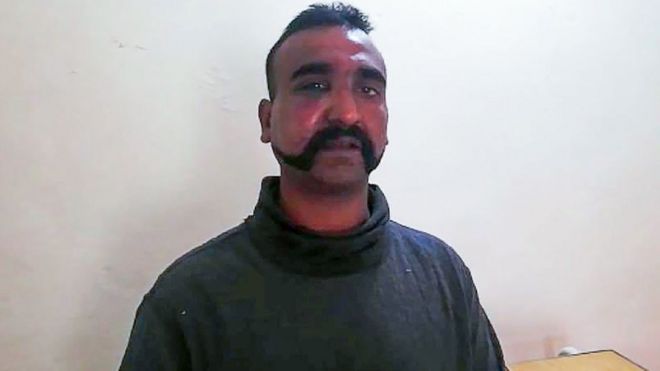 The advertisement features a man sporting a moustache similar to Varthaman in an Indian cricket team jersey having a cup of tea, which is just like the video released by Pakistan Army after he was captured.
Apart from bring in bad taste and mocking the sensitive issue of diplomatic tensions that had arose between the countries over the capture, the ad also has racist overtones as it shows Abhinandan's face blackened to show his dark complexion.
[wp_ad_camp_1]
This advertisement not at all impressed the people of India who started reacting to it in a furious way in Twitter. Many countered back by posting Abhinanthan showing middle finger and expressed their anger. Check out some of them here :
This is how Indians react to Pakistan ad… Shame shame Pakistan 🖕#Abhinandan pic.twitter.com/yANiSYaQgU

— V_s (@VSK21929617) June 11, 2019
Most Sickest people on the planet.
Just wait till the end of the tournament justice will be rightly served. #TeamIndia #IND 🇮🇳 #IndvsPak #Abhinandan
pic.twitter.com/IjPibwetVo

— ViGnEsH HaRi (@VignesHari1) June 11, 2019
Pic 1 : Made in India
Pic 2 : Made in China

(Side effects of chinese friendship 😂😂)#IndvsPak #FathersDay2019 #Abhinandan pic.twitter.com/fKdFellPj7

— Dharmvir Deshwal (@Dharam_PaG) June 11, 2019
Pic 1 – What India is going to have
Pic 2 – What Pakistan wanna get#Abhinandan pic.twitter.com/l9GD72kplP

— Epic Blogger (@kush_blog) June 11, 2019
Pic 1 – what india can do
Pic 2 – what Pakistan can do #Abhinandan #PKMKB pic.twitter.com/lrn244pnQw

— good boy (@sharma_harender) June 11, 2019
Pakistan Admits the only Cup they can win is this 'Tea Cup' #Abhinandan #MoukaMouka pic.twitter.com/rPvTfZS7hz

— praveen (@hellopravi) June 11, 2019
Cheap practice by #pakistan.
Mocking abhinandan for the ind vs pak match promotion…
Do not forget your record in world cup matches against #india 🤣🤣🤣#PakvsIndia #Abhinandan #CWC19 #IndiavsPak pic.twitter.com/qNsSDJrBKy

— cinebyte (@ranger1441) June 11, 2019
With lots of love from shahid #Abhinandan pic.twitter.com/Uei1OmJ5zd

— Polltracker+analyzer (@Invinci30111984) June 11, 2019
[wp_ad_camp_1]
Kohli and company to pakistan team on 16th.#Abhinandan pic.twitter.com/wQUtnSXokm

— Shikhar rai (@Shikhar41252136) June 11, 2019
So, Pakistan just wants tea cup 😂😂 #abhinandan

— Venki (@venki_babu_s) June 11, 2019
Thank God, we are not Pakistan or making an ad mocking 93000 Pakistani prisoners of war would be such a tedious task.

— Sonam Mahajan (@AsYouNotWish) June 11, 2019
Wing Commander Abhinandan Varthaman was captured on February 27 by Pakistani armed forces after his MIG-21 Bison crashed in Pakistan Occupied Kashmir (PoK). He had shot down a Pakistani F-16 jet which had intruded into Indian air space.
What do you think on this ad ?? Comment your views below !!