Pakistan Fans Triggered After Surya Kumar Yadav Did This !!
Written by Dhiwaharan Published on Aug 04, 2022 | 21:34 PM IST | 147
Follow Us
Comments: 0
After Surya Kumar Yadav climbed to the second spot in the ICC T 20 ranking for men's category, fans of team Pakistan started slamming the head of world cricket by linking it with BCCI. Surya surpassing Pakistan's wicketkeeper batsman Mohammad Rizwan is the reason behind the outrage that took place in social media.
Surya also closed in on the gap between him and No 1 in the ranking Babar Azam. Surya is currently sitting in number 2 spot with 816 points. Rizwan has slipped to the third spot with 794 points. Babar Azam is sitting at the top with 818 points.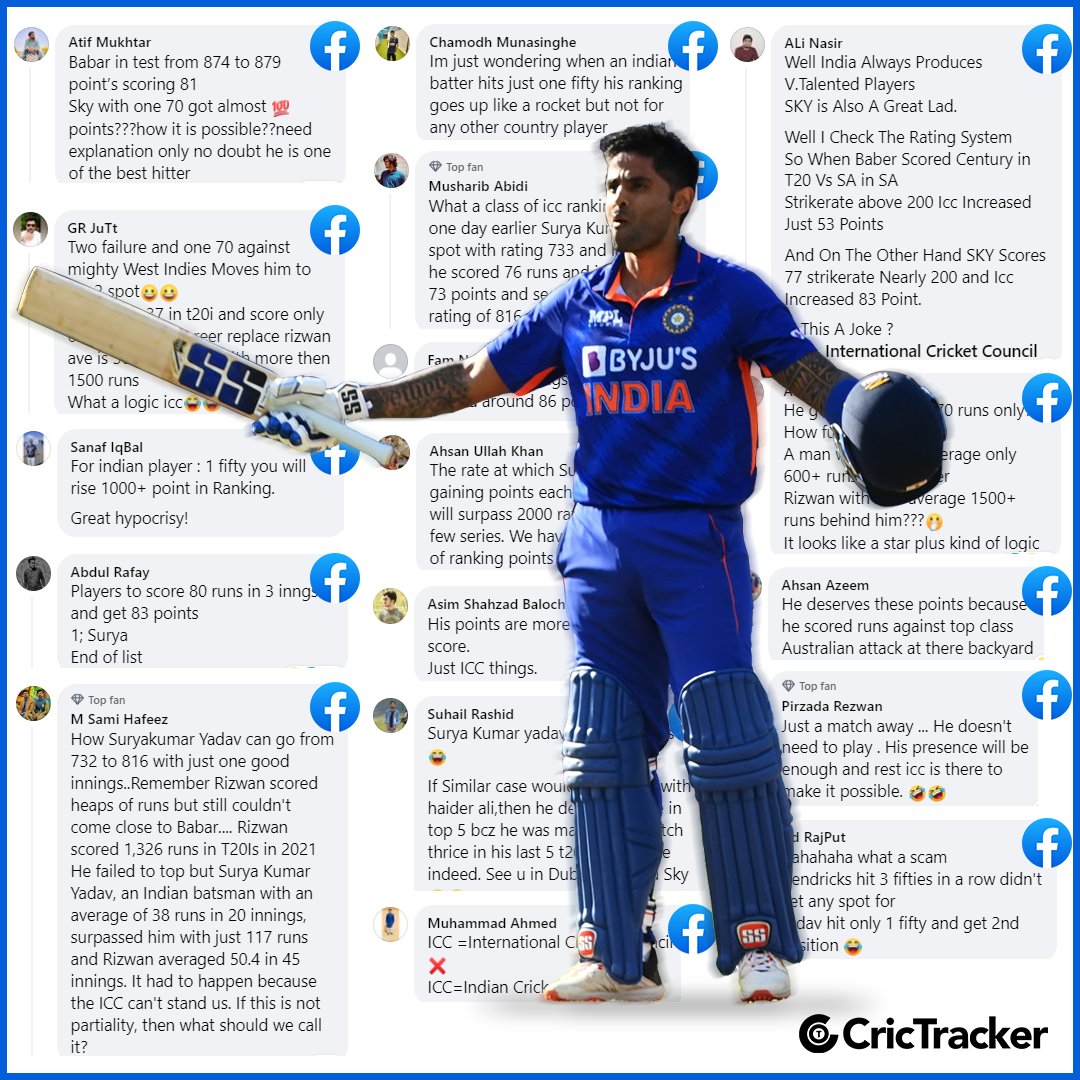 As known for everyone, it is a huge achievement for Surya kumar Yadav who made his international debut only at the start of last year and his rapid recent rise has come on the back of a century against England in Nottingha. And a stylish half century against West Indies on Tuesday.
It is also notable that the batter of Mumbai Indians has finished as the Player of the Match in the 3rd T20 vs West Indies at St Kitts, stroking 76 off 44 balls which included 8 fours and 4 sixes. In the five-match series against West Indies, Surya has been opening for India and the experiment worked out so well.
In the meantime, Pakistan fans got triggered as Surya replaced Rizwan in the rankings of ICC. Few blamed ICC saying that they are maintaining dual standards in putting in place these rankings.
The key argument from Pakistan players is, that it took Rizwan a long time to reach to the No 2 spot but Surya, who made his debut only last year, has been pushed you top 2 after he played only a few good innings in t20 format.
Check out some of their reactions below :
When they can't compete they cheat👻🤡#ICCRankings pic.twitter.com/i6aqBCHCXc

— Kamran Ashraf (@kamii9T) August 3, 2022
@ICC Shame Shame Shame
Always biased always.Indian players perform in merely 2,3 matches and they are on Top,while Pakistani despite performing whole year don't get much points#ICCRankings

— I V A R (@Mushi_oye5) August 3, 2022
Rizwan scored 1,326 in 2021 in T20I, he failed to top but an indian batter SK Yadav avgs 38 in 20 inns has overtaken him with just a 117 in a losing cause & 76.
Rizwan avgs 50.4 in 45 inns.
It had to happen as @ICC can't bear us at the top.
DUAL STANDARDS !!#ICCRankings pic.twitter.com/wLSdZiVGmw

— TALHA RASHID 🇵🇰❤ (@talharashid003) August 3, 2022
If you know..You Know..😂 pic.twitter.com/gmtB5pTWkP

— RVCJ Media (@RVCJ_FB) August 3, 2022
It took two years for Muhammad Rizwan to reach no2 nd position in ICC T20I rankings after non stop classical performances while Surya Kumar just took 2 series to reach no2 with an inching difference to dethrone Babar Azam from No1 position.

Wah ICC Wah……..

— Saeed Cricky🏏 (@SaeedCricky) August 3, 2022
Respect for Surya, but Rizwan made piles of runs in t20i but still wasn't able to comes this much close to babar, but sky avg 38 in 20 inns has overtaken him with just a 117 in a losing cause & 76. Rizwan had 50 avg in 45 ining. If this is no fvrtism then what should we call it? pic.twitter.com/ajPZJFRylB

— Zia Shehzad 🇵🇰✨ (@kircutexprt) August 3, 2022
Rizwan was the highest run-scorer in T20I's last year and he somehow manged to get the No.2 spot but Surya after failing in first 2 t20i's and played a good knock in the 3rd t20i has been handed over No.2 spot. one more good innings will see him overtaking Babar.

— Aesthetically Pleasing 🇵🇰❤️ (@orbitalistic) August 3, 2022
Surya kumar yadav ahead of rizwan nice joke, rizwan has 1000 runs in t20s last year SKY has not completed 1000 runs in his whole carrer how can he be ahead of rizwan??? pic.twitter.com/xgTJeggOWf

— Anees Qureshi (@itc_qurexhi) August 3, 2022
@ICC Will You Please Explain-

It took Rizwan a long time to reach No 2. But Surya, who made his debut only last year, has been pushed to top 2 after he played only a few good innings in T20Is.

I Know The Reason- It's Because He Is An Indian Player.#Unfair #ICCRanking

— Eastiak Ahmed Shoron (@eastiak_shoron) August 4, 2022