Padmapriya Of DMK Got Trolled For Her "Green Diwali" Campaign !!
Written by Dhiwaharan Published on Nov 03, 2021 | 19:03 PM IST | 37
Follow Us
Comments: 0
Environmentalist cum Politician Padma Priya who recently joined MK Stalin led DMK party after resigning from Kamal Haasan's Makkal Needhi Maiam, came up with a post in her official twitter handle, influencing her followers to celebrate Diwali by planting trees instead of bursting crackers. She said that the smoke emerges from crackers affects our lungs and also affects birds. Despite of her good intention, the youngest candidate of Tamil nadu assembly elections 2021 got trolled by the users of micro blogging social media site as she promoted a crackers shop during the Diwali festival of 2020 through her Instagram handle.
[wp_ad_camp_1]
Padma Priya, social media handle name of whom reads "Tamizhachi official", uploaded a video in her Twitter space on 2nd of November. The video shows Padma priya suggesting her followers to celebrate "Green Diwali" instead of bursting crackers. "If you invite me to celebrate Diwali with you, you should celebrate "Green Diwali". Do you know what we are investing for the crackers that gives us happiness for few seconds ? Our own life. 10-15 % of people are suffering with lungs diseases such as Aasthma, irritation, cancer etc due to the crackers. Not only us, even we are affecting birds through bursting crackers for Diwali" Tamizh selvi said in her video and appreciated a village named Koonthangulam that is located near Thirunelveli for not celebrating "Diwali" for the past 30 years.
"Why we who feel for elephants that are dying due to traps, forgot to pity for animals such as dogs, cows and other animals which would get injured due to the crackers. We can celebrate Green Diwali if we think it is possible. If you are living in Chennai and have space in your area or house, no problem. We will be receiving plant samples from Ex No Ra, we youngsters are going to volunteer to plant the trees" she says in the video.
Watch the video below :
வாங்க #GreenDiwali கொண்டாடலாம் 🪔#ExNoRa #VidhaiVidhaipom @PariSenthur #NammaChennai #Diwali2021 #Diwali #TamilNadu pic.twitter.com/SYTU5EAAAS

— Padma Priya (@Tamizhachi_Offl) November 2, 2021
[wp_ad_camp_1]
In the comment section, many of the twitter users trolled her uploading the screen shot of the story she uploaded last year. In the story, Padmapriya promoted a crackers shop from Sivakasi. "I ordered my crackers from Sivakasi handmade crackers to ensure that every penny I pay should be worth buying" she said in her story.
Check out the screen shot of her story which was uploaded last year below :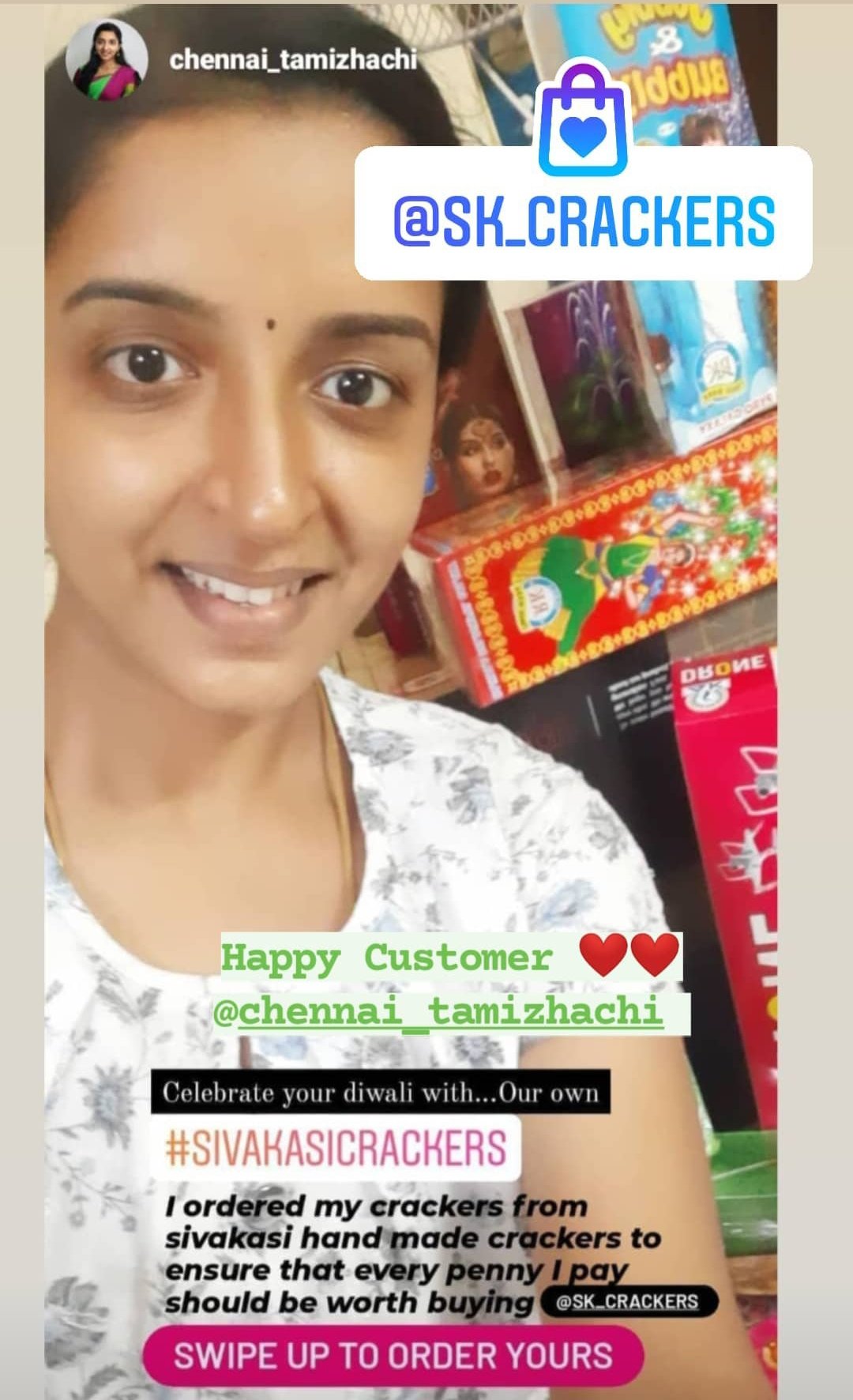 Check out some of the reactions for her recent video :
இது இன்னா யோக்கோவ் pic.twitter.com/o6A7hEHvt4

— என்றும் 🤘 ரஜினி 🤘அண்ணாத்த 🔥 (@rkmmdu2021) November 2, 2021
ஏன் போன வருஷம்பட்டாசு வெடித்த போது lungs லான் பாதிக்காதா இந்த வருஷம் ஓசில யாரும் பட்டாசு கொடுக்கல போல pic.twitter.com/KEKZvdYiT2

— RAJA (@srajaa) November 3, 2021
என்ன சிம்ரன் இதெல்லாம் ? pic.twitter.com/NLQDwHQGVy

— Swami Chandraandha 🖐️ (@chandraleoroyal) November 3, 2021
அது சரி,வெறும் தீபாவளிக்கு மட்டுமா பட்டாசு வெடிக்கிறாங்க? புத்தாண்டுக்கு,யாராவது இறந்து போனா,தேர்தல்ல ஜெயிச்சிசா,இப்படி பல நாள் வெடிப்பாங்க.

அது போக,தீபாவளி அன்னைக்கு வெடிச்சா மட்டும் தான் காச நோய் வருமா?எந்த அறிவு ஜீவி அப்படி சொன்னது?

எதுவும் தெரியாம எதையாவது உருட்ட வேண்டியது

— RaviKumar V 🇮🇳 (@raaga31280) November 2, 2021
உங்க அறிவுரை கூந்தலை நீங்களே வச்சிக்கோங்க.. pic.twitter.com/idH0C4SdyI

— ராமன் தமிழ் இந்து 🇮🇳🇮🇳 (@RamS7557) November 2, 2021
[wp_ad_camp_1]
போன வருஷம் பட்டாசுக்கு இன்ஸ்டாகிராமில் ப்ரொமோட் பண்ணிவிட்டு இந்த வருஷம் க்ரீன் தீபாவளின்னு கதை அளக்குது இந்த உபி pic.twitter.com/ONk7rDiJ09

— திராவிட மாயை (@PearlGod108) November 3, 2021
Here's how Padma priya replied to the comments surfaced in her post :
November 2, 2021