"Ovvoru Pookalume" Fame Comagan Passed Away !! Cheran Left Devastated
Written by Dhiwaharan Published on May 06, 2021 | 12:24 PM IST | 98
Follow Us
Comments: 0
Popular singer and music composer MJC Comagan who rose to fame among Tamil film audience by appearing in the most famous "Ovvoru Pookalumey" song from Cheran's "Autograph", died on Thursday due to COVID 19 virus. The visually impaired singer who founded "Raaga Priya" orchestra was 48 and survived by his wife and two children. The demise of the rare talent left the fans of Tamil cinema devastated. Along with many, Director Cheran who casted him in his blockbuster film "Autograph", uploaded a tweet expressing his grief.
[wp_ad_camp_1]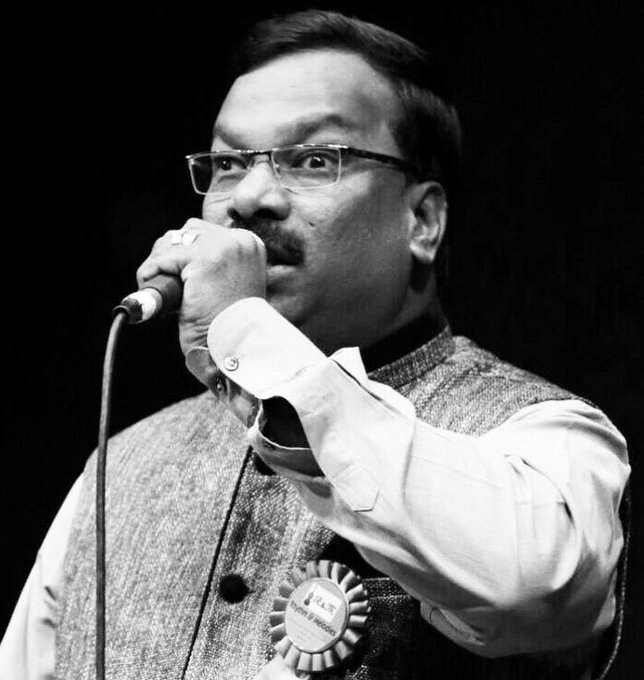 Comagan was running a music troupe named "Comaganin Raaga Priya". He also acted in a number of Tamil films, notably "Kannukulle" and "Sura" of Vijay. He also composed music for a Tamil film named "Muthal Muthalai" which became the first Tamil film music of which entirely composed by a visually impaired individual.
"No words. A man who had confidence in his mind and voice. He acted as an eye to the 25 families which worked for his troupe. My heart broke into pieces after hearing about this news at the morning. May his soul rest in peace" Cheran wrote in his tweet to express his emotions on Comagan's demise.
"வார்த்தைகள் இல்லை… மனதிலும் குரலிலும் முழுக்க தன்னம்பிக்கை கொண்ட மனிதர்… அவருடைய குழுவில் உள்ள 25 குடும்பங்களுக்கு கண்களாக விளங்கியவர்.. காலையில் எழுந்ததும் கேள்விப்பட்ட இந்த செய்தி நெஞ்சை நொறுக்கியது.. கோமகனின் ஆன்மா அமைதி கொள்ளட்டும்.." tweet of the filmmaker read.
வார்த்தைகள் இல்லை… மனதிலும் குரலிலும் முழுக்க தன்னம்பிக்கை கொண்ட மனிதர்… அவருடைய குழுவில் உள்ள 25 குடும்பங்களுக்கு கண்களாக விளங்கியவர்.. காலையில் எழுந்ததும் கேள்விப்பட்ட இந்த செய்தி நெஞ்சை நொறுக்கியது..
கோமகனின் ஆன்மா அமைதி கொள்ளட்டும்.. pic.twitter.com/UrF3xebRO3

— Cheran (@directorcheran) May 6, 2021
[wp_ad_camp_1]
Many other fans and celebrities paid their last respect to the singer by uploading tweets.
Singer Comagan Passed Away…RIP pic.twitter.com/fOKU24cT6w

— Manobala (@manobalam) May 6, 2021
Popular singer Comagan who also did a small role in 'Sura' passed away today morning

May his soul rest in peace 😔 pic.twitter.com/s8HWH3PQYT

— Vijay Fans Trends ᵂᵉᵃʳ ᵃ ᴹᵃˢᵏ 😷 (@VijayFansTrends) May 6, 2021
Ovvoru Pookkalume Song Fame Singer Comagan passed away .!💔🥺 May his soul Rest in Peace 🙏 #RIPComagan pic.twitter.com/ks0yFUA1F4

— Online Vijay FC (@OnlineVijayFC) May 6, 2021
Without sight, but never without confidence. Autograph's Ovvoru Pookalume identified (to us) Comagan & his blind orchestra – Comaganin Raagapriya. May he rest in peace 💔

In memory.. @directorcheran on how Comagan seeded the visual interpretation for OP:https://t.co/uETxaqxuiE pic.twitter.com/AnxM3qx5gB

— Rebecca Shamasundari (@RShamasundariS) May 6, 2021
Our deepest condolences to the family of 'Autograph' fame singer, Comagan sir. May strength comfort you during this difficult time of grief. #autographmovie #comagan #ripcomagan pic.twitter.com/WcrOy0J2aM

— Social Culprits (@SCulprits) May 6, 2021
[wp_ad_camp_1]
Shocked to hear the demise of Mr.Comagan from Ovvoru pookkalume song. RIP sir. #comagan pic.twitter.com/KiHxU5P33R

— Ram P (@draga3d) May 6, 2021
Comagan's troupe "Raaga Priya" was started in the year 1991 with 9 members and grew into a member 25 member orchestra. The made it to the Limca book to World records after performing 16 hours non-stop with 183 songs in 1999. The troupe has performed over 3000 light music shows and for fundraising events. In 2006, the troupe received Tamil nadu state award.
Comagan was hospitalised 12 days ago and passed away at 1 : 00 am of Thursday, , according to a family member. Prior getting infected, Comagan was actively conducting online classes on vocal and instruments. Let us pray for the soul of the singer to rest in peace !!