Ever since acting as "Kannapiran" in "Karnan", actor/cinematographer Nataraj who is popularly known as "Natti", has been receiving comments from fans, regarding the role he played in the Dhanush-starrer. Recently, the actor uploaded a picture of himself getting his first shot of vaccine and suggested his followers to do the same in order to prevent the spread of the virus. Now, on seeing the enormous number of comments about the character he played in the film, Natti uploaded a tweet asking fans to comment through their original accounts instead of posting abusive tweets from fake twitter handles.
[wp_ad_camp_1]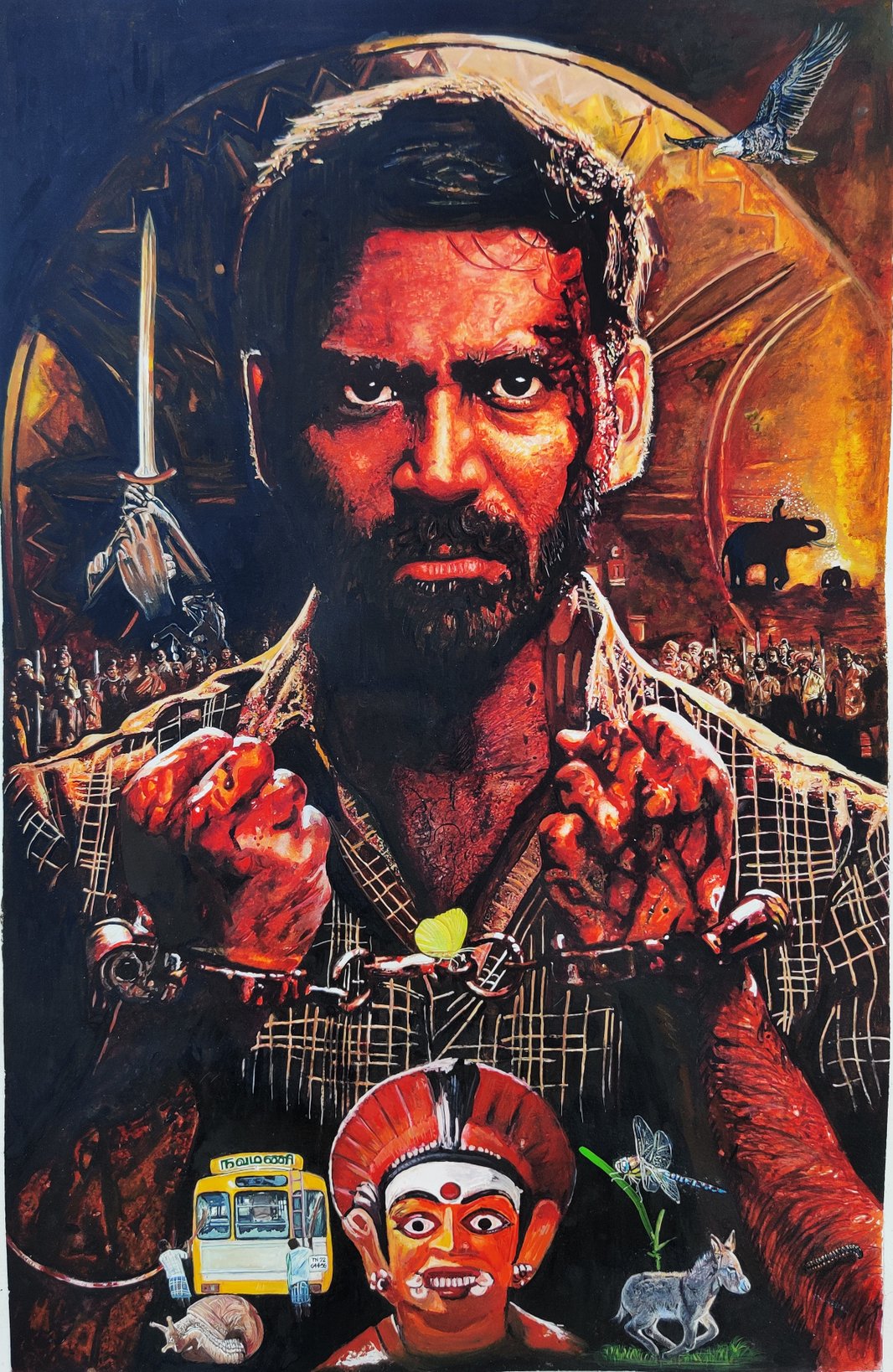 Karnan's plot revolves around a fearless youngster fighting against the influential people who are oppressing his people through various ways. The period film which is set in the suburbs of Tirunelveli district, talks about the struggles faced by the people who belong to a small village named "Podiyankulam". The film which completed its theatrical run due to the COVID 19 outbreak, recently released in Amazon prime and a large number of Tamil fans watched the film for the first time through the OTT platform.
With Dhanush playing the titular character, actors such as Lal, Natty, Lakshmi Priya, Sujithra Vijayan, Gouri Kishan played the supporting roles. Natty who is known among mainstream audience for the role he played in "Sathuranga Vettai" as a con artist, appeared as a deadly villain in "Karnan". Named as "Kannapiran", Natty came in as a polluted cop who is obsessed with caste pride.
[wp_ad_camp_1]
In one of the scenes, he could be seen beating the old men of "Podiyankulam" village for their names. The actor received accolades from the audience and critics for the performance he pulled off. However, a number of people who watched the film has been abusing the actor personally but he has been receiving all kind of comments with his whole heart.
Check out some of the comments that got surfaced for one of his recent posts :
Yov … I watched karnan .. unna la vera mari mudichi vitrukanum padathula..

— Prasanna 2.O (@prasana1990) May 14, 2021
Unna paatha veruppa iruku kannapiran

— Kailas (@cailazkailaz) May 14, 2021
உங்க மூஞ்சியை கர்ணன் படம் பாத்ததுக்கு அப்புறம் எந்த கெட்டப்ல பாத்தாலும் அந்த மொட்டை மூஞ்சிதான் கண்ணுக்கு வருது யப்பா 🙄

— RYUVARAJ (@ryuva010) May 14, 2021
நட்டி தல டாக்டர் எல்லாம் கர்ணன் படம் பார்த்துட்டு உங்க மேல உள்ள கோவதுதுல ஊசிய மாத்தி போட்டுட போறாங்க

— ஹிட்லர் (@6b659e1c40c042b) May 14, 2021
[wp_ad_camp_1]
Reacting to these kind of comments, Natti came up with a tweet saying "I acted in a movie. Many has the right to criticize it. But please do it from original ID. Don't come through Fake accounts. I couldn't understand who you are. Lot of comments are emerging as well. Avoid abusive language". "ஒரு படத்துல நடிக்கிறோம்…அதை விமர்சிக்க பலருக்கு உரிமை உண்டு.. ஆனா original id la வாங்க … fake id la வராதீங்க.. யாருன்னே புரிஞ்சுக்க முடியல..ஜாஸ்தியா வேற comment பண்றீங்க…abusive language வேணாங்க…" his tweet read.
ஒரு படத்துல நடிக்கிறோம்…அதை விமர்சிக்க பலருக்கு உரிமை உண்டு.. ஆனா original id la வாங்க … fake id la வராதீங்க.. யாருன்னே புரிஞ்சுக்க முடியல..ஜாஸ்தியா வேற comment பண்றீங்க…abusive language வேணாங்க…

— N.Nataraja Subramani (@natty_nataraj) May 27, 2021
Couple of days after the film's release, Nataraj came up with a similar tweet, asking fans not to abuse him. "Don't abuse me my father, my mother and brother. I have just acted as "Kannapiraan". Don't abuse me through phone call and message. I can't bear. That's just an acting. Thanks to the fans" he said in that tweet. Read : Natty Replied To People Who Abused Him After Watching "Karnan" !!
In an interaction with a media portal, Nataraj said that his own nephew who is a Dhanush fan, got angry after on him seeing the film on the first day.
#Karnan Villan @natty_nataraj 😀❤️#KarnanEulogyAllOver @dhanushkraja pic.twitter.com/JjIqZThZdM

— Dhanush Trends™ (@Dhanush_Trends) April 10, 2021