Online Users Questioned Dinamalar For Their Edit Of A Students Selfie !! Actress Defended
Written by Dhiwaharan Published on May 25, 2022 | 19:41 PM IST | 52
Follow Us
Comments: 0
Netizens questioned Dinamalar daily's twitter handle for photoshopping a picture that is available in internet and using it for a program they are conducting for the students who are getting passed out from higher secondary. The picture showed a group of girls, presumed to be students, posing for a selfie. Netizens questioned why the daily changed the original picture in which the girls didn't have a bindhi.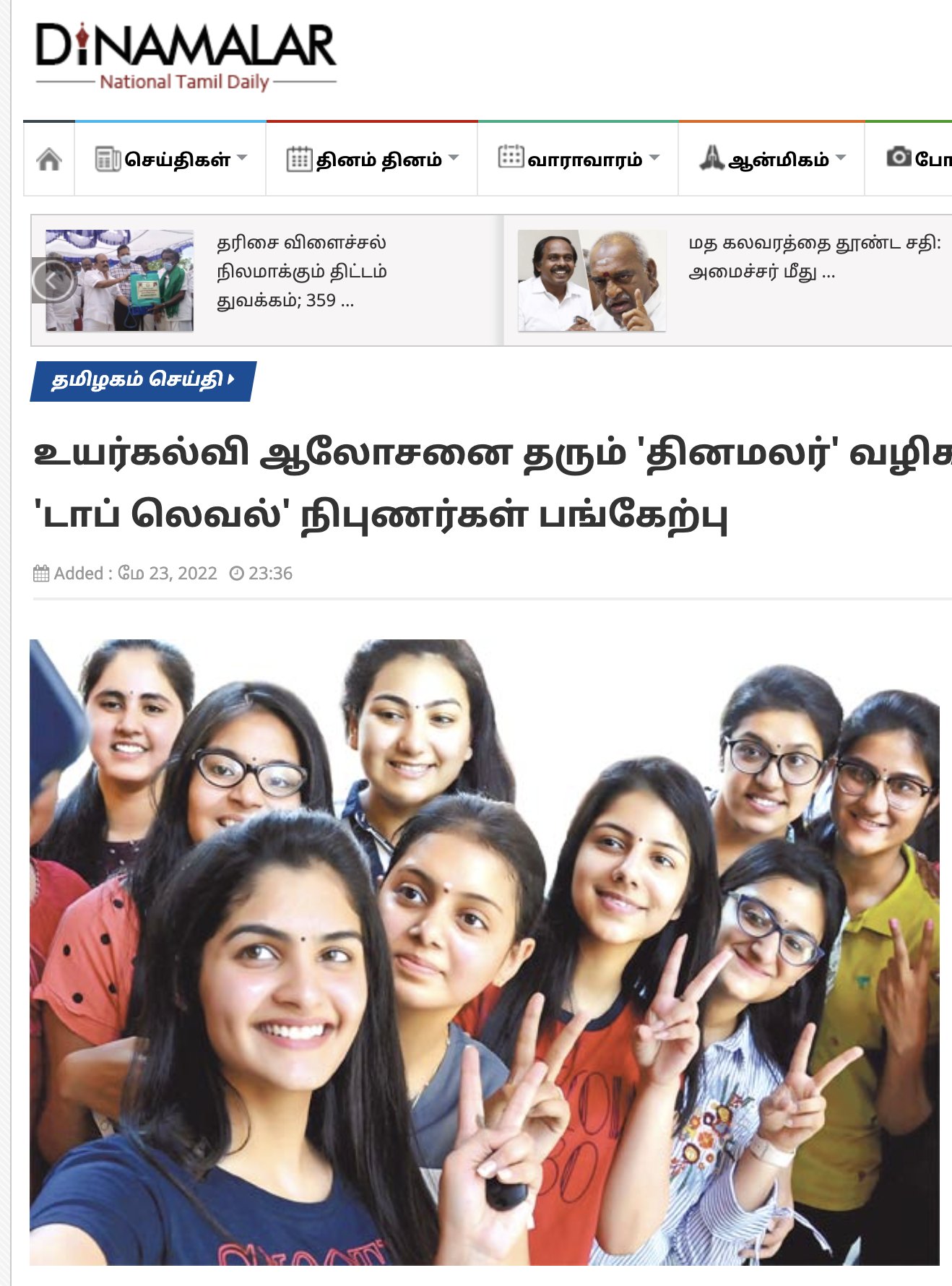 Comment section of the tweet was filled with similar reactions and actress Kasthuri who is known for acting in films and for participating in Bigg Boss show as a contestant, replied saying that it is to make the Tamil readers connect with the photo.
"Dinamalar guidance for higher education starts today, Top level experts are participating" read the headline of the twitter post uploaded by Dinamalar twitter handle.
Check out the tweet below :
உயர்கல்வி ஆலோசனை தரும் 'தினமலர்' வழிகாட்டி இன்று துவக்கம்; 'டாப் லெவல்' நிபுணர்கள் பங்கேற்பு https://t.co/oshF1DfI8f pic.twitter.com/MlrmQ1rG76

— Dinamalar (@dinamalarweb) May 23, 2022
Most of the reactions that surfaced for the tweet, pointed out how Dinamalar edited the picture of the girls with "bindhi" and "Thiruneer". "Can't you post the original picture?" asked a follower whereas another one commented saying "From a legal point of view, It may be illegal to modify the photo from its original form, if it is commercially purchased under certain terms. If it is not purchased, then it is heavily illegal under copyright. I'm not a legal expert, yet this is basic common sense"
Here's some of the reactions :
எல்லா பொண்ணுங்க மூஞ்சிலயும் பொட்டு, திருநீறு வெச்சு எடிட் பண்ணிருக்கான் #வெசம் #தினமலம் https://t.co/MhOHQ0xaSN pic.twitter.com/ah8I66SrrQ

— Er.NithanKrish B.E., (@iam_nithankrish) May 24, 2022
Original photo

Athu yenda ellarukum pottu vechu edit panniruka
Pottu la ena iruku

Dinamalam nu vechuko un name ah pic.twitter.com/NGuyReENFM

— Dr.Sanakyan (@NGS_tweets) May 24, 2022
என்ன அருமையா பொட்டு வைச்சி, விபூதி போட்டு இருக்கா @dinamalarweb, இந்த நேரத்தில் 4 நல்ல செய்தியும், 4மாணவ, மாணவிகளுக்கு நல்ல ஆலோசனை வழங்கி இருக்கலாம். pic.twitter.com/m9g0fxbHd4

— Prabanjan Asokan (@prabanjanasokan) May 24, 2022
அதுல ஒரு பொண்ணுக்கு எவ்வளவு அழகாக திருநீறு வச்சு விட்டுருக்கான் பாருங்க… pic.twitter.com/YFlPVh3erO

— ஜூலி (@Julies_1992) May 24, 2022
From a legal point of view, It may be illegal to modify the photo from its original form, if it is commercially purchased under certain terms. If it is not purchased, then it is heavily illegal under copyright. I'm not a legal expert, yet this is basic common sense.

— Rajkumar MP Raju 🌏 (@rajkumar_raju) May 24, 2022
ஏன்டா பிராடுப்பயலே..!!😠😡

ஒரிஜினல் போட்டோ போட மாட்டியா?

எல்லா பொண்ணுங்களுக்கும் திருநீறு, பொட்டு வெச்சி..
Photoshop பண்ணி படத்த போட்டிருக்க ?!

ஏன்டா இவ்ளோ பித்தலாட்டம் பண்ற ?!😡😠

நன்றி: @iam_nithankrish pic.twitter.com/YLzpSS5xdh

— மனோ🖤❤ (@CatchMano2022) May 24, 2022
ஏண்டா பிராடு, பொட்டு வச்சியே எல்லாருக்கும் கருப்பு கலர்ல தான் வைப்பியா, போட்டோஷாப் பண்றதுன்னு ஆச்சு, கலர் கலரா வைக்க வேண்டியது தானே

— Er. IT Man (@Er_ITMan) May 24, 2022
Defending the daily's decision of editing the picture, actress Kasthuri, through her tweet, said "Lot of conspiracy theories here. it's not that complicated. The bindi is an attempt to make the northy girls in a stock photo look tamil. We do it in our movies all the time. We give even Amy Jackson a saree and bindi and pass her off as a tamilponnu"
Here's her tweet :
Lot of conspiracy theories here. it's not that complicated. The bindi is an attempt to make the northy girls in a stock photo look tamil. We do it in our movies all the time. We give even Amy Jackson a saree and bindi and pass her off as a tamilponnu.

— Kasturi Shankar (@KasthuriShankar) May 24, 2022
Check out some of the reactions Kasthuri's tweet received :
பொட்டு வெச்சா தான் தமிழ் பொண்ணுன்னு உங்களுக்கு யாரு சொன்னது… மொத்தமா தமிழ் பெண்களின் உருவகம் எப்படி இருக்கணும்னு முடிவு செய்ய நீங்க யாரு??? ஒரிஜினல் படத்துல பொட்டு இல்ல, அதை அப்படியே போட வேண்டியது தானே… இது மாதிரியான உங்கள் திணிப்புகளை எல்லாம் வேறு எங்காவது வெச்சுக்கோங்க…

— Dr. Nagajothi 👩🏽‍⚕️ (@DrNagajothi11) May 24, 2022
இந்துவா காட்ட நெனச்சிருக்கானுங்க அந்த தினமலம்.. நீ இங்க வந்து தமிழரா மாத்த நெனச்சிருக்காங்கனு கதை சொல்லி கம்பு சுத்திட்டு இருக்க…

— நாய்க்குட்டி (@KuttyNaai_) May 24, 2022
மேடம். ஒருத்தவங்க அடையாளங்களை அவர்கள் அனுமதி இல்லாமல் மாற்றுவது Information Act – 2000 Section 67 ன் படி தண்டனைக்குரிய குற்றம்‌. தெரியுமா ??

— Mohamed Umar N (@MdUmarN) May 24, 2022
அந்த பொட்டுக்கு இப்படி ஒரு முட்டா? 😂😂😂 இதெல்லாம் ஒரு விளக்கம்னு தூக்கிட்டு வர வேண்டியது..! https://t.co/yi4liaAJLI

— Walter Mitty (@VeeraaKurilil) May 24, 2022
எதே பொட்டு வச்சா தமிழ்பொண்ணா இதென்னடா புது பொரளியா இருக்கு ஒரு பொண்ணு பொட்டு வைக்கனுமா, புடவை கட்டனுமான்னு அவங்க முடிவு பன்னிகிருவாங்க அவங்க மேல திணிக்க நீங்க யாரு! அப்ரோம் அது ஸ்டாக் போட்டா கிடையாது ஸ்டூடண்ட்ஸ் செல்பினு கீழ போட்டுருக்கு படிச்சு பாருங்க தற்குறிகளா https://t.co/do7izkAUxr

— Hippo🦛 (@hippo_offl) May 24, 2022
எமி ஜாக்சனுக்கு பண்றாங்கன்னா அதுக்கு தான் சம்பளம் குடுத்து அனுமதி வாங்கி பன்றாங்க… தினமலரும் காசு குடுத்து அனுமதி வாங்கி பண்ணிக்க வேண்டியது தானே https://t.co/JlMdjRTOJC

— இட்லி (@Raittuvidu) May 24, 2022