Online User Who Made Obscene Comment About Mayor Priya Is In Trouble!!
Written by Dhiwaharan Published on Nov 21, 2022 | 18:49 PM IST | 264
Follow Us
Comments: 0
Social media is a place where people are tend to go through both positives and negatives of it. While it is being used majorly for good cause such as medical needs, sharing job opportunities, making friends and entertainment, peope who spread hatred and toxicity are making it a worst space.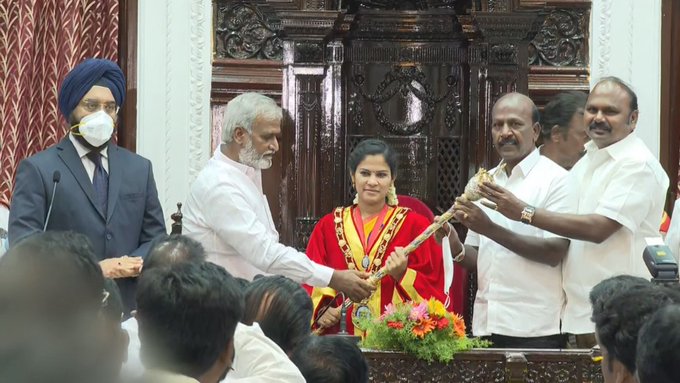 A department called Cyber Crime is being functioned to nab the individuals who go over the board as far as online harassment is concerned. An online user who made obscene comment on Chennai City's Mayor Priya is in huge trouble for a crime he committed online.
After DMK party nominated Priya as its mayor Candidate for the Greater Chennai Corporation as it got the majority, during March month, Chennai city got it's youngest and third woman mayor. R. Priya is also the first ever Dalit mayor of the capital of the state. Being a grand daughter of former DMK MLA Chengai Sivam, Priya hails from a strong political background.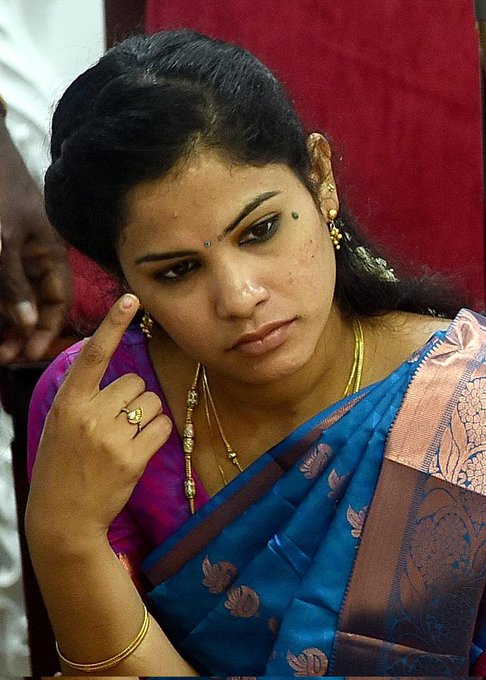 Priya is the daughter of "Perambur" R. Rajan, a ward level DMK functionary in Thiru. Vi. Ka Nagar, who has been in the party for over 30 long years. Being a Chennai born, Priya completed her M.com in Sri Kanyaka Parameshwari for Women. As soon as she became the first ever youngest Mayor of the city, she received accolades and appreciations from all over the state.
Recently, the Mayor grabbed headlines after announcing a meeting on 28th of November, 10 AM. The announcement was published in several news portals, including Puthuya Thalaivar. Under the twitter post of the news channel, a twitter user named "ii aime" made a toxic comment in her growth in political field.
A famous twitter user named Paramporul screen grabbed the user's toxic comment and demanded legal action against him. "This pervert @ii_aime should be booked and put behind bars.. Under the mask they spew such filth in public forum" Paramporul said through his tweet by tagging Police, Politicians, Media and others.
This pervert @ii_aime should be booked and put behind bars.. Under the mask they spew such filth in public forum. @tnpoliceoffl @chennaipolice_ @PuducheryPolice @LGov_Puducherry @ITWreports @arivalayam @DMKITwing pic.twitter.com/0e6dNlkc6n

— பரம்பொருள் (@paramporul) November 21, 2022
Many other online users including Gayathri Srikanth, Pudhucherry's IT wing co-ordinator, dropped comments demanding highest possible punishment for the culprit. Check out their comments below :
புதுச்சேரி சங்கிகளுக்கு ஒரு பாடமாக அமையட்டும்

— Tr Gayathri Srikanth (@Tr_Gayathri) November 21, 2022
இவன்மீது கடும் நடவடிக்கை எடுக்க வேண்டும்.

— இரத்தினவேலு வசந்தா. (@vasantalic) November 21, 2022
This is so filthy , should be strongly condemned and immediate action should be taken

— Sundar (@Sundar98374634) November 21, 2022
So, you can say anything in public… And deleting that will solve the issue, isn't it???

— என்னவா இருக்கும்??🤔🤔 (@sukeshsrk) November 21, 2022
worstuuu!!! he needs to be behind the bars for sure https://t.co/sRTasVl8Ac

— moomin maame (@vj_buddy) November 21, 2022
The miscreant deleted his account and left the online space after it became a controversy. On seeing the whole thread, Dr. T. R. B, DMK MLA and IT wing secretary came up with a tweet, tagging ITW reports to nab the accused in a way of preventing such toxic online users from involving in such heinous act.