Online User Trolled Khushbu For Not Visiting Her Constituency Now !! Actress Cum Politician Replied
CM / Updated: 2021-11-11
17:32 IST
By Dhiwaharan
Actress Khushbu of BJP party answered to Twitter users who questioned her for not visiting the constituency she contested amidst the heavy rains. The actress said that she knows her duty and added that the duty of the online user isn't over after questioning her. Khushbu also uploaded a separate tweet saying that she has a team to help people who are in need and she doesn't have to visit people personally.
[wp_ad_camp_1]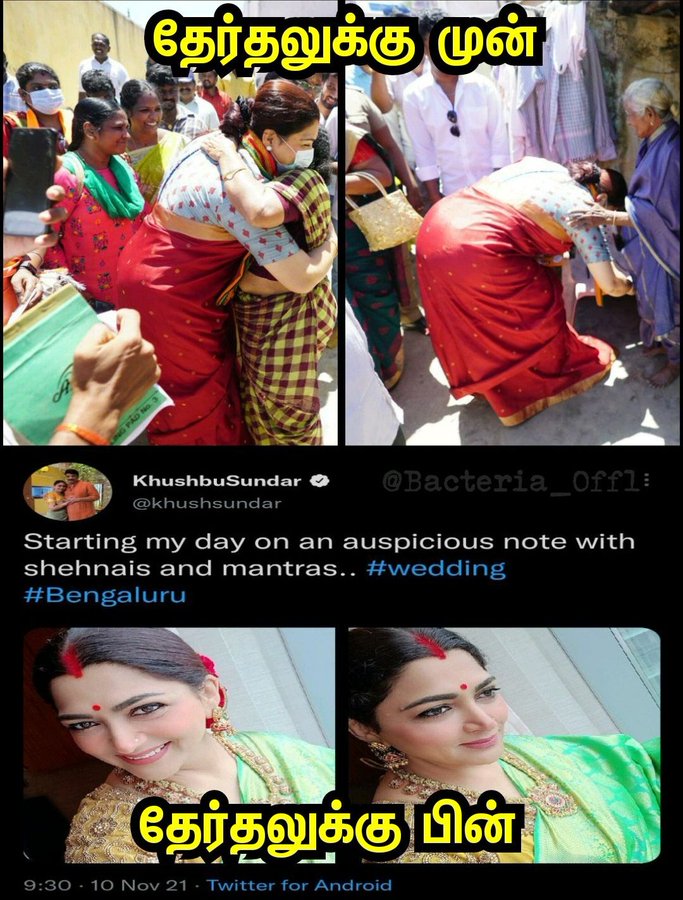 It all started after a meme that got surfaced trolling the actress for not visiting her constituency. She contested as a BJP candidate in the Thousands lights constituency in the 2021 Tamil Nadu assembly elections. She lost to Ezhilan N of Dravida Munnetra Kazhagam (DMK) has won the Thousand Lights seat by 17,522 votes.
Ezhilan had secured 32,445 votes whereas Khusboo has secured 14,923 votes during the end of the poll day. Videos and pictures of Khushbu visiting the people in her constituency kept surfacing in Internet during the election time. Now, a Twitter user came up with a meme trolling the actress for not visiting her constituency at this time.
[wp_ad_camp_1]
The meme compared how the actress met people during election time and the recent social media posts of her. Sharing the meme, the user wrote "What sissy, seems this grandma is suffering from the water logged in her area?" to troll Khushbu.
Here's the meme :
@khushsundar என்ன அக்கா இந்த பாட்டிம்மா ஏரியால மழையாமே? pic.twitter.com/ynddPF6WJq

— பாக்டீரியா (@Bacteria_Offl) November 10, 2021
"Thambi oorukku pudhusa ?? Bro election got over 6mnts back. What I do and how I do is not for anyone to know. I know my duties and I do that. Sitting with a phone and raising a question and you think your duty is over? What a shame! And I am sure you have a family too. 🙏🏻😊" read her reply tweet.
Thambi oorukku pudhusa ?? Bro election got over 6mnts back. What I do and how I do is not for anyone to know. I know my duties and I do that. Sitting with a phone and raising a question and you think your duty is over? What a shame! And I am sure you have a family too. 🙏🏻😊

— KhushbuSundar (@khushsundar) November 10, 2021
[wp_ad_camp_1]
In a separate tweet, Khushbu said "And those losers who will raise a question about me not being there, I don't have to be present in person to do what I have to do to support n help those in need. I have a team to do so n will look into it personally once I am back. So sit back n continue to twiddle your phones👍"
Here's her tweet :
And those losers who will raise a question about me not being there, I don't have to be present in person to do what I have to do to support n help those in need. I have a team to do so n will look into it personally once I am back. So sit back n continue to twiddle your phones👍

— KhushbuSundar (@khushsundar) November 11, 2021