Online User Raised Question After 6 Years For A Dialogue In "Moodar Koodam" !!
CM / Updated: 2020-01-08
12:33 IST
By Dhiwaharan
Director Naveen, who received critical acclaim for his intelligent writing and screenplay in his black comedy Moodar Koodam, is yet to release him second film. He earlier announced a movie named as "Alaudhinin Arputha Camera" and the film is expected to hit the screens soon. He also busy in shooting for "Agni Siragugal" by having Arun Vijay and Vijay Antony in the lead roles.
[wp_ad_camp_1]
The film "Moodar Koodam" enjoys a cult following right now. Many people are still watching the movie when it gets telecasted in television. Few even prefers to watch the movie in online platforms. The film is based on 4 socially oppressed men trying to rob a rich house and ending up keeping the house owners as hostages. A social media user who watched the film in online platform now, came up with a demand to director Naveen.
The Twitter user whose name is victor pointed out a conversation between Naveen and Sendrayan from the film and asked the director to apology for writing such dialogue. In the scene Naveen would ask Sendrayan about witnessing a girl without clothes in a room to which Sendrayan would give a reply in a way of telling that he will "Try". The user who seems to be a fan of Moodar Koodam asked the director to apologize for writing such dialogue as no one has the right to touch a girl without her consent.
He wrote "Dear @NaveenFilmmaker, I would like to bring to your notice. Pls stay away from making some mistakes in future. Hope you get the point am trying to make!"
[wp_ad_camp_1]
Check out his note here :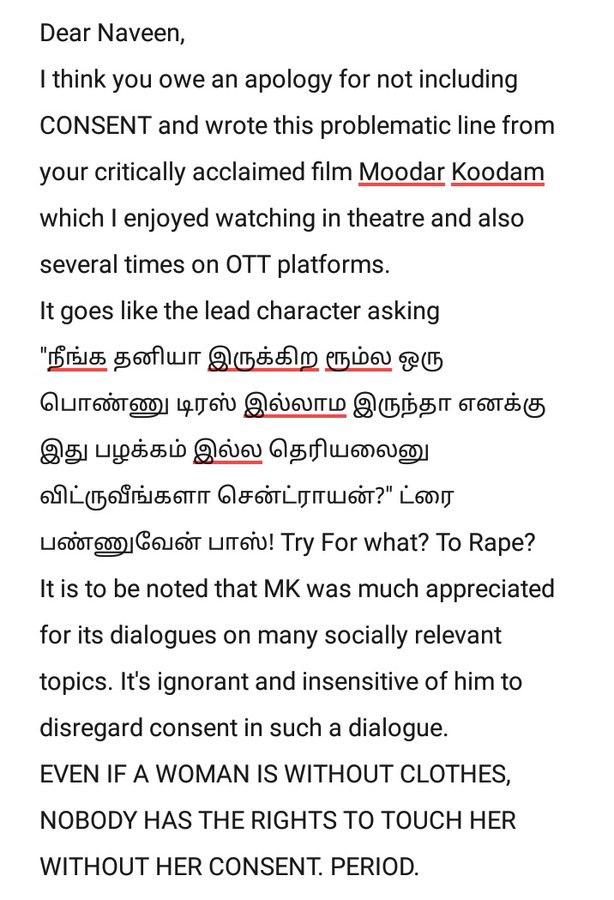 Director Naveen who happened to see the tweet, accepted the demand and asked apologies. The director said that growing up needs time in his apologize tweet. "My sincere apologies. It was written in a different meaning but it gives the meaning as you say too. I should have thought. Growing up needs time." his tweet read.
Check out his tweet below :
My sincere apologies. It was written in a different meaning but it gives the meaning as you say too. I should have thought. Growing up needs time https://t.co/5HNkueCjS4

— Naveen Mohamedali (@NaveenFilmmaker) January 8, 2020
[wp_ad_camp_1]
This gesture from the filmmaker impressed his followers who came in for his defence. One of a user said that apologies is not required as it is just a characteristic dialogue and not represents the entire men ethnicity. Check out some of his followers reactions below :
Apologies not required It's a characteristic thought of the particular types of people's … Hey guys @VictorKaruna let the dream world be the dream world i hope you guys are mature enough to see movie in theirs choice … I strictly condemn always blaming cinemas #Lovecinema

— pradeev sailappan (@pradeevrebel) January 8, 2020
மன்னிப்பு கேட்கத் தெரிந்தவன் பெரிய மனுஷன் – தோழர் விருமாண்டி

— Newman (@roadoram) January 8, 2020
Being humble is 🔥🔥🔥
Nice..

— Manikandan Murugan (@mani181290) January 8, 2020
What do you think on the way the user saw the scene and Naveen's reply to him ?? Comment your views below !!