The relationship between Kavin and Losliya is the most loved and hated aspect in the third season of Bigg Boss 3. One set of fans seeing them as cutest thing ever happen to Tamil Bigg Boss and the other set of fans couldn't bear them due to the fact that their relationship is over-rated.
[wp_ad_camp_1]
Cheran, who treats Losliya as daughter, from the initial episodes warned them not to fall for each other and advised them to discuss about the relationship after getting out of the house. However they kept romancing and their unnamed relationship continued to an extent they faced the wrath of Bigg Boss for removing their microphone battery in midnight in order to talk something personally.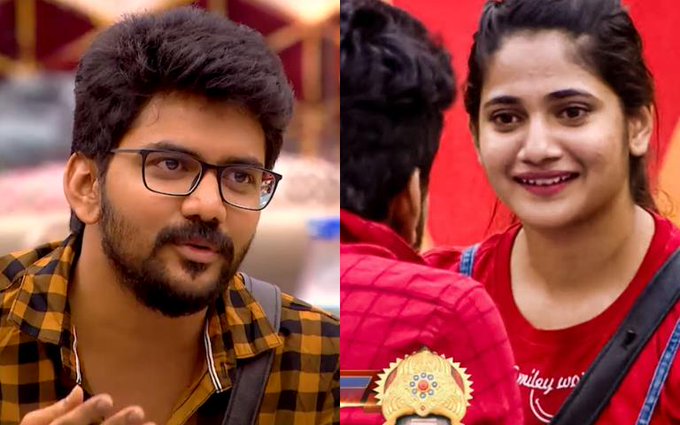 Today, the last two promos suggested about the arrival of Losliya's father. Losliya's father has entered the house to visit his daughter after so many years. In the first promo Losliya was seen crying her heart out as she saw him after many days. His father who looked dejected doesn't seemed very much excited.
Further he asked "Did I raise you in this way ?? What did you tell me before coming here ?? I don't want you to talk to me." to Losliya. He was also seen consoled by Cheran. Losliya was seen shedding tears.
[wp_ad_camp_1]
Now a video which was surfaced in Twitter shows Sandy questioning Losliya about the exact same scenario that took place today. "You don't know how your family is reacting to your behaviour yet. You don't know how your mother is reacting to this. You don't know how your father will see your relationship with Kavin. Even I can't guess how he would accept something like this. If he comes to you in person now, can you face him ?? You can make them understand once getting out of this house. For that you have to behave in a subtle way now" says Sandy in the video to Losliya.
Watch the video here :
andre sonnan sandy!! "un appa va dhairiyama face pana mudiyuma?"

now her father reacts against her.. lets see what is losliya's reaction..#BiggBossTamil3 @MSimath @sandyarmy_offl @kaajalActress pic.twitter.com/rE8rmUO2JT

— johnny ⎊ bravo (@CheckOutJohnny1) September 11, 2019
To this warning of Sandy Losliya simply replies to him by saying that she won't talk with Kavin from the next day. Check out the promo that got released today here :
#Day80 #Promo3 #பிக்பாஸ் இல்லத்தில் இன்று.. #BiggBossTamil – தினமும் இரவு 9:30 மணிக்கு உங்கள் விஜயில்.. #BiggBossTamil3 #VijayTelevision pic.twitter.com/C80faXVdys

— Vijay Television (@vijaytelevision) September 11, 2019
[wp_ad_camp_1]
Many expected that Kavin would no longer take part in the game show since the news of his mother's sentence surfaced. However, he continued to take part in the show and it was said that he was not informed about the sentence of his family members. We have to wait and see the real reason behind Losliya father's anger.
What do you think on this prediction of Sandy ?? Comment your views below !!