Old Video Of "Erode" Mahesh Talking About The Struggles Faced By "Vadivel" Balaji !!
By Dhiwaharan
Stand up comedian Mahesh who is popularly known as "Erode" Mahesh talked about the struggles faced by "Vadivel" Balaji after having an heart attack in a recent interview got surfaced in Twitter after the demise of the comedy actor. Mahesh said that he couldn't figure what sin Balaji committed to go through such struggle.
[wp_ad_camp_1]
Popular comedy actor Vadivel Balaji who is known for his participation in the reality shows of Vijay Television, died at the age of 42 due to heart attack. His demise came as a shock to the entertainment industry with people offering their heartfelt condolences. He who gained the nickname "Vadivelu" due to his body language replicating legendary comedy actor "Vadivelu", is also a very well known mimicry artist. He died in the morning of Thursday in a Government hospital due to heart attack. The 42 year old comedian survived by his wife, son and a daughter.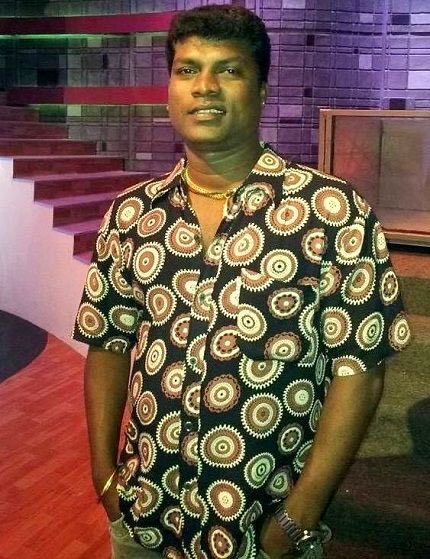 According to reports, the comedy actor admitted to a popular hospital in Chennai after having an heart attack. He was apparently paralyzed after having the attack and had been under treatment for the past 15 days. After not being able to manage the expense at that hospital, he was shifted to couple of other hospitals and finally he died in a Government hospital today morning.
Several celebrities including those who worked with the comedian, shocked and posting tweets expressing their emotions. Meanwhile, "Erode" Mahesh, one of his colleague in Vijay Television, shared about the struggle he faced while getting treatment for his illness.
[wp_ad_camp_1]
"Vadivel Balaji recently had an heart attack. I couldn't sleep for 2,3 days. I got extremely disturbed. I kept watching his videos that whole night. He made many people laugh. "What sin he committed to trough this?" I kept asking these kind of questions to myself" said Mahesh in the interview.
"People who committed murder, theft money, cheated money are leading a healthy life in front of our eyes. But this man who made many people laugh is going through the hardship." he added. "He couldn't manage that small expense. I felt bad realizing that his life shrinked without being able to pay a small amount of money that required for operation. I really felt bad for such artists." said Erode Mahesh. "I did what I could do. Vadivelu Balaji's brother called me and asked for financial help. I have approached few people nd I have to call them now" he added.
Erode mahesh mentioned in recent interview as he got heart attack few days back..

— Nazeer (@Nazeer95793091) September 10, 2020
[wp_ad_camp_1]
"As you people think, no artist is leading a luxurious life except one or two. Rest all came from a very average family and elevated their financial status a little bit" said Mahesh to the viewers.
Watch the video below from 25th minute :
Source : Fat man facts
Let us pray for the soul of Vadivel Balaji to rest in peace !!