"Now I Can't Speak In Hindi" – Dhoni's Comment Caught On Stump Mic !! WATCH
CM / Updated: 2021-04-26
16:33 IST
By Dhiwaharan
A compilation video of Dhoni giving instructions to Ravindra Jadeja in Hindi language is going viral in social media platforms with reactions lauding the ace cricketer for his funny yet thoughtful comments. The former world cup winning Indian captain asked Jadeja to bowl straight while Maxwell was batting by saying that he is trying to hit the ball through offside. He who was giving suggestions to Jadeja in Hindi while Maxwell and AB De Villiers were in crease, says that he won't talk in Hindi when Gujarat based cricketer Harshal Patel came in to the crease.
[wp_ad_camp_1]
Team Chennai Super Kings climbed to the top of the table after registering a comfortable victory against Royal Challengers Bangalore. Ravindra Jadeja's all round performance helped the team to clinch the victory by 69 runs. He won the Man of the Match award after creating a history of scoring 36 runs in an over bowled by Harshal Patel. He also picked three important wickets and caused a run out.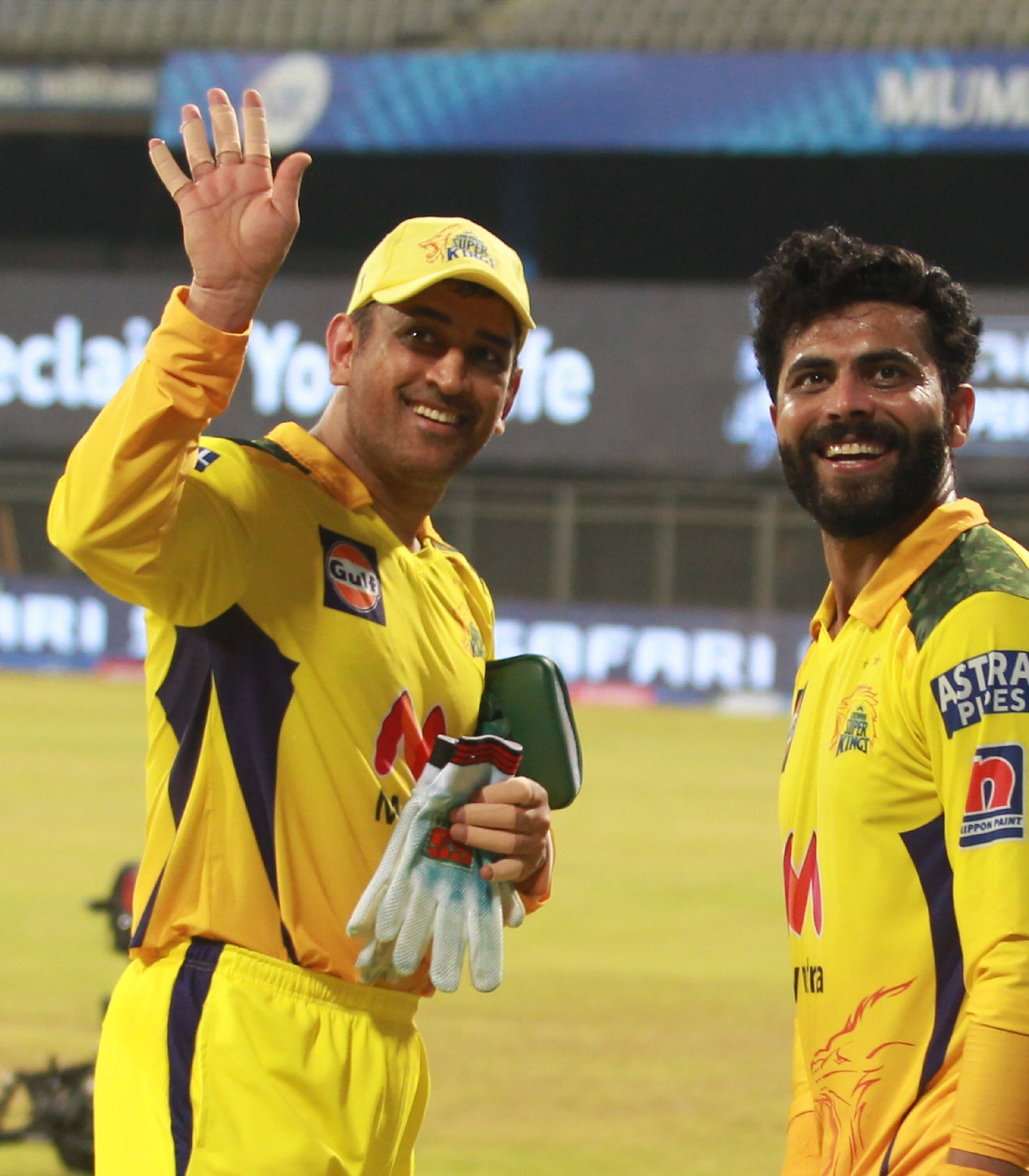 "He's somebody who can change the game on his own and we have seen that significant change with the bat and in the bowling as well. It's good to give him that extra opportunity, the extra few balls where he can express himself. It's also important that the individual grabs the chance when you take a decision like that and he's done that so far. Also from a strategy point the bowler's have found it slightly more difficult to contain the left handed batsman with the slog." Captain Mahendra Singh Dhoni said about the performance of Jadeja.
Now, a video of himself instructing Jadeja from behind the stumps got surfaced in social media and is going viral among the fans. When the in-form Glenn Maxwell was batting, Dhoni said- "dande par rakh, maarne de"(keep bowling at stumps, let him hit) to Jadeja. The very next delivery, Maxwell got clean bowled without being able to face the ball of Ravi Jaddu.
[wp_ad_camp_1]
Jadeja also got the biggest wicket of AB DE Villiers by bowling a sharp turn while facing which the former SA captain got taken aback. Dhoni has been instructing Jaddu in Hindi while the foreign batsmen were batting and said "Hindi mein nahi bol sakta hun (I can't speak in Hindi now)." when Gujarat based Harshal Patel came in to bat.
Watch the video below :
For Maxwell – அவன் Middle stump ல போட்டாலும் Offside அடிக்கிறான். கொஞ்சம் Leg stump ல போடு. 👌👌

For ABD – Stump to Stump போடாத. Leg side போடு மிச்சத்த Spin பாத்துக்கும்.👌👌

For Harshal Patel – இப்ப நான் ஹிந்தி ல பேச முடியாது. 😂😂😂

Thats Captain Cool Dhoni for you 🙏🙏. pic.twitter.com/uN5N9dmel0

— Rathna kumar (@MrRathna) April 26, 2021
Mastermind Dhoni…😎💛 #CSK

No one can beat him…. when it comes to mind game🔥 pic.twitter.com/NWvDqtx27r

— 🅰🅳🅸 ♡ CSK ~ Whistle Podu 💛 (@Shariff_ladka_) April 26, 2021
Wicket keepers getting caught on stump mic is not something new to the fans of game cricket. But when it comes to MS Dhoni, it is always special as he is known for providing some valuable instructions to the spin bowlers to trap the batsmen.
[wp_ad_camp_1]
In CSK's match against Rajasthan, Dhoni, despite of his poor batting, managed to help the team through his captaincy. His suggestion to Jadeja from behind the stumps to pick Butler's wicket is being lauded by the cricket experts and fans.
When butler hit jadeja for a six and then ball was replaced , you could hear dhoni on the stump mic saying that the ball will turn because it's dry … that's exactly what happened !! #ipl2021 #csk

— Rohan Gavaskar (@rohangava9) April 19, 2021
In the same match, a video of the CSK's skipper getting caught on stump mic while making a casual comment also has grabbed the attention of fans. During one of Jadeja's over, Dhoni, after setting field at the fine leg region, looks for a fielder to make him stand in the square leg. After looking around the ground, the world cup winning captain says "Ek player gayab ho jatha hamesha" (One player is always missing from the field) before finding one to field at the spot he wanted.
Ms dhoni on stump mic at yesterday match pic.twitter.com/lGgtDmTveZ

— Shubhh🇮🇳 (@trueliving1006) April 20, 2021