One of the highly anticipated films of the year is Atlee directorial Bigil. The sports drama will see Thalapathy Vijay in dual avatar. The promos of the film have already generated immense hype and curiosity amongst fans. But if there is one aspect of the film that has left all the Thalapathy fans in a state of frenzy is that fact that he will also be lending his voice to a song title Verithanam. Moreover, the song is composed by AR Rahman, the legendary two times Academy Award winning music composer.
[wp_ad_camp_1]
Ever since Vijay and AR Rahman's collaboration as a singer and music composer was announced, fans have been waiting for the song with bated breath. And finally, the makers revealed the release date of the song and along with the release date, a teaser video was also dropped to tease the fans further. The good news for all the die-hard fans is that the song Verithanam will be release tomorrow September 1 at 6 pm.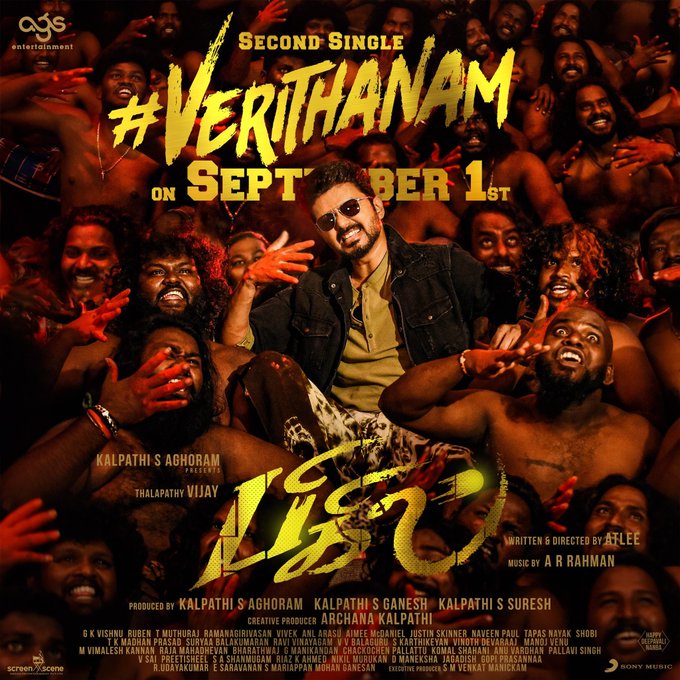 As soon as the single released, Fans of the actor couldn't keep calm as they made an record of posting more than 1 million tweets in twitter. On the other hand celebrities also, for their part expressed their excitement through their tweets. Check out some of their reactions here :
Shanthanu
https://t.co/ki7xlYurr8 #Verrrrithanam Anna's slang summa pirichutaaru🔥 @actorvijay anna local slanga semma jollya paadi irupaaru pola🔥@arrahman @Lyricist_Vivek @Atlee_dir can't wait to see d visuals choreographed by @shobimaster
#Bigil nanba..GETTHA OLAATHALAMA??💛😎 pic.twitter.com/ICFZnOV5Ai

— Shanthnu Buddy (@imKBRshanthnu) September 1, 2019
"MEYATHA MAAN" , "AADAI" Director Rathnakumar
புள்ளைங்க இருக்காங்க வேற இன்னா வோனும் 💥💥💥. Wish to see Thalapathy @actorvijay annan looking at camera and saying these lines 😍❤️.
#Verithanam @Lyricist_Vivek bro. ராவடி சாவடி இது தீபாவளி சரவெடி. https://t.co/Qoi5TtyyVy pic.twitter.com/ftnuHsBV1A

— Rathna kumar (@MrRathna) September 1, 2019
Actor/Producer Nithinsathya
Suranganika mallu ……daowlath!!!!! #verithanam semaaaa #Bigil pucca Diwali @agscinemas @Jagadishbliss @Screensceneoffl

— Nitinsathyaa (@Nitinsathyaa) September 1, 2019
[wp_ad_camp_1]
Vishnu Vishal
So much energy from #ThalapathyVijay 👌 Semma jolly track this is, going to be a BIG-il hit with the masses! @arrahman sir MAGIC 🙂 💪💪 https://t.co/CUVy7veE4j

— VISHNU VISHAL – VV (@TheVishnuVishal) September 1, 2019
Prasanna
Yaarukkum dhavloondu neeyilla dhavlathave nillu nee en aalu nanba !! #Verithanam #Thalapathy https://t.co/BlNkPop0JG
Andhar pantta pa @Lyricist_Vivek 😍🥰👏 #Bigil

— Prasanna (@Prasanna_actor) September 1, 2019
Sibi Raj
That voice!😍😍😍 En #Thalapathy Dhaan eppovume Dhoolu! #Verithanam #Bigil https://t.co/3Ybj0HGgMf

— Sibi Sathyaraj (@Sibi_Sathyaraj) September 1, 2019
Gayathri Raguramm
#Bigil #VerithanamDay waiting for #verithanamdiwali 👌👌👌👌🗣💃💃💃💃💃🔥🔥🔥🔥🔥🎼🎼🎼🎼🎼🥁🥁🥁🥁🎺🎺🎺🎺 https://t.co/xtL8bBdSLE

— Gayathri Raguramm (@gayathriraguram) September 1, 2019
[wp_ad_camp_1]
Anchor Ramya
Suraanganikaa Maalu , Namma Thalapathy naa Dhoolu 🙏🏻❤️!
VERITHANAMAA waiting for Vijay sir s marana dance moves and your masssssss choreo for this song @shobimaster and @LalithaShobi ❤️🙏🏻🤩😍. #BIGIL https://t.co/WdvCLosTMq

— Ramya Subramanian (@actorramya) September 1, 2019
"Nachiyar" Actress Ivana
#Verithanam ❤️👌🔥@arrahman Sir musical Blasting@actorvijay Sir Voice 🥰❤️
Lyrics 🔥 https://t.co/tMphR7DOh6

— Ivana (@_Ivana_official) September 1, 2019
What do you think on this craze among stars for a star ?? Comment your views below !!