North Media Called "Ponniyin Selvan" As "Panniyin Selvan"!! Here's How Internet Reacted
Written by Dhiwaharan Published on Oct 10, 2022 | 05:11 AM IST | 108
Follow Us
Comments: 0
A North Indian based media portal named "Huge article" termed the recently released Mani Ratnam directorial as "Panniyin Selvan" instead of "Ponniyin Selvan" in their article. They also called the film as an erotic one and added that it's about the rise and all of Chola Empire. On seeing none of the details being accurate about the film which is considered as the magnum opus of Tamil cinema, fans from the South region started calling out the media portal by quoting and replying to the tweet and article.
Success beyond boundaries!

Thank you for this tremendous response ❤️ 🔥#PS1 #PonniyinSelvan1 #ManiRatnam @arrahman @MadrasTalkies_ @LycaProductions @tipsofficial @tipsmusicsouth pic.twitter.com/XMdztUnkGc

— Lyca Productions (@LycaProductions) October 7, 2022
Ponniyin Selvan which released on 29th of September is receiving humongous amount of positive reactions from audience and critics. Directed by ace film maker Maniratnam the film includes and ensemble caste. According to Lyca productions which bankrolled the project, the film has collected 300 crores of box office collection so far.
Being an adaptation of Kalki's Ponniyin Selvan book, the films plot plot a revolves around Aditha Karikalan sending Vandhiya Devan to go on a mission to convey an important message  to Sundhara Chozhar, his father and Kundhavai his sister and Arunmozhi Varman, his younger brother in order to save Chozha empire from the antagonists.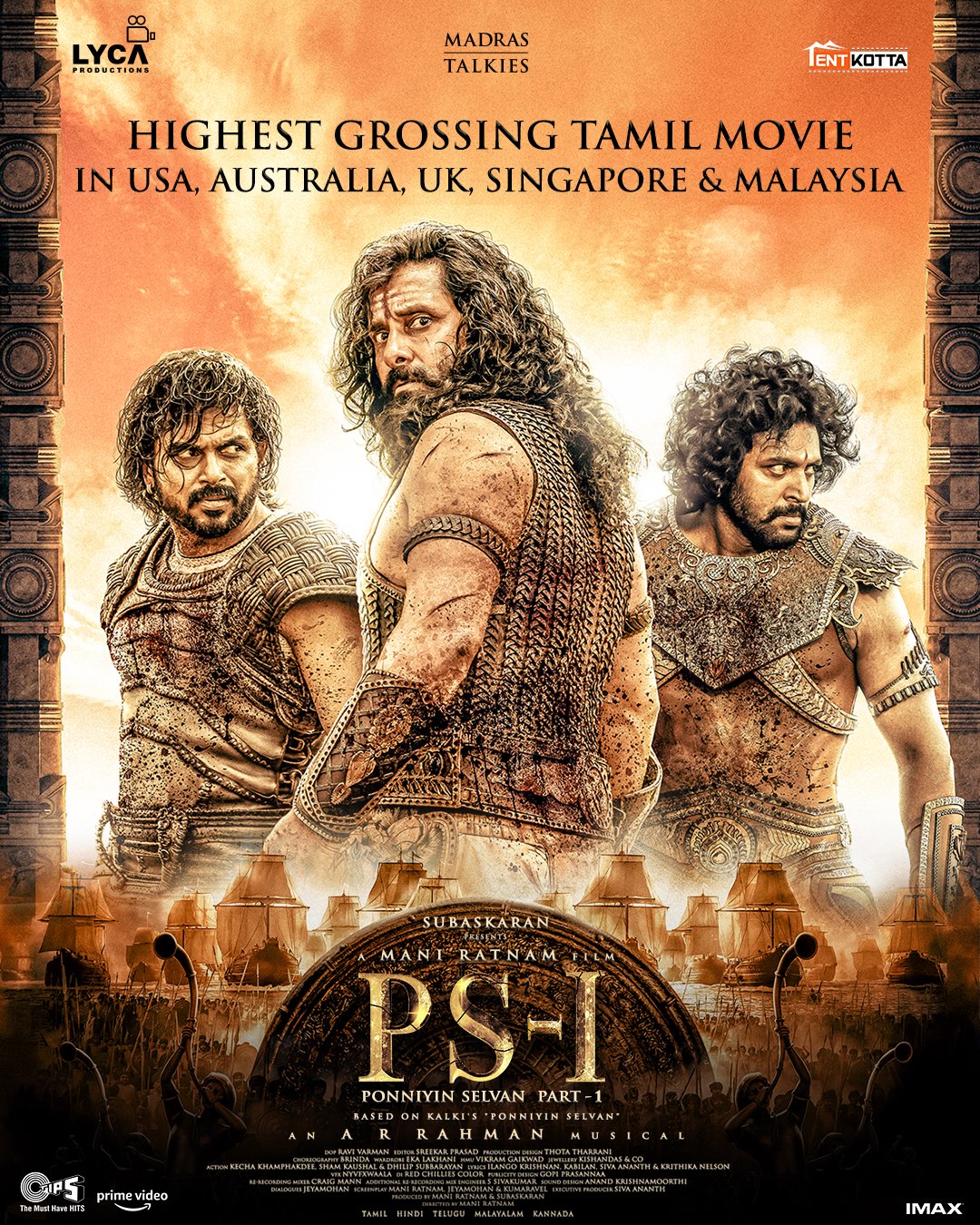 After watching the films, fans of Tamil cinema and the readers of the best seller are eagerly waiting to watch the sequel which is slated to release next year. Various media portals from across the nation are covering reports about Ponniyin Selvan under achievements the film is making in box office.
A North Indian based media portal called "huge article" also came up with a post terming  "Ponniyin Selvan" as "Panniyin Selvan" and their write up lacked research about the dream project of many of the Kollywood Superstars.
Hit Bollywood again, business of 318 crores in just 6 days! Aishwarya's 'Panniyin Selvan' set a new record before its release. https://t.co/aF422LS85j

— HugeArticle (@hugearticle) October 7, 2022
Authors of the article brandes the historical film as an "erotic one" and also said that it is a film about rise and fall of Chola empire.
Here's the screen shot :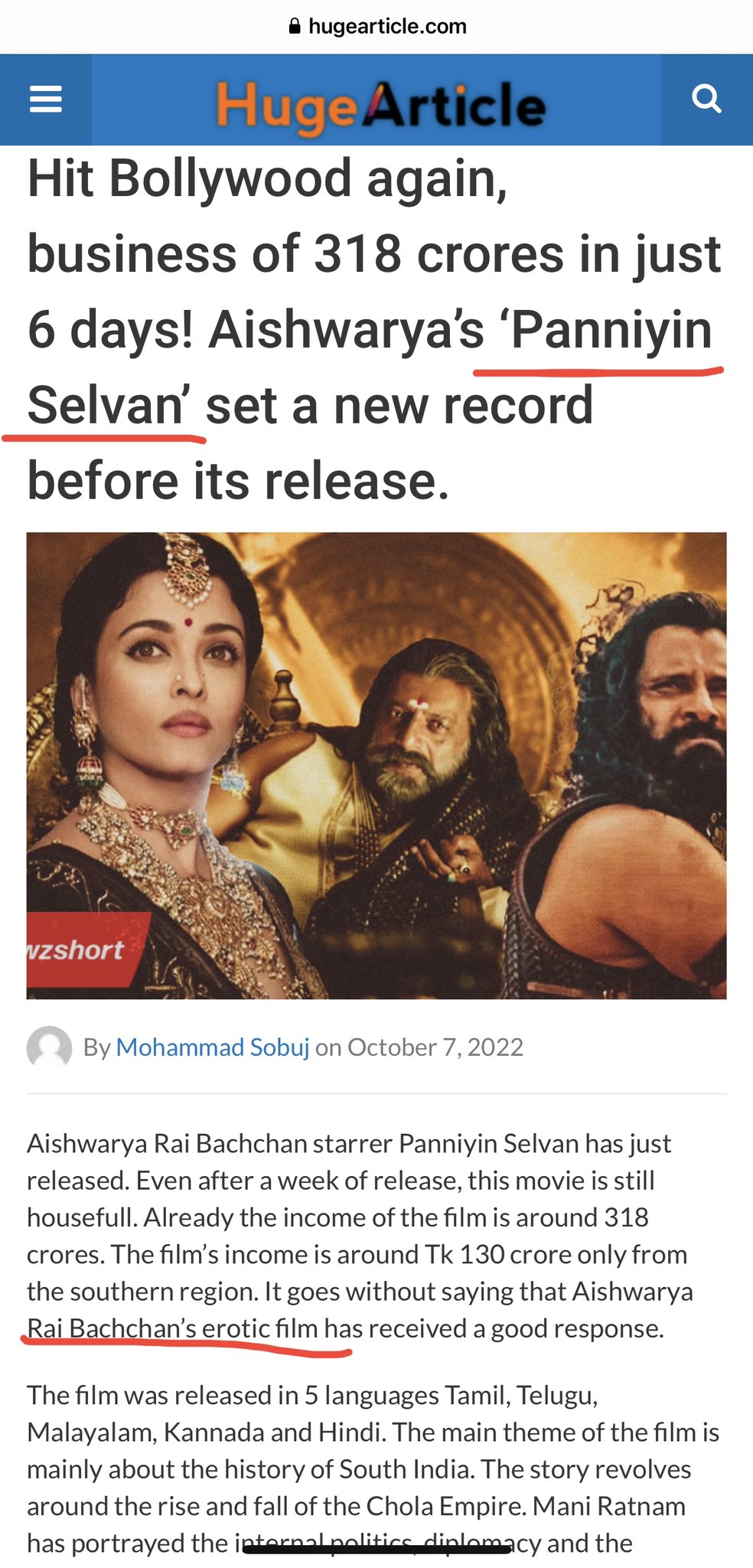 "Have you watched the 'erotic' film 'Panniyin Selvan' yet?" journalist Priyanka sarcastically asked after seeing the article whereas another Twitter user said "1) Panniyin selvan 2) Aishwarya Rai Bachchan'a erotic film 3) Rise and fall of the chola empire. There is literally not one single thing right about that article" to express her displeasure.
Check out some of the reactions below :
1) Panniyin selvan
2) Aishwarya Rai Bachchan'a erotic film
3) Rise and fall of the chola empire

There is literally not one single thing right about that article.

— Accidental Writer (She/Her) (@accidentlwriter) October 10, 2022
Panniyin Selvan, meanwhile, is the story of a piglet that wanted to ascend the throne of a kingdom called Styland. He oinked his way through the movie (animation) until everyone decided to give him a chance

— equa-nimmi-ty (@nimmypal) October 10, 2022
who called it animal farm and not panniyin selvan #nichetweet

— Lavanya Mohan (@lavsmohan) October 10, 2022
Have you watched the 'erotic' film 'Panniyin Selvan' yet? 🤭 pic.twitter.com/IZdD8fFSZw

— priyankathirumurthy (@priyankathiru) October 10, 2022
Who all have watched Panniyin Selvan, the erotic film? #PS1 pic.twitter.com/nIjv5QEY98

— Narayanan Hariharan (NithyaKarma.com) (@narayananh) October 10, 2022
So where's this erotic movie 'Panniyin Selvan' screening? 😂

— Dhivya Marunthiah (@DhivCM) October 10, 2022
For the Hindi belt ignoramus out there.
These are all totally different. Not same same but different.

Ponnyin Selvan
Panneer Soda
Panniyin Selvan
Paneer Selvan
Panneer Selvam

— Srini Swaminathan (@srini091) October 10, 2022
All animals are equal, but some animals are more equal than others. #PanniyinSelvan

— People's President (@KSYashaswini) October 10, 2022
"Panniyin Selvan" is Aishwarya Rai Bachchan's erotic filmaa? Don't these Amit reporters not use Google?

— Sanjeev 🎙️✍️ #MaskUp 😷 (@worldofsanjeev) October 10, 2022
Otha Dei….!
"Panniyin Selvan" is the guy acting as Ravana in 'Adipurush'.
This is Ponniyin Selvan. https://t.co/ZGAjqnEWQ7

— കെ ടി കുറുപ്പ് (@KTKurupp) October 10, 2022
First I read "Rise & Fall of Chola Empire" I was like Dai!
Then I read "Panniyan Selvan" (btw to non thamizhs Panniyan selvan means Pig's son): I was "Yaar daa nee"
and at last I read "erotic film": "Ivura enakke paakanum pola irukke", this guy is legend! pic.twitter.com/xDlDAbpcKM

— Karthikeya Murthy (@kmthecomposer) October 10, 2022
Kudumbangal kondadum erotic movie 😭🤣 https://t.co/giGN0vZ9aB

— AZLAN𖤐 (@hashtag_tamizh) October 10, 2022
😂🤣.. erotic … 😭😭
maniratnam tamilargala emathitaaru .. hindi audience ku A+ scene vechitu… namakulam U film kaatitaru… https://t.co/8D8TdicKvM

— BRAHMI..🤩 (@ANAND45579502) October 10, 2022
Guess I watched the wrong ponniyin selvan, Twice. https://t.co/8zS1fNH9l1

— ᑭᖇIᑎTᕼᗩᑎ (@iPrinthan) October 10, 2022