North Fans Compared Hrithik & VJS !! You Just Can't Miss these Replies From Tamil Fans
Hrithik Roshan
North fans
Vijay Sethupathi
7 months ago
By Dhiwaharan
Ever since the trailer of "Vikram Vedha" Hindi version got released, the comparison between actors Hrithik Roshan and Vijay Sethupathi is being made by the fans. While fans who watched the original version are saying that no one can match Vijay Sethupathi as "Vedha", Hrithik fans has been countering by stating that the actor is free to do the role in his own style and to experiment. In the meantime, a picture which shows Hrithik and Vijay being compared based on a series of aspects is doing rounds in the social media platforms.
Vijay sethupathi Hrithik roshan
Expression 🔥 expression 😂 #VikramVedhateaser pic.twitter.com/PZH1HnP3xt

— axay patel🔥🔥 (@akki_dhoni) August 24, 2022
The picture contained aspects such as "Handsome", "Fair skin", "Physique" etc and was made in favour of the Bollywood actor. The post became a subject to severe trolling among the Tamil fans as they believe that the aspect that matters in "performance" and the things mentioned in the picture doesn't have to do anything with the script at all.
The post was uploaded in a Bollywood based facebook page named "TV Shows & Movie addicts". There has been a surge in posts comparing Vijay Sethupathi with Hrithik Roshan after the trailer of 'Vikram Vedha' dropped on YouTube. I find it mildly amusing because, let's be honest with ourselves, Vijay Sethupathi is not even in the same league
as the Greek God of Bollywood. It is just a laughable attempt to prop up Vijay Sethupathi by pitting him against Hrithik Roshan, who is one of the best actors in this
country. The insecurity of Vijay Sethupathi fans is pretty evident. Even they are aware that Vijay Sethupathi's portrayal of Vedha will be erased from our collective memory once
people witness Hrithik's interpretation of the same character" caption of the post read.
The picture contained "Handsome, Physique, Fair skin, Acting, action, dancing skills, awards and net worth" in it's column and Hrithik was rated better than Vijay Sethupathi in all of them.
Here's the picture that is trending :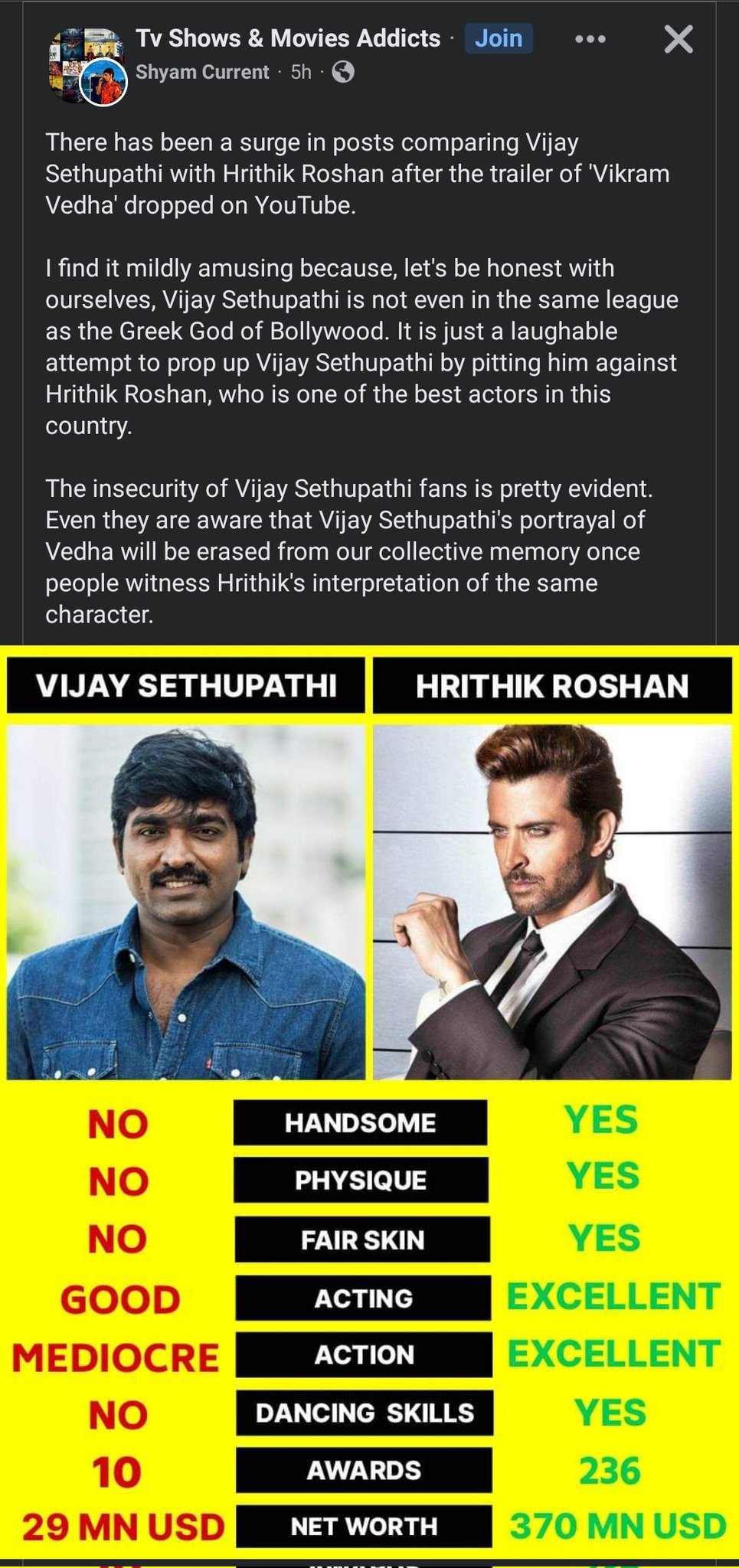 Here's how Tamil fans reacted to the comparison :
வெள்ளையா இருந்தா பெரிய பருப்புனு நினைப்பு. ஒரு தயாரிப்பாளர்/இயக்குநர் மகனாக பிறந்து இந்த நிலமைக்கு வந்தது காட்டிலும், பல வருஷங்களாக கஷ்டபட்டு வாய்ப்பு தேடி இன்று மக்கள் மனதில் இடம் பிடித்த VJS எங்களுக்கு, பல பாலிவுட் நடிகர்கள் காட்டிலும் மேலானவர். வண்டானுக compare பண்றதுக்கு 🤦 pic.twitter.com/xicv1SWFRM

— Dr.Thillli PhD 🎷🧬🎸🧬🎺🧬🎤🧬🥁🧬 (@thil_sek) August 25, 2022
Adangotha 🤣 Nalla vela da Tamil Nadula poranthaen etho konjom murpokku buddhi anga anga otit irku… Unga oorla poranthut Handsome Physique Fairness nu mark potut mannu koodhiya irnthrpen 🤣 Vadakan vadakkan than ya ! pic.twitter.com/7okI06WNBs

— Ponaa podhunu 😏 (@Forlorn_Forever) August 25, 2022
நல்லவேள Hrithikக்கு divorce ஆகிருச்சு VJSக்கு ஆகலனு சேக்காம விட்டானுக தீச் வடக்கான்ஸ் 🫢 pic.twitter.com/7vXTLFSCoi

— Priya (@DrHolyhemp) August 25, 2022
Vijay Sethupathi is a better actor than the whole Bollywood, I repeat, the entire Bollywood. https://t.co/ZGFJ4nwMcG

— Waheeda (@WaheedaComrade) August 26, 2022
Racism, yes, but in which world is Vijay Sethupathi's acting just 'good' and worse compared to Hrithik?

Hrithik wasn't even the first choice for Vedha, and many choices before him passed simply because Vijay did so well and it was too much to take on lmao https://t.co/GLRTfEUCRN

— Muthu (He/Him) (@muthuwu) August 26, 2022
And now we know the reason why bw has the most mediocre films. And they be remaking south films to stay relevant. 🙃
They can have their "fair skin" and "handsome" criteria with them. We will keep the acting prowess with us! https://t.co/OmtfSrAaUr

— Janani⁵⁺⁷🃏 (@naan_jaan) August 26, 2022
not surprised bc bollywood always focuses on beauty standards rather than talent. one of the reasons why visually attractive actors keep gettin movies and they still cannot act to save their life, they are either nepo kids or outsiders https://t.co/sRxSz5yilN

— rubia 🎂 (@butterrish) August 26, 2022
ithu naalatha vadak thaileengha anaithum mutta koothigala irrukunthungha. https://t.co/lDivt8m1n2

— aspecificarea_bat | NV stan account. (@thatvavvalu) August 26, 2022
And FYI this is the exact requirement to play vedha in #VikramVedha https://t.co/Fbi6NrVles pic.twitter.com/LeA0mn3cxQ

— mood swinger 🇮🇳 (@memes_disorder) August 26, 2022
Hrithik is a good actor but he nowhere comes near to Vijay and his versatility in terms of acting (My opinion) .And actors job is to act and he nails it with every role and his national award is enough to prove

ps : Still no one can match Vijay as vedha !! https://t.co/gXBK0PbNf4

— 𝓼𝓱𝓻𝓾𝓽𝓱𝓲 🌙 Rubi 🎂 (@monalahansika) August 26, 2022
the handsomeness of VJS in the question 🥹

if u are so sure abt Hrithik 's acting as vedha you would'nt even started with the comparison with VJS at the first place lmao 🤭#VijaySethupathi https://t.co/U6KDeSa2TP pic.twitter.com/SisPg1lAp2

— S🐷 | AFTER EVER HAPPY (@Angrichorni) August 26, 2022
Bollywood superstars struggling for 50cr+ LT collection 😂 ennittum ahangaarathinu ottum kurav illa 💩

Do watch His super Deluxe (he won National Award) , 96 , OG Vikram vedha https://t.co/P3vKUuyF8A

— ♫ (@Silpu_SGian) August 26, 2022
What nonsense is this la? Who is saying VJS is not handsome!! & seriouslyyyy fair skin?? https://t.co/tdLFKhGR87

— Shanthini (@shanthiniik) August 26, 2022
Pls 😭

Acting compare karna is one thing but what does physical appearance have to do with anything !!

This place never fails to amuse me 🚶🏼‍♀️
Sethupati is a tremendous performer 💥
( Ps : i like both Vijay & HR ) https://t.co/BIOUDy6w3j

— Hri💤 || ʀᴜʙɪᴀ's ᴅᴀʏ 💖❥|| (@Hrichihrich) August 26, 2022