Corpn. asks parties to clear graffiti
As many as 9,223 spots cleared in 16 Assembly constituencies
Four days after the announcement of Assembly elections, as many as 13,392 cases of defacement of walls have been reported from the district.
With a few political parties continuing to violate local statutory provisions, Corporation workers are on their toes, preventing defacement of property.
The Chennai district election office began work on clearing political graffiti, posters and banners after the model code of conduct of elections came into force on March 4.
"Teams have started taking action, removing wall posters, banners and political graffiti in 16 Assembly constituencies. Most of the areas we screened had wall posters, which have been removed. Without the cooperation of political parties, the defacement will be a challenge in Chennai," said an election official.
As many as 9,223 spots have been cleared of defacement caused to government buildings in the 16 constituencies. Many spots were cleared multiple times in the past four days. Corporation workers removed party symbols at many locations. A total of 4,169 banners have also been reported to the district election office so far, officials said.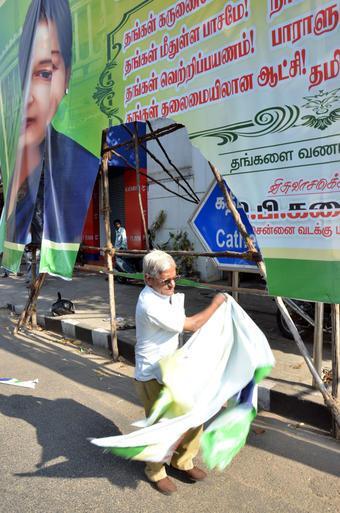 Ahead of the election announcement, political graffiti had sprung up everywhere. Some of the graffiti were removed by a few party functionaries last week. Owing to lack of manpower in each of the 107 wards in Chennai district, the election office has asked other political parties also to remove graffiti, posters and banners of their own accord.
"Local statutory provisions do not permit defacement of any property. The Corporation officials have been given instructions that this should not be permitted, even under the pretext of consent of the owner of the private property being obtained," said an official.
Usually, more than 10,000 private premises along arterial roads in the city are being illegally used for election campaign. "We are also creating awareness among owners of such property," said an official.
A total of 4,169 banners have been reported to the district election office till date
Source – The Hindu