Nirav Modi Caught In London Wearing 9 Lakh Worth Jacket !! You Can't Miss These Posts !!
CM / Updated: 2019-03-10
04:41 IST
By Dhiwaharan
After a video of Nirav Modi walking down a London street surfaced on the Internet today, social media users were quick to take a swipe at the fugitive billionaire and soon, the hashtag #NiravInLondon was trending on Twitter.
The British took away our jewels and not returning them back.
Now, the British have taken away our jeweller and not returning him back. #NiravModi #London pic.twitter.com/6LGTU3WiCI

— Harsh Goenka (@hvgoenka) March 9, 2019
[wp_ad_camp_1]
Nirav Modi, wanted in India in an alleged Rs. 13,000 crore bank fraud case, has reportedly started a diamond business in London. British newspaper The Telegraph carried a two-minute clip of the fugitive diamond trader walking on a street in London's West End.
Nirav Modi and his uncle Mehul Choksi are the prime accused in the Punjab National Bank scam. Mr Choksi holds a citizenship of Antigua and Barbuda. Both left India in January last year before the PNB scam broke.
The tweets made reference to Nirav Modi's expensive ostrich hide jacket, estimated to cost more than Rs. 9 lakh.
Check out the tweets here :
It's sad that Nirav Modi has money for Ostrich hide jacket but not hair transplant

— dorku (@Dorkstar) March 9, 2019
Breaking: Nirav Modi arrested by London police. They burned his jacket and released him.

— Rofl Gandhi (@RoflGandhi_) March 9, 2019
Ostriches aside….anyone think it's ironic that Nirav Modi was found because of a 'Hide Jacket'?

— Vir Das (@thevirdas) March 9, 2019
[wp_ad_camp_1]
The ostrich-leather jacket, worn by #NiravModi, is a poetic representation of our nation. We are a society of ostriches after all, when there is trouble we bury our heads in sand and pretend there is none as we can't see any.

— Ram Subramanian (@VORdotcom) March 9, 2019
#NiravModi was spotted in London wearing a jacket made of Ostrich Leather.

The Jacket ranges start from ₹60000 .

Had never heard of anything made of Ostrich leather.

They are having a Galatime on money.

Thankfully Govt. has started demolishing their wealth & possessions pic.twitter.com/6W8CUEQteo

— Gautam Mishra (@Mr_Gauti) March 9, 2019
"Sorry, no comment" says #NiravModi trying to 'bury his head in the sand'

The fact that he was wearing an Ostrich hide jacket is only a strange coincidence! pic.twitter.com/wMt4ChWzaz

— Gautham Shanbhogue (@ohmygaut) March 9, 2019
#NiravModi spotted in London wearing a £10000 jacket.

All Modis have a thing for fancy jackets

— Roshan Rai (@RoshanKrRai) March 9, 2019
Central Govt simply forgetting the issues…..
We people forgotten previous frauds….

You see just he is wearing
Rs.780000/- worth jacket.. who s money is this????
அது என்னடா இந்தியால கொள்ளை அடிச்சுட்டு England matum போறாங்க என்னமா இருக்கும்?!?#niravmodi https://t.co/3UIHipmrmz

— UDay🇮🇳 (@udayaprakash2) March 9, 2019
For those of you who are wondering why #NiravModi wore an ostrich hide jacket- He was just being an ostrich! #niravinlondon pic.twitter.com/Do3whuTTWG

— Jacquiline Singh (@JacquilineS1975) March 9, 2019
At least Nirav Modi should have hid his face in that Ostrich jacket as a tribute to ostriches. #NiravInLondon

— Vipul Goyal (@HumorouslyVipul) March 9, 2019
In a pink shirt topped with a $10,000 jacket and sporting a handlebar moustache, Nirav Modi was seen evading questions in the video as he was pressed asked about his extradition case in India.
[wp_ad_camp_1]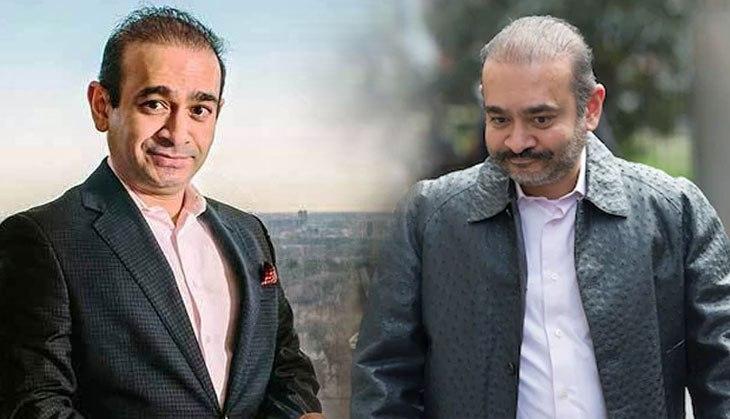 Nirav Modi is the subject of an extradition request by India, along with an Interpol Red Corner Notice being issued for the PNB scam accused.