The districts that are located in the western part of state Tamil nadu are called as "Kongu Naadu". It is being called that way due to its distinct identity within the broader Tamil socio-cultural landscape just as other regions of ancient Tamil 'country' have. The term "Kongu Naadu" is used only for its cultural identity but now it caused a huge issue and some miscreants started demanding a separate state for the region, away from Tamil nadu.
[wp_ad_camp_1]
People who are associated with the BJP party, have been using the term "Kongu Naadu" instead of using the names of the districts in some of their official announcements. Now, headlines of Tamil daily "Dinamalar" said that the western districts of Tamil nadu are going to become a separate state.
The report said that the central government got angry with the MK Stalin led party and made the decision. "Kongu Naadu is going to become a separate union state. DMK's attitude frustrated central government and the plan is made to "play" with the Stalin government.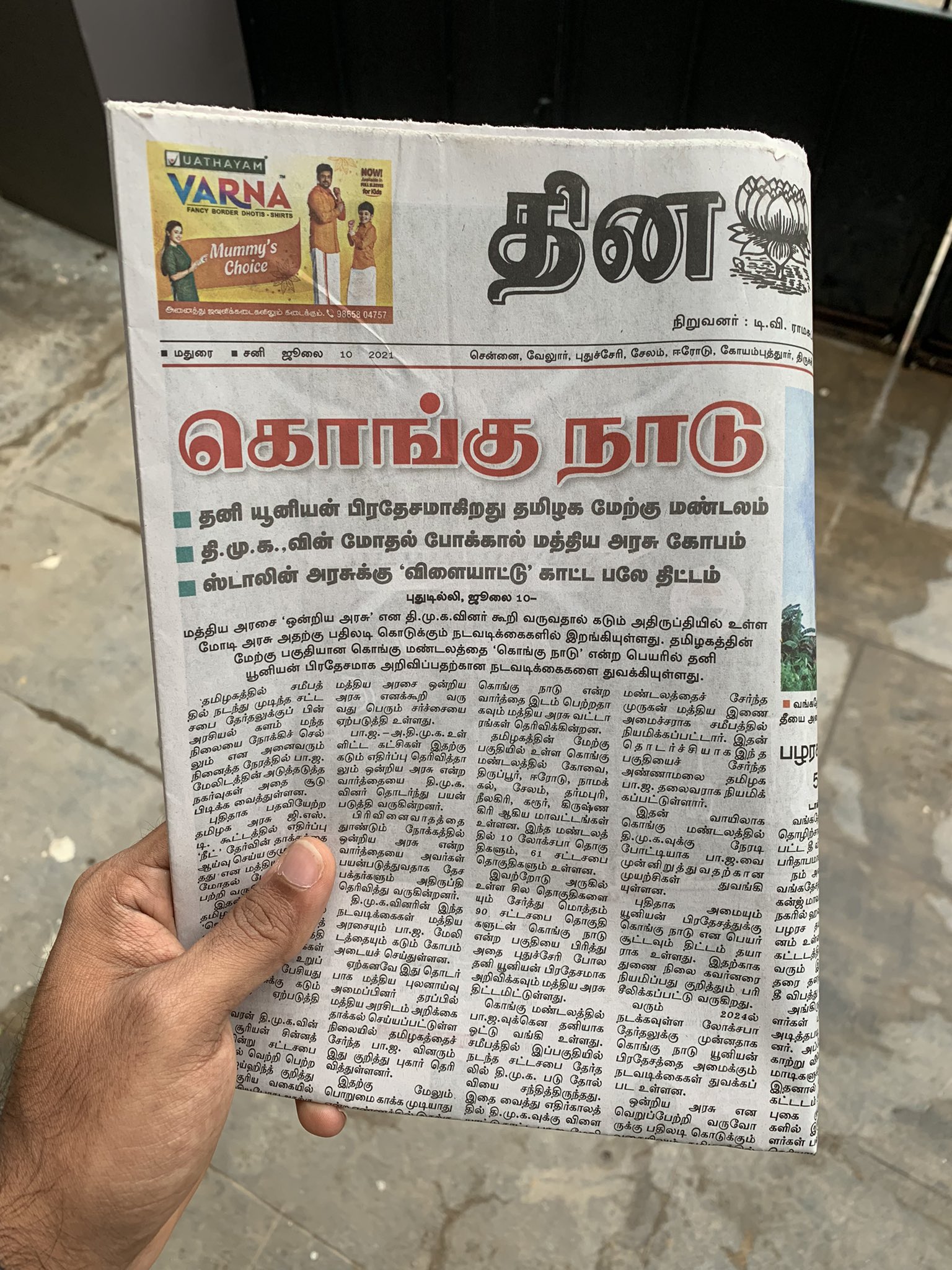 The news report has created huge outrage in social media platforms with many expressing several kind of reactions. A number of hashtags trended in the micro blogging social media site, addressing the issue and as of Saturday evening "Kongunaadavathu Mayiraavathu" was trending at the top spot. Journalist Senthil vel, in a video, tore the news paper apart to express his agitation. "I live in Coimbatore and I belong to Tamilnadu." a twitter user disagreed the idea of separating the districts from tamil nadu.
[wp_ad_camp_1]
Check out some of the reactions that surfaced regarding the issue below :
தமிழ்நாட்டை கூறுபோடத் துடிக்கும் ஆர்எஸ்எஸ் கும்பலின் திட்டத்திற்கு தூபம் போடும் தினமலர் பத்திரிக்கை எரிப்பு போராட்டம் #தந்தை_பெரியார்_திராவிடர்_கழகத்தின் சார்பாக பொதுச்செயலாளர் கோவை.இராமகிருட்டிணன் அவர்கள் தலைமையில் நடைபெற்றது. pic.twitter.com/JsufLHRSgV

— Manojkumar (@Manojku38000500) July 10, 2021
சம்பவம் 😍😍🔥🔥 @Senthilvel79 😘 pic.twitter.com/evYNgYySs0

— Jerry 🖤❤️ (@jerry_sundar) July 10, 2021
I live in Coimbatore and I belong to Tamilnadu. #கொங்குநாடாவது_மயிராவது

— Backpacker (@BackpackerText) July 10, 2021
#கொங்குநாடாவது_மயிராவது
Verithanam verithanam 🔥🔥🔥 pic.twitter.com/1PJMVB2ZIT

— Kaajal Pasupathi (@kaajalActress) July 10, 2021
#கொங்குநாடாவது_மயிராவது #கொங்குநாடாவது_மயிராவது is trending in Top in twitter ? pic.twitter.com/FyuDQ7lfr4

— Aghila Devi (@aghiladevi) July 10, 2021
Reality behind #KonguNadu Trend #கொங்குநாடாவது_மயிராவது pic.twitter.com/Wyij5SpkCq

— Troll Mafia (@offl_trollmafia) July 10, 2021
No one can saperate us dear sangis if u touch our motherland u can't take a breath here just remember #jallikattu protest don't ever think this on your shit head #dinamalar #கொங்குநாடாவது_மயிராவது pic.twitter.com/bwFKj1mMWL

— Akash (@Akash90212539) July 10, 2021
@dinamalarweb You Toilet Paper We Show you Middle Finger 🖕🖕#கொங்குநாடாவது_மயிராவது https://t.co/LEP00N8lc0

— ℳર.கௌசி𓃬 (@koshi_twits) July 10, 2021
[wp_ad_camp_1]
Coimbatore and it's surroundings are famous for Factories, Mills etc
Sanghis don't make it famous for Maatu tholuvam 🤮#கொங்குநாடாவது_மயிராவது

— Gowtham (@Gowtham_M_7) July 10, 2021
I am from Dharmapuri ! I don't need seperate name. Tamilnadu is fine #கொங்குநாடாவது_மயிராவது

— Thiyagarajan K (@ThiyagarajanK4) July 10, 2021
இது சங்கிகளுக்கு மட்டும்தானு கொங்கு மக்களுக்கு புரியும்… கோச்சிக்க மாட்டாங்க…#கொங்குநாடாவது_மயிராவது

— டைனோசர் 🦖 (@DinosaurOffcial) July 10, 2021
அதுக்குள்ள கொரோனா ஒரு போடு போற்றுச்சுனா என்னடா பண்ணுவிங்க😂😂#KonguNadu pic.twitter.com/9PXsiY5RJl

— நாய்க்குட்டி (@KuttyNaai_) July 10, 2021
கொரோனா காலத்தில் ட்யலட் பேப்பர் பற்றாக்குறை பற்றி அமெரிக்காவில் ஒரே பிரச்சினை

நம்மூரில் அதற்கு குறையே இல்லை!

— Iyan Karthikeyan (@Iyankarthikeyan) July 10, 2021
Periyarists🔥🔥 pic.twitter.com/UdgjRhgo6J

— Sonia Arunkumar (@rajakumaari) July 10, 2021
கொங்கு நாடு கேளுங்க ஜி !

டேய் நீ மைலாப்பூர் தான ! உனக்கும் கொங்கு நாட்டுக்கும் என்ன சம்பந்தம் #கொங்குநாடாவது_மயிராவது pic.twitter.com/Xe9Vp2U5XS

— ஒன்றிய ஆந்தை (@owloffl) July 10, 2021
சங்கி:- கொங்கு நாடு வேணும்!

:- தனி மெண்டல் ஆஸ்பத்திரி கேளுடா தங்கம்! கட்டி தர்றோம்! pic.twitter.com/SFxrqK2fux

— டைனோசர் 🦖 (@DinosaurOffcial) July 10, 2021