Faf du Plesis led Royal Challengers Bangalore won their second match against Gujarat Lions and stayed in the hunt for the playoffs. Kohli's stable half century and Glenn Maxwell's quickfire innings helped the red team to avoid getting eliminated from the tournament. However, a hashtag saying "Royal Fixers Bangalore" is trending after the Karnataka based cricket team clinched the victory. Through the hashtag, Netizens are shooting so many questions about how Bangalore won the match.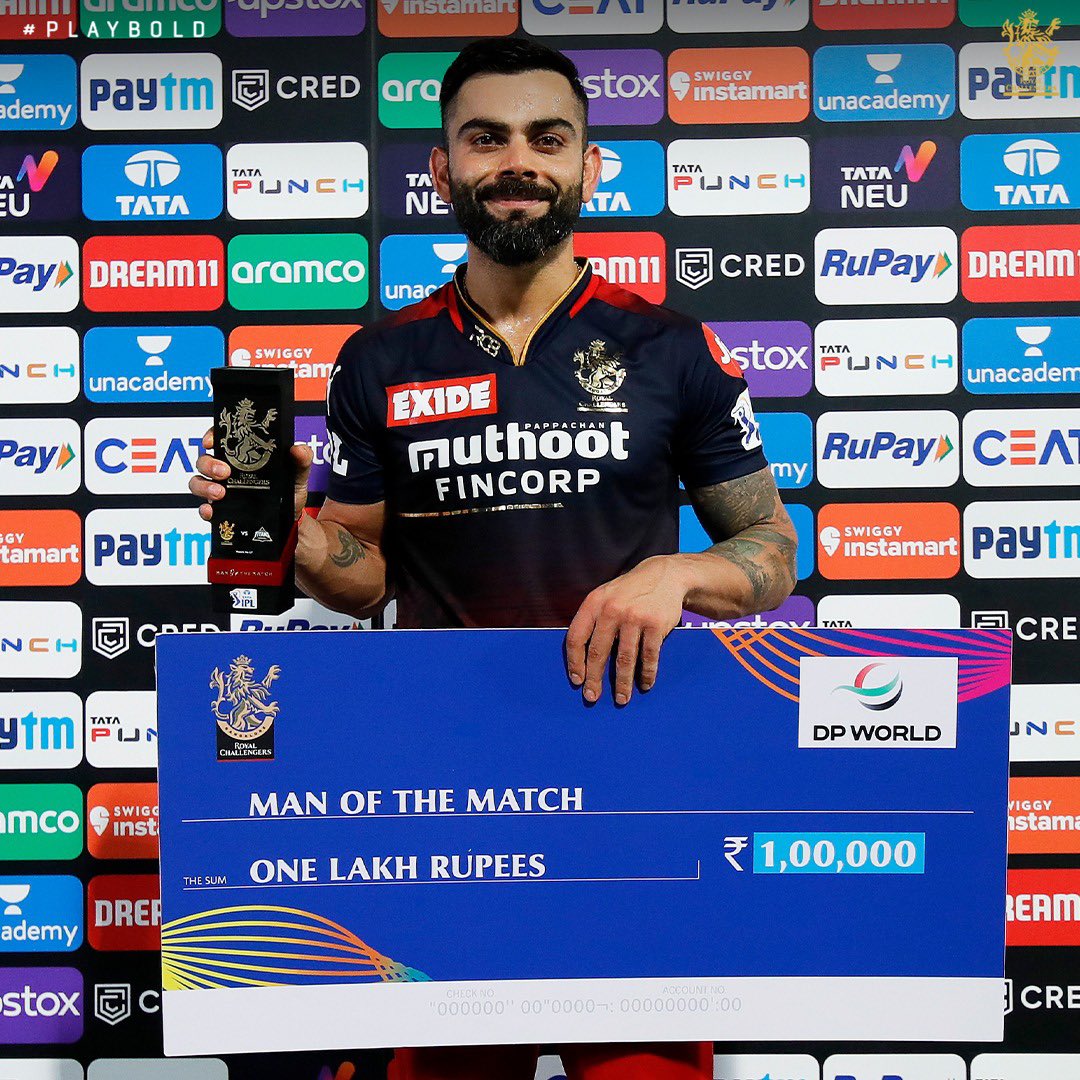 With skipper Hardik Pandya's 47 ball 62, Gujarat Lions put a competitive total of 168 runs in the board for RCB to chase. Opening batsmen Kohli's 73 off 54 balls and Captain Du Plessis's 44 of 38 balls ensured the team's comfortable victory with 8 balls to spare. Glenn Maxwell registered a ballistic 40 runs of 18 balls t take his team one step forward in the tournament.
Delhi's loss would ensure RCB team a play off berth. A total of 8 fours and 2 sixes were smashed by Kohli in his innings, come back of whom the who country is waiting to witness. In a over bowled by Hardik Pandya, Kohli was dropped by Rashid Khan. The former Indian captain was named as the man of the match for his calculative innings and his fans became pretty much happy for the batting he displayed.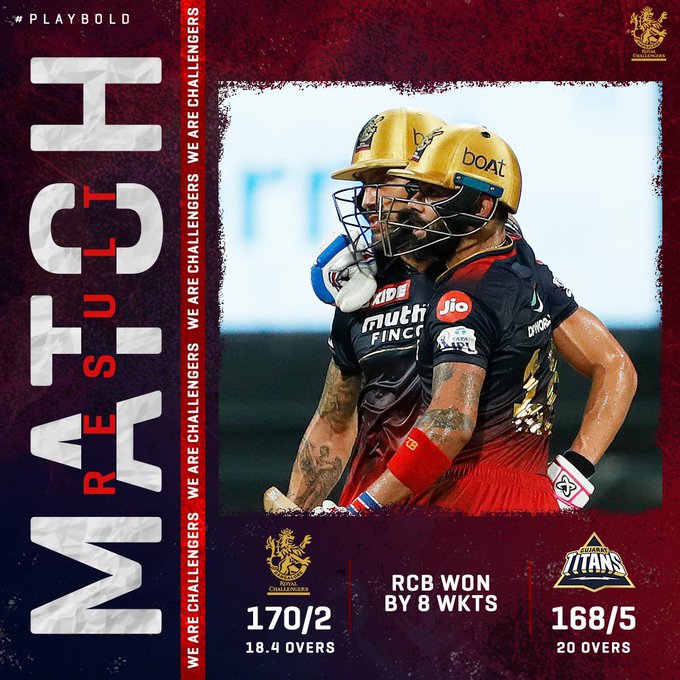 Despite the clean victory RCB registered, a number of social media users started spewing hatred at the team by trending 'Royal Fixer Challengers" hashtag. They had so many questions about the victory of RCB including Kohli's drop catch and Hardik's captaincy. "Is this match fixed! Lockie bowl only 1 over till now and Hardik didn't give Bowl to Shami in 18th over!" a fan tweeted whereas another one said "Cricket is losing and Money is winning, can't believe that #RCBvGT match is fixed. Umpires giving decisions in the favour of RCB. They are playing with the emotion of millions of fans"
Check out some of the reactions below :
Some of the strongest bonds in the world#RoyalFixerChallengers pic.twitter.com/7Dvkgf0fGy

— time square 🇮🇳 (@time__square) May 19, 2022
Rashid khan Drops Virat easy catch#RoyalFixerChallengers pic.twitter.com/HFC9NrUjpe

— ROHIT.GOAT!!! (@Rohit_goat_) May 19, 2022
Dropped catches of a batsman this season
Kohli – 4
Rohit – 1
But one guy is unlucky and other one is lucky #RoyalFixerChallengers

— Sikendra Khan (@sikendra_khan) May 19, 2022
Hardik To Choker – Don't Worry I'll Manage 😜😂 #RoyalFixerChallengers pic.twitter.com/hmps2XjClh

— Ravi Rathod MI🇮🇳 (@Im_Ravi_45) May 19, 2022
The result you know but the reason you don't know 🙂#RoyalFixerChallengers #RCBvGT #ViratKohli pic.twitter.com/WXFg9kaHea

— 𝑨𝒏𝒌𝒊𝒕 𝒆𝒌 𝑹𝒐𝒉𝒊𝒕𝒊𝒂𝒏 👑 (@Allrounder_Anki) May 19, 2022
Half century but
Of in fixed
Virat kohli match
#RoyalFixerChallengers #RCBvGT #GTvRCB pic.twitter.com/gcbAJZAtfv

— 𝑨𝒏𝒌𝒊𝒕 𝒆𝒌 𝑹𝒐𝒉𝒊𝒕𝒊𝒂𝒏 👑 (@Allrounder_Anki) May 19, 2022
Is this match fixed!

Lockie bowl only 1 over till now and Hardik didn't give Bowl to Shami in 18th over! #royalfixerchallengers 🙂

— Cricketastic 🇮🇳 (@cricketastic17) May 19, 2022
Cricket is losing and Money is winning, can't believe that #RCBvGT match is fixed. Umpires giving decisions in the favour of RCB. They are playing with the emotion of millions of fans. 💔💔 #RoyalFixerChallengers pic.twitter.com/OFEuZTJTfH

— SACHII | 🇮🇳 (@fadedSachi) May 19, 2022
Ferguson and shami ?? Will they even bowl..
Wtf is this?
#RoyalFixerChallengers

— djjjjjjjjjjj (@djjjj777) May 19, 2022
Why this match was fixed

– Wade was clearly not out
– Rashid dropped Kohli's catch in exchange of his bat🥴
– Ferguson's 3 overs were left
– shami's 2 overs were left

Yet they are not gonna qualify 🤣#GTvRCB #RoyalFixerChallengers#ViratKohli pic.twitter.com/d1V60HHmbW

— frozen🥶 (@ein_scofield) May 19, 2022
First this incident and now virat scoring runs. This match seems fixed. #RoyalFixerChallengers pic.twitter.com/8WvBL4mtgh

— Lakshman (@Rebel_notout) May 19, 2022
Even a child can easily understand that it's a fixed match #RoyalFixerChallengers

— Georg ohm (@ultimate_264) May 19, 2022
Lockey Ferguson No.1 Gt bowler
Bowled 0 Overs Today, Whereas
Unfit Hardik pandya Bowling In powerplay.. Clear Match Fixed By#Rcb#RoyalFixerChallengers

— ROHIT.GOAT!!! (@Rohit_goat_) May 19, 2022
. @bcci @ipl @SGanguly99 please investigate the on going match it's giving some fixing kinda vibes #royalfixerchallengers

— time square 🇮🇳 (@time__square) May 19, 2022
1. GT chose to bat first where other teams were fielding first .

2. Wade wicket , Clear deviation when the ball passed his bat

3. Saha runout

4. Hardik didn't take the second run on the last ball of 20th over.

— 𝐇𝐲𝐝𝐫𝐨𝐠𝐞𝐧 (@Hydrogen_45) May 19, 2022
Look at the face of Virat , looking so calm in a do or die Match , we don't see him like this but he knows the result of today's match cuz they have fixed the match already. Shame #RoyalFixerChallengers pic.twitter.com/0WbOFuH1zM

— SACHII | 🇮🇳 (@fadedSachi) May 19, 2022
The ball has changed direction but there is no action in ultra edge.#RCBvsGT #umpiring #IPL2022@BCCI #Wade #MatthewWade@IPL #RoyalFixerChallengers pic.twitter.com/F7TfF7tkHj

— Ashish (@AshishHirpara00) May 19, 2022
The collapse of Gujrat titans you know.
The reason you don't.#HardikPandya #ViratKohli #RoyalFixerChallengers pic.twitter.com/K8osdXRhum

— Nikscasm (@Nikhat__) May 19, 2022
So according to Hardik pandya… He is better bowler than Mohammad Shami and Locky Ferguson

#Royalfixerchallengers #RCBvsGT

— NATION FIRST (@NationFirst_24) May 19, 2022