Netizens Couldn't Resist Comparing Hrithik Roshan & Vijay Sethupathi After The Trailer Release !!
Written by Dhiwaharan Published on Aug 24, 2022 | 16:58 PM IST | 90
Follow Us
Comments: 0
As soon as the teaser of "Vikram Vedha" Hindi version released, Tamil nadu based online users couldn't resist themselves from comparing the role played by Hrithik Roshanwith original Vijay Sethupathi's. Though Pushkar and Gayathri who made the original version wielded the megaphone for the Hindi version, fans of Tamil region are not much satisfied with the screen presence of Hrithik Roshan which is evident through their comments and posts in social media platforms. Hashtag Vijay Sethupathi is trending in the micro blogging social media site after the teaser release.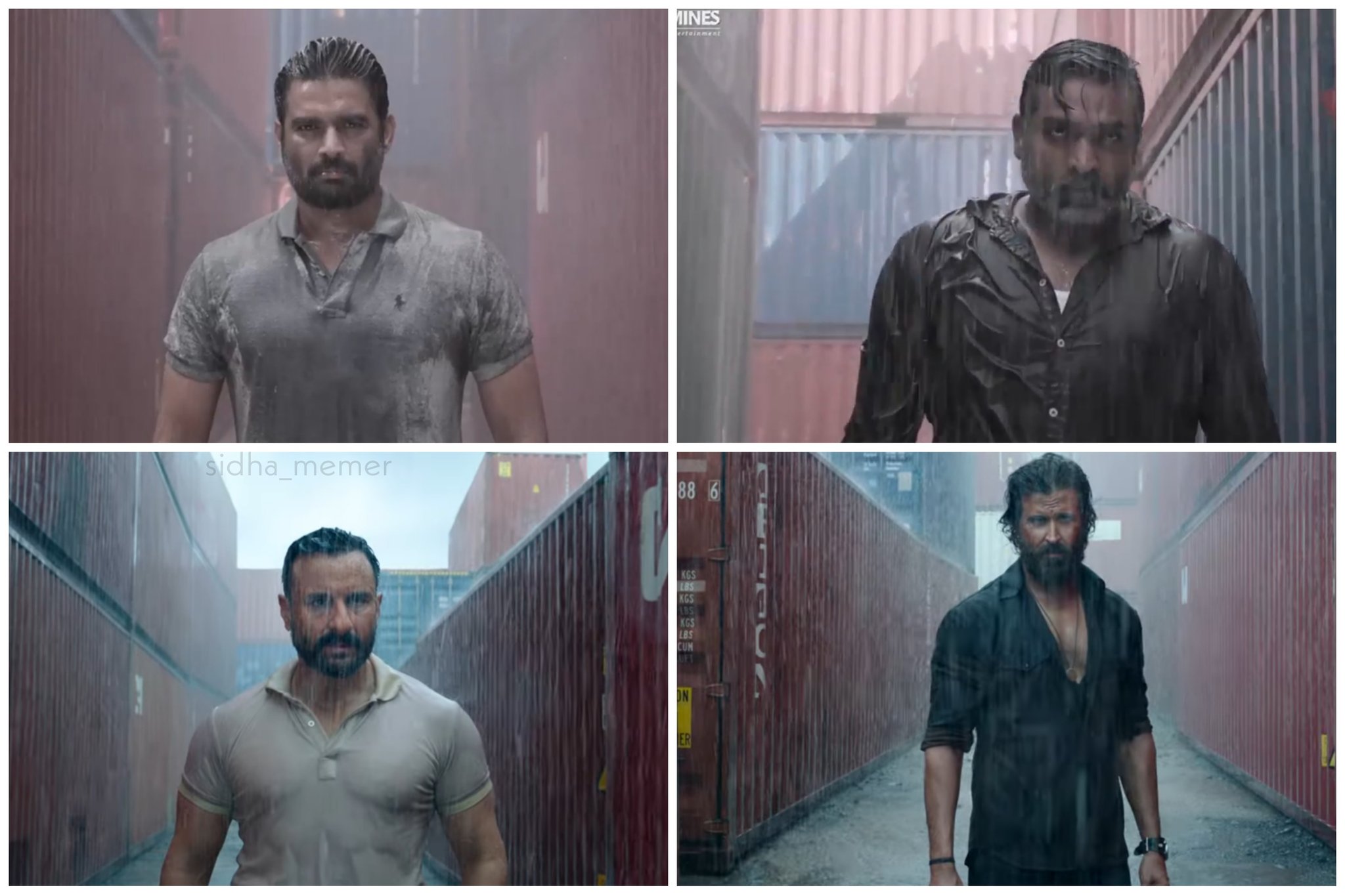 The one minute 55 seconds long teaser showed Hrithik and Saif AliKhan flaunting their Vedha and Vikram looks respectively. Fans who watched the original wouldn't have anything as surprise except the performances of the lead stars. However, it is a treat for the fans of Bollywood who are watching the movie for the first time.
The original starred Ranganathan Madhavan as righteous police officer and Vijay Gurunatha Sethupathi as a seasoned gangster. The cat and mouse crime thriller revolves around a good cop and a gangster who manages to escape every time the determined cop nabs him by narrating a story derived from his own life. The makers of the Tamil blockbuster said that they got the inspiration to write the story of "Vikram Vedha" while reading the ancient lore "Vikramathithyam-Vedhalam".
Watch the Hindi Vikram Vedha teaser which released on Wednesday below :
Many celebrities and fans from Hindi cinema celebrated the teaser saying that the film will become a huge blockbuster. However, Tamil cinema fans who are aware of the original started comparing the actors who played the role of gangster Vedha. Even some of Bollywood fans are not happy after watching the teaser which is evident through their tweets.
"Just a reminder that…no one should play characters that had been done by #VijaySethupathi 🐐. I mean no one in India can match him. Period" a fan wrote whereas another one said "What a crap idea to think even to make #HrithikRoshan as Vedha which was perfectly nailed by #VijaySethupathi 🔥🔥"
Check out some of the reactions below :
Just a reminder that…no one should play characters that had been done by #VijaySethupathi 🐐. I mean no one in India can match him. Period #VikramVedhateaser #VikramVedha pic.twitter.com/lhabqmabNV

— A B 🔔 (@AshishBVardhan1) August 24, 2022
What a crap idea to think even to make #HrithikRoshan as Vedha which was perfectly nailed by #VijaySethupathi 🔥🔥#VikramVedha remake is just crap pic.twitter.com/r8owWNYReN

— Akkian_Addu(Adesh) (@Akkian_x) August 24, 2022
Don't waste ur money for this Lowest grade Copy of Original #VikramVedha of #VijaySethupathi , Original is available on YouTube for free. Watch the Masterpiece original, don't watch this copy film of #HrithikRoshan 👍

BOYCOTT REMAKE pic.twitter.com/NhAV7KVPcZ

— Deba 👑 (@KhiladiEra9) August 24, 2022
Whatever, Cinema cannot survive without Kollywood.#VikramVedha – #Vijaysethupathi. pic.twitter.com/xBki23fGTq

— A K – MEMES ™ (@AKMemes_Offl) August 24, 2022
vijay sethupathi>>>some bollywood actrs💯 #VijaySethupathi pic.twitter.com/uONBcfiRob

— mumeeth Raza (@Mumeeth_raza) August 24, 2022
Vijay sethupathi Hrithik roshan
Expression 🔥 expression 😂 #VikramVedhateaser pic.twitter.com/PZH1HnP3xt

— axay patel🔥🔥 (@akki_dhoni) August 24, 2022
Lol 😭🤣🤣.. no one can match Vijay sethupathi I repeat No one. pic.twitter.com/Ri1arq4p62

— Wellu (@Wellutwt) August 24, 2022
Thought while looking at the motion picture that Hrithik will nail it. But even after years The Super 30 vaala Hrithik yaha dikh raha hai.
Don't know why he didn't pulled this off. #VikramVedhateaser #HrithikRoshan𓃵 #VijaySethupathi pic.twitter.com/lwOb9YeC3C

— Aditya Thorat (@AdityaThorat010) August 24, 2022
Sethupathi expresses everything with his eyes along with impeccable body language no offense to Hrithik but Vedha's character written exclusively for Sethupathi no can match his swag #VijaySethupathi

— SANJU (@SANJEEV80739285) August 24, 2022
Year's before @iHrithik
Screen presence used to be 10times more then his competitor's 👈🏼💪🏼💪🏼

After seeing #VikramVedhateaser felling like #HrithikRoshan screen presence 10times below our south indian star's 👈🏼#VijaySethupathi 🔥🔥

PUMA🔥 UPMA🥴 pic.twitter.com/Hpo3vLFHAr

— 𝕵10™🇮🇳 (@Vijayamrutraj) August 24, 2022
Hrithik was not the best choice for the role of Vedha because his expressions and appearance in the teaser are quite poor. It would have been better to cast a guy with average looks. #VikramVedhateaser, #VijaySethupathi

— Dhruv Oberoi 🇮🇳 (@Dhruv_018) August 24, 2022
I don't think any remake will do justice to the the original #VikramVedha@VijaySethuOffl
vedha as #VijaySethupathi 🔥🔥 pic.twitter.com/0GfO2tn7kL

— குருநாதா👁️ (@gurunathaa4) August 24, 2022
Orginal..
Masterpiece..#VijaySethupathi
🔥🔥🔥
Remakewood
Crap Movies….
Xerox machine… pic.twitter.com/GVvPEPQMRc

— Rolex Sir… (@pratap042) August 24, 2022
Have no idea why this remake was needed – both combined can't match the screen presence of #VijaySethupathi… just saying! https://t.co/UNCh1MSsTU

— Dr Amit Sarwal 🇮🇳 🇦🇺 🇨🇦 (@DrAmitSarwal) August 24, 2022
ruined the whole movie

The original film is Closer to reality, and people liked its story.

And this Bollywood ruined the whole story. And if the same stereotype is a negative character, show him Bihari.#VikramVedhateaser #SaifAliKhan #HrithikRoshan #VijaySethupathi pic.twitter.com/M5lJCIrA39

— Tanisha Batra (@TanishaBatra80) August 24, 2022