Netizens Came Up With "Kurumpadam" For Dhana After Seeing Her Recent Speech!!
Azeem
Bigg Boss
Dhanalakshmi
Vijay Tv
Vikraman
2 months ago
By Dhiwaharan
On seeing her recent speech about Azeem pushing her during one of the tasks inside the Bigg Boss house, Netizens came up with a "Kurumpadam" for her. In the video, Azeem could be seen violently pushing Dhana and she could be heard accusing Azeem of pushing her in an "inappropriate" way.
Behindwoods YouTube channel conducted a fans meet for Bigg Boss winner Azeem and Dhanalakshmi made a special appearance to interact with the fans. During her speech, Dhanalakshmi said that she likes Azeem so much because of his transparent nature and being true to himself.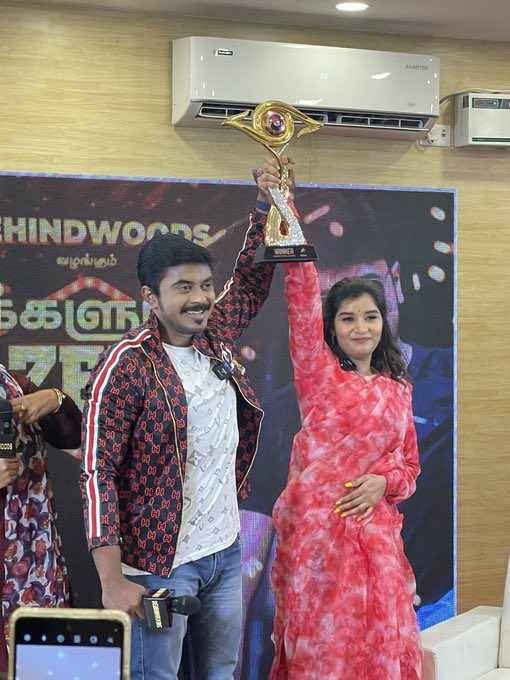 The host said that people asked her why she is supporting Azeem who misbehaved with a female contestant by touching her inappropriately. "I said that it happens during a game and also believed that Dhana, being a brave girl, would have definitely raise voice if she was mistreated" the host said.
Replying to her, Dhana asked "What is mean by "Abuse"? Abuse means, if someone touches you in a wrong way, it is abuse. Play that Footage now and show me if he ever touched me in that way. I got angry at that moment because he pushed me in a harsh manner but i won't accept it if you say that it is to abuse me" Dhana said.
Watch the video below :
On seeing the same, many online users who saw the show, came up with videos and tweets to prove about Dhana's accusation against Azeem.
Here's the video :
#imtalkies #biggbosstamil #BiggBossTamil6 #vikraman #vikramanarmy #AramVellumLegalAid #Totalwinnervikaraman #azeem #dhanalakshmi #shivin #VjMaheshwari #kamalhaasan @RVikraman @ikamalhaasan pic.twitter.com/kvsgQrhuq0

— IM Talkies (@ImTalkies) February 7, 2023
Further, Dhana went on to express her displeasure over the way Vikraman played his game. The Bigg Boss contestant said that she didn't even turn Vikraman's direction during "Bigg Boss" Kondattam show.
Mohammed Azeem who got condemned by Kamal Haasan throughout the season due to his behaviour towards other contestants, has been announced as the winner of Bigg Boss season 6. Not only Kamal Haasan, in several occasions, Azeem got severely criticized by the viewers of the show for the way he behaved towards his co-contestants. However, he ended up winning the title, competing with Vikraman.
After coming out of house, Azeem came up with a video in his social media handles, addressing his fans who casted vote for him to make him stay inside the house. "As I said that day, I'm going to give Rs. 25 lakh of my winning amount for the education of the children who lost parents due to Corona virus" Azeem said.
"I'm going to create an open account. Whoever came approach seeking help. All the data will be updated in a social media page by hiding the name of the beneficiary. Half of the amount of my winning prize goes to my Tamil bloods. I want to do something for those who made me stay inside the house after so many nominations" he further said in the video.
"World's best word is "seyal" and I'm going to do what I said inside the Bigg Boss house. This is giving back to the society. This is not even 1% of what you people did for me. I hope you people will stand by me for whatever I do in the future. I know you people will support me in every step of my career" he said.
"As I would always say, I won't fall, I will evolve bravely because I'm a Tamizhan" he concluded. Dhanalakshmi who was considered as a strongest contestant inside the house, got eliminated on the 77th day after receiving less number of votes. In the recent Behindwoods video, the duo trolled Vikraman for the statement he made about people from humble background couldn't be able to cast their votes through Hotstar.