Dharapuram 'Maadhu'
Most of the people never knew his history, He was born to a kannada brahmin parents in Tiruppur district.
After a small argument with his parents,he ran away from dharapuram to chennai. He took an oath that he would become return back to dharapuram,once he become successful in cinema.
Real life Server sundaram –
After reaching madras,he did many menial jobs. He sold pickles,worked as waiter at restaurant.
After a long wait,he got a job in railways department as a minor clerk.
First stage role – A man suffering from a stomach pain.
Once, there was a drama arranged in the railway association. The secretary was able to give him a small role of a man suffering from stomach pain. Suprisingly,the cheif guest of the drama was MGR. MGR was impressed with nagesh's performance.
Later, he got his first role in 'thamaraikullam'. But it was a minor role and he never got a chance to act in films for years.
Actor balaji helped him financially. He introduced nagesh to director Sridhar.
Sridhar was impressed and paid nagesh an advance of "Rs 500" (You could also find a similar scene in server sundaram movie where muthuraman introduces him to directors)
Nagesh got a big break with Sridhar's 'nenjil oru aalayam' movie!
The evergreen pair – Nagesh & Manoramma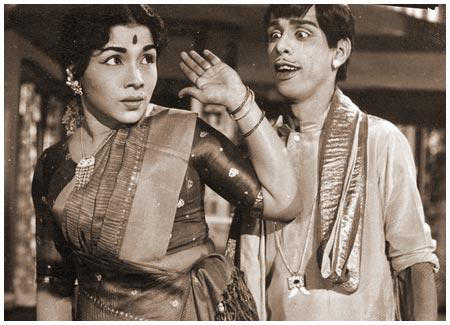 This pair was an instant success. Sridhar was the first person to introduce nagesh-manoramma. The pair was successful as NSK-Madhuram pair.
Server sundaram ! – The raise of the comedian into a lead actor
Server Sundaram
was also considered a biography of Nagesh's own life. It was actually a play written by KB sir. AVM bought the rights of the play and asked KB to make the play as a film.
Nagesh was already a well known comedian . Many of them feared that the public wouldnt accept nagesh as the lead artist. "avalukenna .." song written by kannadasan-vali and sung by TMS became a hit. TMS was worried whether his voice would suit nagesh. But all these doubts and barriers were broken on the release date! Nagesh achieved it!
Major chandrakanth
Nagesh acted as caring brother who seeks revenge for his sister's(jayalalitha) death. Major sundarrajan acts as 'Major chandrakanth'.
Ethir neechal – Maadi padi maadhu
This film is close to everyone's heart(till date) . Its a movie about maadhu, an orphan who lives in a building and does menials jobs for all the tenants who live in that building. The film is about how maadhu "swims against" all the obstacles to become successful.
Thillana moganambaal – The humorous villain!
Nagesh acted as a character which creates misunderstanding between the lead characters for his personal gain.
Nagesh also made memorable appearance as 'kuselan' in krishna leela and dharumi in thiruvilayadal.
His offers got declining when he had a tiff with MGR which pushed him to financial burdens..But later reconciled with MGR. He lived in cinema because of his potential and because of good directors like KB. He was able to survive in new age cinemas because of his admirers like kamala haasan.
Though Nagesh has acted in many different roles in Balachander films, one sequence that is perhaps best remembered is the drunkard-doctor of "Apoorva Ragangal". One cannot forget the scene where the tipsy Nagesh talks to his own shadow with a liqour bottle in hand saying "cheers sollanum daa mundam" and clicks his bottle with his shadow on the wall. The bottle breaks..
and another role was from mahalir maatum where he acts as corpse ! 😀
He had lot of personal problems which tore his family apart and he faced several financial troubles.. But he never showed it to the public and was always there to make them smile!
You could read more about his cinema and life experiences in his autobiography "Sirithu Vaazha Vendum"