Mysskin Wasted Vishal's Money ?? Actor Opened For The First Time
CM / Updated: 2020-03-11
16:49 IST
By Dhiwaharan
Vishal released a press statement about Mysskin's attitude during the shooting of Thupparivalan 2 to make sure no producers suffer like him in the future. Thupparivaalan is a 2017 Indian Tamil-language action thriller film written and directed by Mysskin. The film is produced by Vishal, who also starred in the lead role. The film featured Prasanna, K. Bhagyaraj, Anu Emmanuel, Andrea Jeremiah and Vinay in the supportive roles. The film became huge success and the director-hero duo planned make a sequel for the film.
Vishal and Mysskin shared a healthy friendship between them for quite a long time. To our shock, Mysskin suddenly opted out of the project and it was announced that Vishal is going to take over the project as Director. Several media portals reported that the demands of director Mysskin to Vishal Film Factory is the reason behind the rift between the duo. Vishal film factory is the movie production house of Vishal himself which was established in the year 2013. Now actor Vishal has made a press release blaming Mysskin.
"As a producer I still wonder why does a Director, who specifically wanted to write the script in Canada and UK and spent the Producers money to the tune of close to 35 lakhs for the above expenses including travel, accommodation etc.. after having started shoot without proper planning of location hunting, after having spent close Crores of INR" said the press release of Vishal.
"Is it wrong if a producer pinpoints the mistakes of a Director during the production of the film, for its betterment especially when close to 15 lakhs INR per day was spent for a 3 or 4 hours of shoot in UK ? No" he said in his statement. "I still wonder because it's as bad as you abandon your own kid an orphanage" he added.
"Does the director even remotely know the interest incurred and the troubles the producer goes through to make ends meet during the process of Filmmaking ?" Vishal asked through his press release.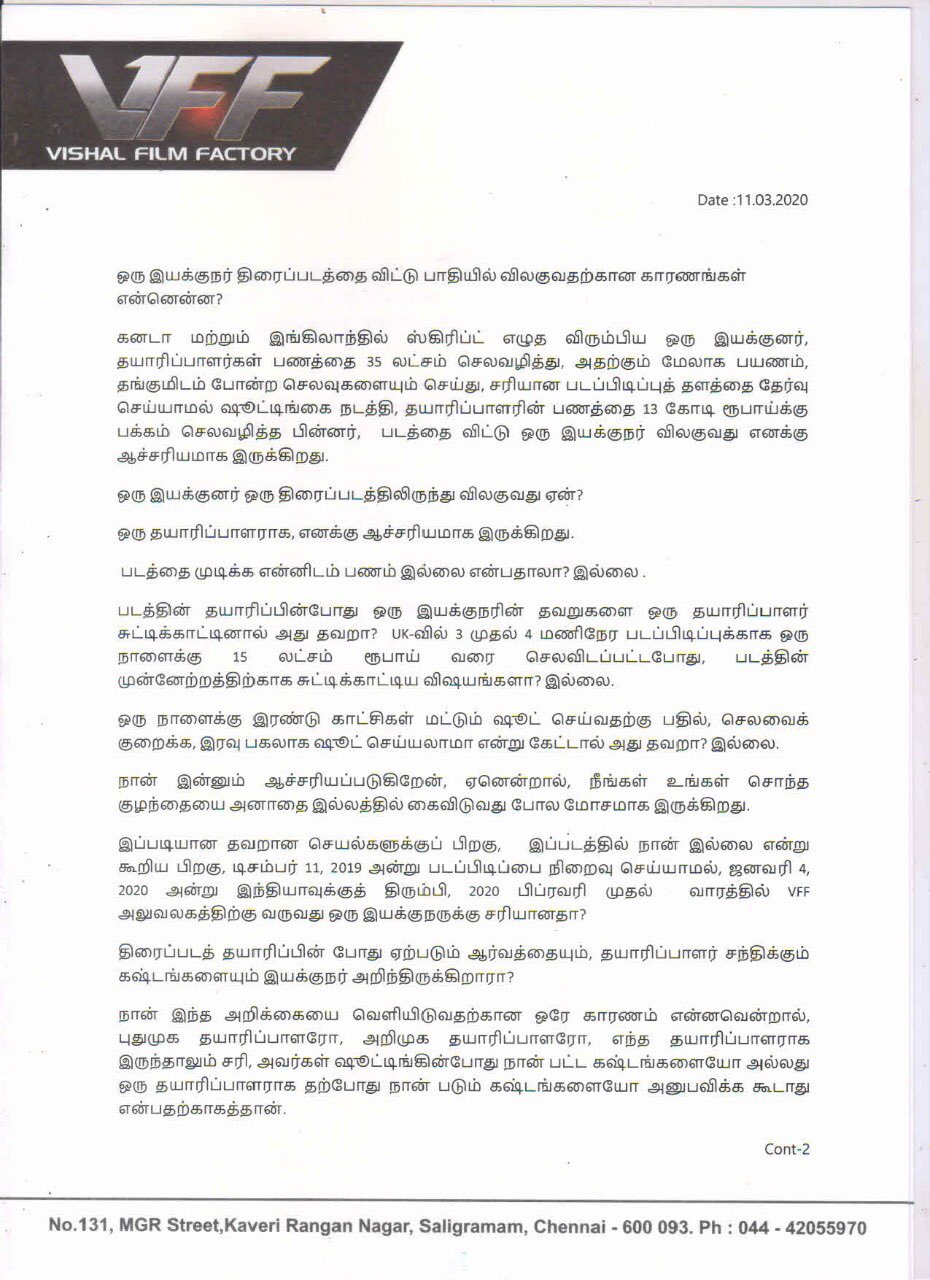 Adding the pictures, Vishal, in his twitter post wrote "The sole purpose of the statement is not to tarnish one's image but is only to make sure that nobody falls prey to such people especially Producers. Seeking your blessings & wishes for my directorial debut & hoping to do the best as a Director"
Here's his post :
The sole purpose of the statement is not to tarnish one's image but is only to make sure that nobody falls prey to such people especially Producers

Seeking your blessings & wishes for my directorial debut & hoping to do the best as a Director#Thupparivaalan2 #VishalDirection1 pic.twitter.com/5CnGYlmsrD

— Vishal (@VishalKOfficial) March 11, 2020
In a list of Mysskin's demands to work in Thupparivalan 2 which was leaked online earlier, we could see the filmmaker demanding Rs.5 crores as his salary excluding GST. The notice further says that the producer doesn't have any authority to sell the remake rights of the film as it belongs to filmmaker. "Director can sell the remake rights to anybody and that Producer will not have any objection on that" said one of the conditions. (Also Read : Mysskin Opted Out Of Thupparivalan 2 For This Reason ?? LEAKED)