Mysskin Finally Opened On Andrea's Deleted Scene In "Pisaasu" !!
By Dhiwaharan
Reports about Mysskin's clarification on the deleted scenes of Andrea from his upcoming movie Pisaasu-2 got surfaced in a number of media portals. In a way of responding to the online users who has been making fuss over the deletion of the explicit scenes of the "Vada Chennai" actress from the movie, the filmmaker had said that he himself didn't see the photographs that featured the actress without clothes and said that he deleted them from the movie as wanted kids to watch the movie.
View this post on Instagram
"Pisaasu-2" is one of the most expected film of director Mysskin as the first part of the movie became a blockbuster among the mainstream audience. The film features Andrea in the lead role with Santhosh Prathap, Poorna and Rajkumar Pitchumani playing the key roles. Vijay Sethupathi is expected to playa cameo role in the film which is releasing in Tamil, Telugu, Kannada and Malayalam languages.
Initially, it was reported that the film with hit the screens on 31st of August but the makers have decided to back off as they are not happy with the "A" certificate provided by the censor board. To make the film watchable for kids and to re-appeal for "U/A" from the censor board, they have decided not to release the film on 31st August, says the reports.
View this post on Instagram
Earlier, reports surfaced saying Mysskin shot a nude scene with actress Andrea for the film and chopped it out from the final after he wished for the family to enjoy the film with their children. As soon as the news made headlines, netizens started making fun of he filmmaker's decision questioning why he didn't take the decision before the shoot.
Now, the filmmaker came up with a clarification saying that it was not a scene but was a photoshoot and added that he himself didn't see them. According to Dinamalar, the filmmaker accepted the reports that said Andrea demanded more money to act nude is true. "We didn't shoot the nude scenes but only conducted a photoshoot" the filmmaker said.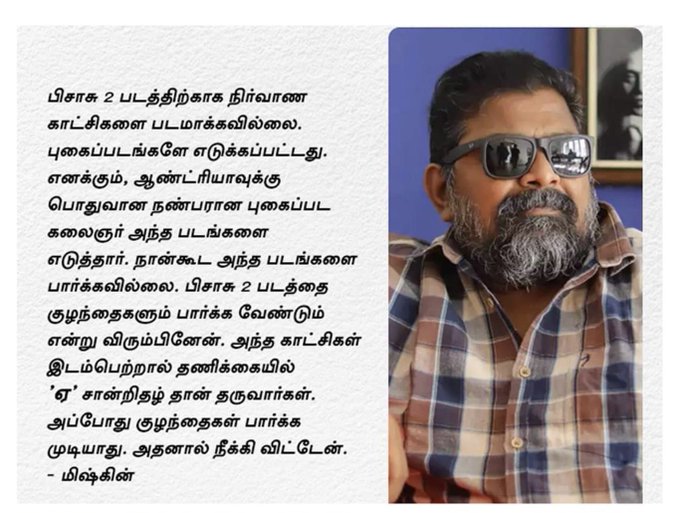 "Sundhar, a mutual friend of mine and Andrea captured the photographs. My assistant director who is a female, is the only person who was present there. I myself didn't see those photographs. I wanted children to watch the sequel of Pisaasu and asked to delete those nude pictures. The reason behind my decision is, they would give "A" certificate if those pictures gets featured in the film. That would prevent children from watching the movie. So I decided to delete them" the filmmaker reportedly said.