Muttiah Muralitharan's Emotional Statement On The Hatred He Is Receiving !!
Written by Dhiwaharan Published on Oct 16, 2020 | 23:50 PM IST | 111
Follow Us
Comments: 0
Amidst the enormous amount hatred he is receiving from the people of Tamil nadu, Muttiah Muralitharan, legendary spinner of Sri Lankan cricket team, came up with a long press not, explaining his stand in the issue. The cricketer said that he never discriminated people by considering their roots and said that he is still helping the Eelam people through his foundations.
[wp_ad_camp_1]
The motion poster of "800" released on youtube on Tuesday and is being viewed by the enormous number of Tamil cinema fans. The 76 seconds motion poster showed the glimpse of what are going to take place in the movie. It contained the struggles faced by the Tamil nadu based Muttiah Muralitharan in his childhood in an animated format. At the end of the poster, the makers surprised the audience by morphing the face of Vijay Sethupathi as Muttiah Muralitharan.
However, these promotional posters didn't go well with some of the celebrities of Tamil cinema along with a large number of fans. They trended hashtags such as "Shame On Vijay Sethupathi", "Boycott 800" etc. They believed that Muralitharan is a person who supported Sri lankan government when people of Tamil eelam suffered due to the war situation. Despite of the press release from the production house, the agitation didn't settle.
Now, Muttiah Muralitharan himself came up with a press release explaining his stand in the issue. The cricketer said that he hesitated at first when the makers of it approached him for a biographical picture on his life history. "After realizing that the film would recognize people who helped my growth, I accepted to the makers of it" he said in his statement.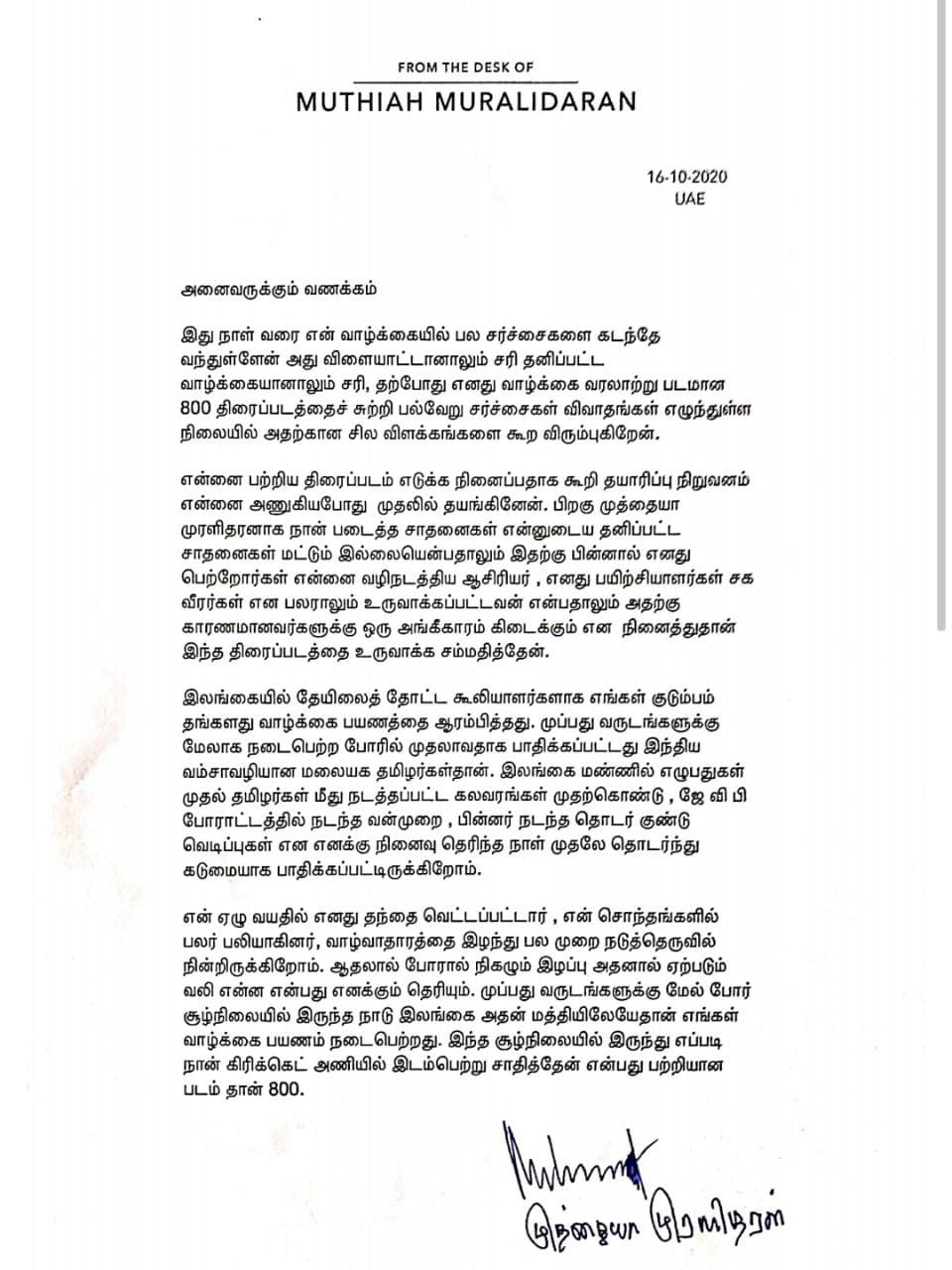 "We started our life as daily wagers in a tea garden in Sri lanka. Due to the war which took place for 30 long years, we upland Tamils are the first one to affect. As far as I remember, we always suffered a lot due to this war situation. My father was killed when I was 7. Many of my relative died. We lost our livelihood many times and suffered. I know the pain that caused by the war. The film "800" is about how I became a cricket player amidst this situation" Murali said.
[wp_ad_camp_1]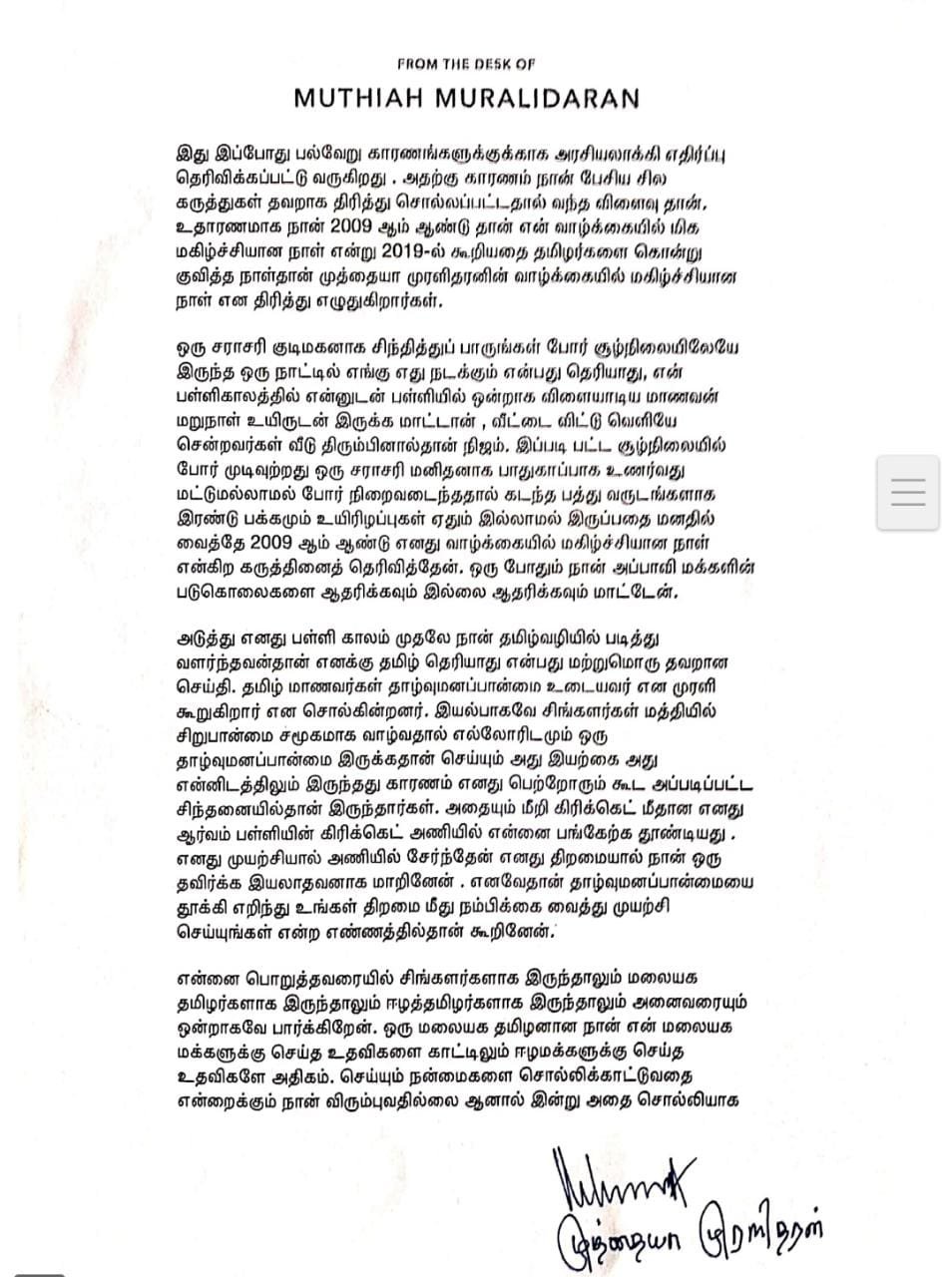 "Now, it created controversy among the public. The main reason for that is the way my earlier statements are portrayed. For example, when I said that 2009 is the happiest time of my life, they are writing it as I supported the killings of several Tamil people. I only referred 2009 because that is when the war came to an end. I never supported and will never support the killings of innocent people in my life" he said in his statement.
Muralitharan also clarified how his statement about Tamil students was twisted. "I never discriminated people by considering their birth place" the cricketer said. "Being a upland sri lankan, the help I did for Eelam people is more comparing to what I did for the people of my birthplace. I don't like advertising myself but this situation formed me to do so" he added in his statement.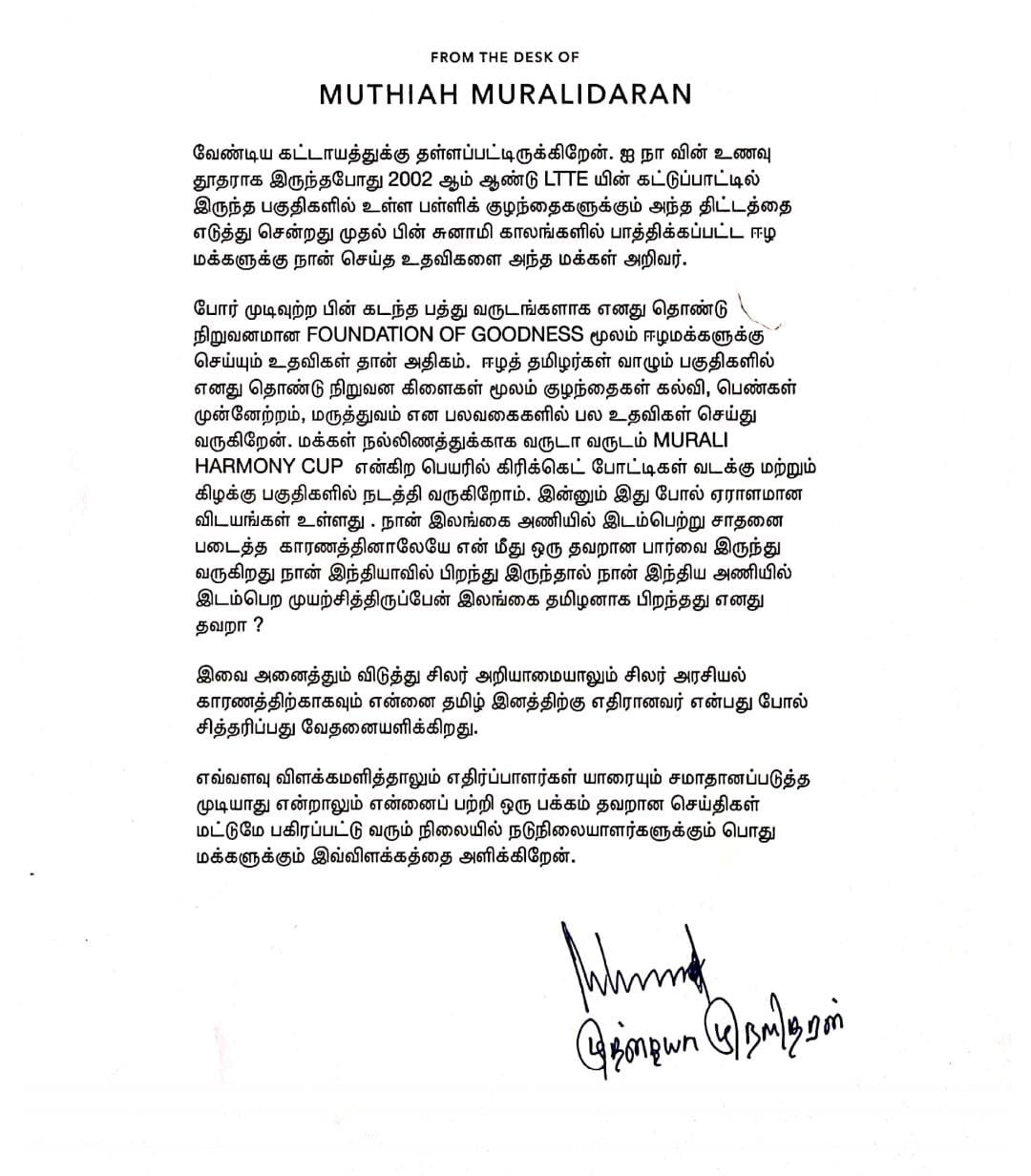 [wp_ad_camp_1]
Murali went on to explain how he helped the people of Eelam through his trust, foundations and by conducting cricket tournaments.. "Just because I was born in Sri lanka and achieved for that team, people are seeing me in a wrong way. If I born in India, I would have tried to find a place in Indian team. Is it my fault to born as a Sri lankan Tamil ?" he questioned.
"I know haters won't get convinced to my explanation. But I wanted to issue this statement for neutrals and public people" the cricketer ended his statement by signing it in tamil.