The Indian men's and women's teams suffered heartbreaking defeats in their respective T20I matches on Sunday and will have to now head home in disappointment.
The men's team fell short by 4 runs as they failed to chase down a mammoth 213-run target against Kane Williamson's side, who clinched the series 2-1 as a result.
India needed 16 runs off the final over in their run chase but they could manage to score 11 runs with Dinesh Karthik and Krunal Pandya making a fist of the total despite the loss of wickets early on.
When India needed 14 runs off 5 balls, Karthik played out a dot ball off Tim Southee and in the next ball he hit the ball towards long-on but sent Krunal Pandya back when the latter wanted to rotate the strike.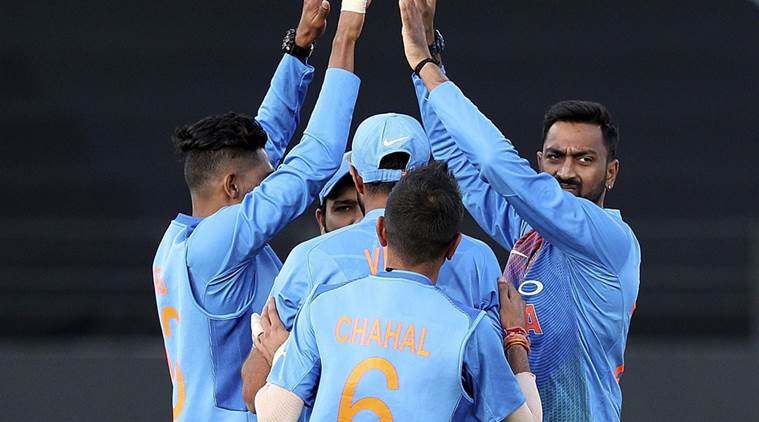 Karthik managed only a single in the next ball and thereafter, it was a mountain to climb for India. The Tamil Nadu cricketer hit a six off the last ball, but it was too late.
Now, Indian Premier League (IPL) side Mumbai Indians have taken a jibe at Karthik for refusing to give the strike to Krunal in the last over despite the all-rounder scoring 25 runs off 12 deliveries at that moment.
"[email protected] 26 not-out from 13 balls and got to face only 1 ball in the final over. Hard luck, KP! #CricketMeriJaan #NZvIND," stated the Mumbai Indians official Twitter account.
.@krunalpandya24 26 not-out from 13 balls and got to face only 1 ball in the final over. 🤷🏻‍♂🤔

Hard luck, KP! 💙#CricketMeriJaan #NZvIND pic.twitter.com/BVm2HmDguA

— Mumbai Indians (@mipaltan) February 10, 2019
However most of the fans expressed their disappointment on the bowling performance of Krunal Pandya and trolled the post for various reasons. One fan went one step ahead and trolled this post for calling Krunal Pandya as KP where he says that the only KP he know is Kevin Pietersen.
Check out some of the comments here :
Krunal Pandya with bowl
4-054-0

— LD (@ABD17INDIA) February 10, 2019
What about match loosing bowling figures by KP???

— Thalabathy Babu (@NDB_28) February 10, 2019
— Shakul Hameed (@Hameed41134936) February 10, 2019
He gave 54 runs with the ball and Rohit consumed so many balls. Highlight that as well 😂🤣😜

— Rakesh Goud (@RakeshGoudE) February 10, 2019
KP ?? Anyone says KP and the only person my mind thinks of by default is one & only KP – Kevin Pietersen.

— Abhilash Mudgal (@Mudgal_Abhilash) February 10, 2019
You're subtly blaming DK I guess… @msdhoni and @SDhawan25 should have hit some more runs, it would have been easy for the pair…

— KSV (@KSV60748826) February 10, 2019
Yeah he bloody gave 52 with ball and in the end we lost with 4 runs

— sky11 (@akash_b29) February 10, 2019
If Rohit Sharma had consumed fewer balls,may be KP might have got few more in the end…Just saying

— Vadiraj Huilgol (@VadirajH) February 10, 2019
Oh c'mon krunal played well 54 +26 = 80 runs… He just missed century #toughchance

— Karthik Reddy (@Karthik01003179) February 10, 2019
What the hell ? How could u b assure that krunal was all about to Finish the match ? DK also was on 33 on just 16 balls nd both were playing for country not for any Ch**tiya Ipl franchise like you. Yes this lose hurt us but thats okay it was just a Match #NZvInd Jai Hind 🇮🇳🇮🇳

— Banit gogia (@Banit515) February 10, 2019
3rd class bowling by Pandy bros ..😈, talk about that ….

— prakash (@prakash58492386) February 10, 2019
What do you think on this post of Mumbai Indians ?? Comment below !!