MS Dhoni Returned As Captain For India !! Fans Stunned & Celebrating To The Core !!
By Dhiwaharan
Team India has managed to surprise and shock everyone with their team selection for their inconsequential game against Afghanistan. Rohit Sharma and Shikhar Dhawan both have been rested and to everyone's surprise, MS Dhoni has returned to lead the side for the 200th time in the One-Day Internationals. The sparse crowd roared and welcomed back the veteran at the helm when he walked out for the toss at the Dubai International Stadium.
[wp_ad_camp_1]
Apart from Rohit and Dhawan, the Men in Blue have also rested Jasprit Bumrah, Yuzvendra Chahal and Bhuvaneshwar Kumar ahead of the mega final of the Asia Cup which will be played on Friday. However, this opportunity has presented MS Dhoni to lead the Indian team once again and it has also completed the milestone for him in the ODIs.
[wp_ad_camp_1]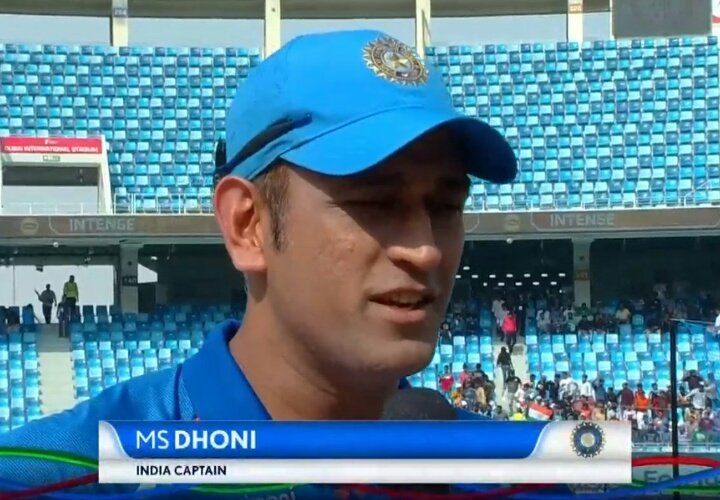 He has been the best captain for India over the years as the team has won all the three ICC trophies under his tutelage and all the eyes will be on him today as he takes the reins back albeit only for a day.
Afghanistan opt to bat first
As far as the toss is concerned, Afganistan have opted to bat first after winning the toss and Asghar Afghan, their skipper, was keen on playing to their strength of defending the total. They have been already knocked out of the tournament but would be itching to make an upset in the tournament by beating India before bowing out of the competition.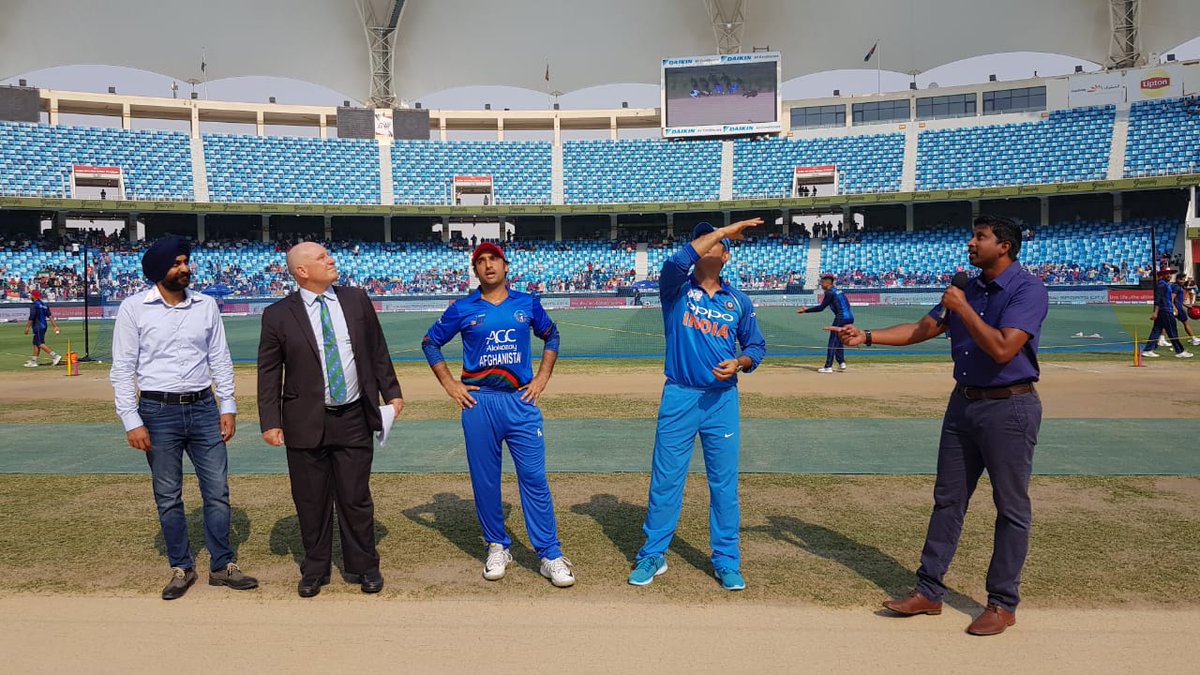 Deepak Chahar, however, has been handed over his ODI debut and Siddarth Kaul also returns to the side as Khaleel Ahmed will take over the new ball duties it seems. The likes of Manish Pandey and KL Rahul have also got a game after warming the bench for the whole tournament and they will be tested today against the strong Afghanistan bowling line-up who bank on their spinners.
[wp_ad_camp_1]
Meanwhile, Twitter was delighted to see MS Dhoni and flooded the social media platforms with welcome back messages.
#Thala is back, leading the pack! 200th ODI as captain! What a sight! 🙏💛🦁 #WhistlePodu pic.twitter.com/cQ0kG471Bv

— Chennai Super Kings (@ChennaiIPL) September 25, 2018
Afghanistan Won The Toss. Opted To Bat.

MS Dhoni Is Captain Today. After 2 Years. His 200th ODI As Captain

Manish Pandey Comes In For Rohit Sharma. Debut For Deepak Chahar

"All Players Who Are In Squad & Didn't Get Chance, Will Get Today"- #Dhoni #INDvAFG #INDvsAFG #AFGvIND pic.twitter.com/U9h6vnGTJY

— Sir Ravindra Jadeja (@SirJadeja) September 25, 2018
Captain Cool is back!

Some changes for India means Rohit Sharma rests and MS Dhoni once again takes the reins! His 200th ODI as captain.

He's lost the toss and Afghanistan are batting, while Deepak Chahar makes his debut.

#INDvAFG LIVE ⬇️https://t.co/QOBmNShq3d#AsiaCup pic.twitter.com/OUXFy0KsJ3

— ICC (@ICC) September 25, 2018
#Thala_Msd Fans happy annachi😍 pic.twitter.com/0BXPkTLh64

— Spártàñ (@ponmozhimani) September 25, 2018
After two 2 years…
The legend as a captain in Indian 🇮🇳 team… pic.twitter.com/BvrjsfymAy

— 💫Stylish Vishnu⚡⭐ (@StylishVishnu3) September 25, 2018
Never thought we'd see him come back to lead in 200th odi as captain.!! 😍

Love You Rohit 💙#DhoniMyCaptainForever pic.twitter.com/nBGWhXt2vN

— DHONIsm™ 💙 (@DHONIism) September 25, 2018
This is MS Dhoni's 200th ODI as a captain for India.

Most ODIs as a captain:

230 – Ricky Ponting
218 – Stephen Fleming
200 – MS DHONI*#INDvAFG

— Umang Pabari (@UPStatsman) September 25, 2018
#Thala leading #TeamIndia today, his 200th ODI match as Captain 🇮🇳 Reminds me of this spectacular frame from #Baahubali seeing @msdhoni at the toss. #WhistlePodu for our @ChennaiIPL 🦁 Lions MSD, Rayudu, Kedar, Jadeja, Deepak & the entire team. Best of Luck #INDvAFG #AsiaCup pic.twitter.com/ohYrtCn8w6

— Lakshmi Narayanan (@lakshuakku) September 25, 2018
CAPTAIN COOL 😭😭😭 is back to his work! 200th ODI as captain 😭😍 congratulations Mahiiiii 🎉🎉🎉🎉 #INDvAFG pic.twitter.com/gbHKx6iqkD

— Sri (@bunnyzbear) September 25, 2018
#MSDhoni to captain india after 696 days….this match is 200th odi as captain……#MSDhoni flipping the coin….after long time…this match is very important match in #MSDhoni pic.twitter.com/oOu77FlosI

— 😎😎😍தளபதி😎😎😍 (@Arunpan18542706) September 25, 2018
Stepped down from captaincy after his 199th ODI as captain.
With today's match, it's 200th ODI.
Destiny plays it part, always.
MS Dhoni.#MSDhoni #MSD

— Atish (@atish_ease) September 25, 2018
@msdhoni captaining India today.
200th ODI as Captain#CaptainCool #MSDhoni pic.twitter.com/6TJai7WSNQ

— Ronald Tamizhan (@Ronaldfunnyguy) September 25, 2018
200TH ODI AS A CAPTAIN DAMN IT 😭💙 pic.twitter.com/ThkEZcIXUQ

— Hiru. (@DhoniFangirl) September 25, 2018
With MS Dhoni leading India once again, a dead rubber has become a must watch #INDvAFG https://t.co/SpFhckq1sR #AsiaCup pic.twitter.com/lyMo3OhCUE

— ESPNcricinfo (@ESPNcricinfo) September 25, 2018
She:-Dhoni will be the Captain of India for today's match
Me:- #INDvAFG pic.twitter.com/W3AntO7bTB

— भाईसाहब (@Bhai_saheb) September 25, 2018
😍 Dhoni as a captain #INDvAFG pic.twitter.com/6VZoXaFB5M

— Mask Indian (@Mr_LoLwa) September 25, 2018
…but you told India is already in final, so it's not important match today. #INDvAFG pic.twitter.com/uQbQ3ND7CX

— Neeki (@imNeeki) September 25, 2018
MSDIans Right Now ..#INDvAFG pic.twitter.com/oKSygVhOv3

— Harry ᶻᵉʳᵒ ᶜʰʳᶦˢᵗᵐᵃˢ ²⁰¹⁸ (@Iamharry007) September 25, 2018
No.1 to No.200. Come a long way MS. #IndvAfg #Dhoni200 pic.twitter.com/lhMIA1WI3v

— Naveen (@ImNsamy) September 25, 2018
#Thala leading #TeamIndia today, his 200th ODI match as Captain 🇮🇳 Reminds me of this spectacular frame from #Baahubali seeing @msdhoni at the toss. #WhistlePodu for our @ChennaiIPL 🦁 Lions MSD, Rayudu, Kedar, Jadeja, Deepak & the entire team. Best of Luck #INDvAFG #AsiaCup pic.twitter.com/ohYrtCn8w6

— Lakshmi Narayanan (@lakshuakku) September 25, 2018
Surprise surprise. We have changes in the Indian Team and MS Dhoni walks out to for the toss for the 200th time.

Afghanistan have won the toss and chose to bat first.#AsiaCup2018 #INDvAFG #PlayBold

— Royal Challengers (@RCBTweets) September 25, 2018
Msd fans now #INDvAFG pic.twitter.com/0AdCvXiFPi

— நோபிட்டா (@iRaVuSu) September 25, 2018
Good to see MS Dhoni back as the captain to complete his double hundred. #AsiaCup2018 pic.twitter.com/a31U64djFq

— Shubham Hudda (@ImHudda) September 25, 2018