Movie Reviewer Prashanth Thrashed 90ml Movie Director !! Check What He Has To Say
By Dhiwaharan
Actor Oviya's much-awaited film 90 ML has hit the screens. The actor, who developed a massive fan following her Bigg Boss stint, will be seen in the comedy-drama as a part of a girl gang comprising five different middle-class women. The movie is said to be a women-centric film and has attracted a lot of attention ever since the trailer was released. In the trailer, the women are seen openly drinking, smoking and talking about sex. It will sure be interesting to see Oviya headline this film.
[wp_ad_camp_1]
Written and directed by Anita Udeep, the film is being touted as a STR musical. 90 ML also stars Anson Paul, Masoom Shankar, Monisha Ram. Shree Gopika, Bommu Lakshmi and Tej Raj. STR will make a special appearance in the film.
As soon as the movie released, reviews poured on Internet from reviewers and as well as from the audience. Reviewer Prashanth who is one of the prominent reviewers of Kollywood town also released his review in his channel.
[wp_ad_camp_1]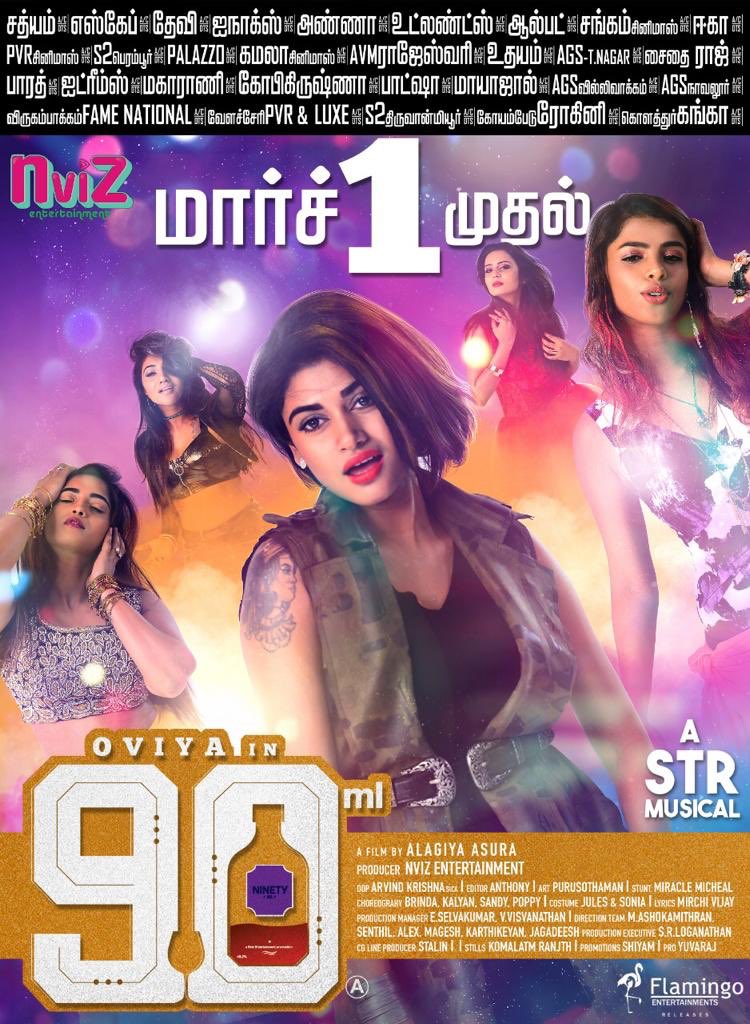 The reviewer expressed his disappointment over the movie right from the release of it's trailer.
#90MLTrAiler – " என்ன கருமம் டா இது " was my mind voice. I really hope @OviyaaSweetz s image doesn't get dented because of this movie !! இளைஞர்களின் சொர்கபுரி – சந்தேகமே இல்லை !! https://t.co/jLe1eFJkdW

— Prashanth Rangaswamy (@itisprashanth) February 8, 2019
Now he thrashed the movie for it's adult content. "From the comments for my previous adult movies reviews, I decided to give honest reviews which would help family audience" he justified.
"I am the one who enjoyed adult films like Iruttu Arayil Murattu Kuththu and Hara Hara Mahadeveki, this film frustrates even me. 75% of this movie portrays the girls as alcoholics which is horrible." said Prashanth in his review.
"Making jokes of women's vagina might look as a joke for you but it is wrong. Just because you have lot of money don't make films like this. If you feel like it give it to someone else which will help them to make a good movie. I don't care if anyone oppose this, even you might call me for this, I don't care" Prashanth directly warned Anita Udeep who made this film.
[wp_ad_camp_1]
Many online uers also expressed their views on the film. Check out some of their comments here :
#90ML Rare kind of entertainer👍👍Yes..not everyone's cup of tea but nevertheless a brave attempt from a lady director for sure 👌👌👌If one likes the teaser & sneak peek the movie is really a delight👏👌👌👍👍 @anitaudeep @OviyaaSweetz

— Review With Rajesh (@ReviewRajesh) March 1, 2019
It is unbelievable how men who find #IruttuArayilMurattuKuthu and #TrishaIllanaNayanthara "entertaining" have issues with #90ml. #JustSaying

— Subhakeerthana (@bhakisundar) March 1, 2019
#90ml :
An adult entertainer with average first half and entertaining second half..
Interval Block and climax are 🔥🔥
Definitely worth a watch 👍👍#MyRating : 3/5

— Srini 🐦 (@im_srini3348) March 1, 2019
Series of good ideas underutilized. #90ml could have become a really exciting film but the cheap thrills made it a regular.

— S Abishek (@cinemapayyan) March 1, 2019
Have you watched the movie ?? Comment your views below !!