Mohan G Thanked "Jai Bhim" Producer!! Check Why
By Dhiwaharan
Mohan G of "Draupathy" fame thanked the producer of "Jai bhim" for making a change in the scene to change the identity of the corrupt police officer. Earlier, through a calendar that was hanged in his home, the villain character was shown as an individual who belongs to "Vanniyar" caste. An online outrage took place in social media, claiming that the film targeted a particular caste.
[wp_ad_camp_1]
"Jai Bhim" released on Amazon Prime on 1st of November with much expectations among fans. The film is getting humongous amount of positive response from fans and is being widely watched due to the word of mouth. Based on a true event that happened in the year 1995, the film concentrates on showing light to the hardship people of tribal community went through at that time. Exposing the police brutality, the film shows how lawyer Chandru won the case without receiving a penny from his client who is a wife of the victim. Though the incident took place 25 years ago, it looks still relevant due to the police atrocities that are still taking place in the state.
In the film, director Tamil acted as Inspector Gurumoorthy who leads the lock up harassment. In a scene where he attends a phone call from his house, a calendar that contains the symbol of "Vanniyar" caste could be seen hanging. On seeing it, many users of Internet condemned "Jai bhim" makers accusing them of defaming a particular caste.
[wp_ad_camp_1]
Check out some of such reactions below :
தோழர் சூர்யா வேலய காட்ட ஆரம்பிச்சிட்டாப்ல..#குறியீடு – வன்னியர் சமூக ஆளை வில்லனாக காட்டியிருக்காங்க…#குறிப்பு – படத்த படமா பாருங்க டா னு அட்வைஸ் பன்ற புரட்சி போராளிகளுக்கு என்னோட பதில்
இதே மாதிரி #திரௌபதி.#ருத்ர_தாண்டவம் படத்தையும் ஏன்டா நீங்க படமா பாக்கல… pic.twitter.com/J97xdAGeDw

— Jayam.SK.Gopi (JSK.Gopi) (@JSKGopi) November 2, 2021
Watched #JaiBhim, since the story is based on a real incident, the director and actor @Suriya_offl must portrait the real criminal name SI #Antonysamy in the movie, instead they have shown the SI as #Gurumoorthi, and his caste signal as #Vanniyar. This show their malice.

— Micheal Ram Vel (@MichealRamVel) November 6, 2021
Its brutal tht #Jaibhim portraits fake info & ill image about particular working class caste vanniyars on @PrimeVideoIN. Intentionally showing Veerappan snap also in vengence on Vanniyar community. Mr @tjgnan and @2D_ENTPVTLTD you can eat the poop rather earning money like this.

— ஜெகே தமிழன் (@cyberkingjk) November 3, 2021
வன்னியர் சமூகத்தினர் #ஜெய்பீம் படத்தைப் புறக்கணிக்க வேண்டும்.

The Vanniyar community should ignore and boycott the #JaiBhim movie.

This is becoming fashion to provoke and incite insensitivity on Vanniyar community.@DrSenthil_MDRD do you belong to #Vanniyar community.#Shame

— Aryan Stock 🌏 (@Taycan_k) November 6, 2021
Sad and pathetic to know that #JaiBhim shows Vanniyar Community in bad light by portraying them in Bad light . The real life Jai Bhim incident has nothing to do with caste it's only Police oppressing Innocent that's all.. Mr Suriya Stooping too low @RootsOfVarmas

— Prashanth M S 🚩🇮🇳 (@m_s_prashanthh) November 2, 2021
Dear sir why misused vanniyar community Callander please tell me. Your fan's 70% vanniyar community pic.twitter.com/YZp8Mdc8H7

— Vinayagam (@Vinayagam8055) November 2, 2021
[wp_ad_camp_1]
Now, after seeing the online outrage, the makers have edited the picture out and included a new one. Mohan G of "Draupathy" and "Ruthra Thandavam" fame thanked Jai bhim producers by adding the newly changed scene. The calendar shows the picture of goddess Lakshmi.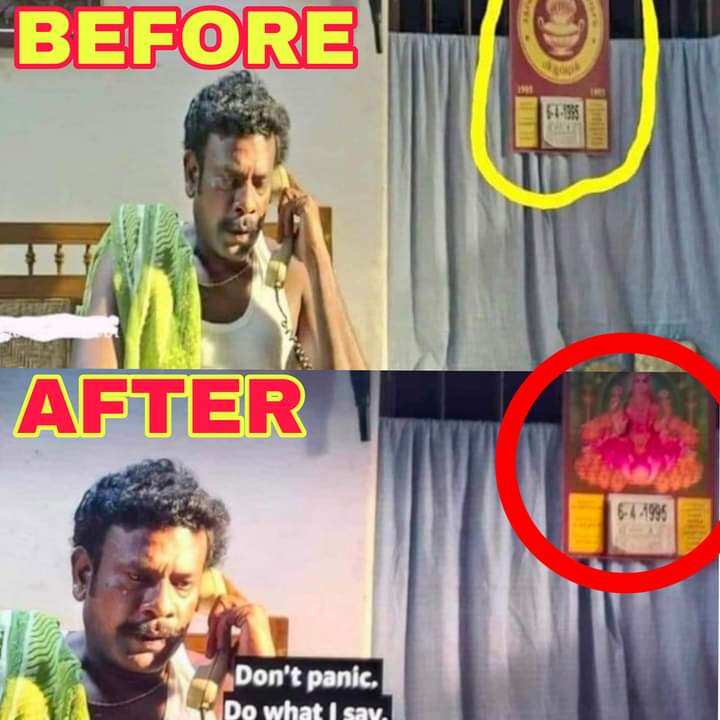 "Thanks to the producer of Jai bhim" said Mohan G in his tweet. Check out his tweet below :
#JaiBhim தயாரிப்பாளருக்கு நன்றி.. pic.twitter.com/6xUeSgiiua

— Mohan G Kshatriyan (@mohandreamer) November 6, 2021
Here's some of the reactions that surfaced for ?Mohan G's post :
முதலில் வன்னியரை தாக்கின, இப்போ இந்துவை தாக்குகின்றன அண்ணே,

இதுவும் அவர்களின் சூழ்ச்சி திட்டம் தான்,
அவர்கள் நினைத்திருந்தால் அந்த இடத்தில் எதாவது object image வைத்திருக்கலாம்……
எல்லாமே திட்டம் தான் pic.twitter.com/Ql6OcAZAE1

— அக்னி தமிழன்🔥 (@agnitamilan7) November 6, 2021
சகோதரரே அவனுக்கு ஏன் நன்றி சொல்கிறீர்கள் உங்கள் படைப்புகளில் பதில் சொல்லுங்கள் விதைத்துவிட்டான் அது மாறாது எதிர்வினை காட்டுங்கள் @mohandreamer https://t.co/Qj5OJDLQRc

— AM சௌத்ரிதேவர் film producer (@chowdryam) November 6, 2021
வன்னியர்களின் எதிர்ப்பை தொடர்ந்து அக்னி குண்ட கேலண்டர் அகற்றப்பட்டது.

மாறாக லட்சுமி படம் பொருந்திய கேலண்டர் இடம்பெற்றுள்ளது.#Vanniyar #JaiBhim https://t.co/PJEsIaWm2h

— Anandakumar M (@AnandAathiraa) November 6, 2021