"Methagu" Director's Controversial Facebook Posts Are Trending !!
By Dhiwaharan
The most anticipated "Methagu" film which portrays the life of the founder and leader of Liberation Tigers of Tamil Eelam, Velupillai Prabhakaran, released recently and is receiving rave reviews from the critics and audience. Directed by T.Kittu, the title "Methagu" means "His Excellency". Velupillai Prabhakaran fought for over 25 years for an independent state of Tamils in the northern and eastern parts of Sri Lanka. Many celebrities have been stretching their supportive hands to the film which released in an online streaming platform. The film which was reportedly made of a very low budget and is being lauded for portraying the life of the leader in a right way.
[wp_ad_camp_1]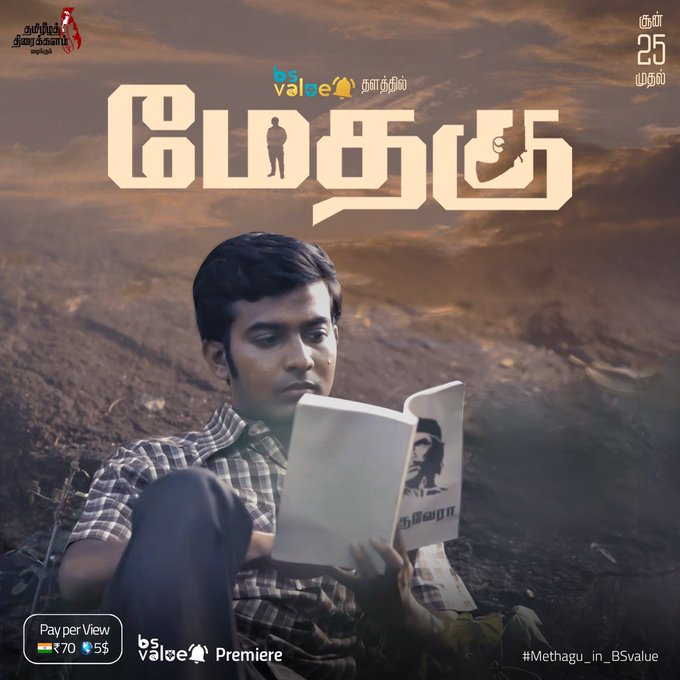 Kutti Mani, Anandan, Eeshwar Baasha, and Vijay in major roles are some are main casts in the film. The film's teaser released in October 2020 while its trailer was out in January 2021 and has created noise among the fans and supporters. The music for the film is composed by Praveen. The political thriller marks the early years of Velupillai Prabhakaran and his vision. It also embarks upon life story and events in the life of Prabhakaran's life.
Now, as soon as the film started gaining attention among the mainstream audience, the controversial facebook posts of its director T. Kittu are trending in the social media platforms. The posts shows the filmmaker taking a dig at the personal life of actress Nayanthara who is fondly called as "Lady Superstar" by the audience.
Many posts criticizing the filmmaker are flooding the timeline of the micro blogging social media platform. An influential twitter user said that the filmmaker locked his profile after the screen shots of his face book posts went viral in other social media platforms. Another user questioned whether it is the policy he is trying to make people follow.
[wp_ad_camp_1]
Check out some of the posts below :
இந்த மேதகு பட இயக்குனர் பேஸ்புக் டைம்லைன் முழுக்க வக்கிரமான பதிவுகள்.

இதான் உங்க தேசியமாடா ….உங்க லட்சணம் …🤦‍♂️ pic.twitter.com/xEcM3IgxwQ

— கருங்குரங்கு (@TailedLion) June 30, 2021
இந்த மேதகு பட இயக்குனர் பேஸ்புக் டைம்லைன் முழுக்க வக்கிரமான பதிவுகள். நாம தோண்டுறது தெரிஞ்ச உடனே அக்கவுண்ட்டை லாக் பண்ணிட்டாரு. pic.twitter.com/o1u1g9LIvF

— பூதம் (@angry_birdu) June 30, 2021
#மேதகு படத்தின் இயக்குனர் கிட்டுவின் பதிவு இது. pic.twitter.com/E36KFST0Vj

— Ravikumar (@Ravikumarceg) June 30, 2021
[wp_ad_camp_1]
மேதகு பட இயக்குனர் கிட்டுவின் பேஸ்புக் பதிவு

சாதியின் மூலம் மட்டுமே தமிழனா இல்லையா என்று அறிய முடியுமாம்! ஆகவே சாதி ஒழியக் கூடாது என்பதுதான் இவர்கள் நோக்கம்.

இதனாலதான் திரும்ப திரும்ப சொல்றோம்… இவங்க பேசுறது சாதி தேசியம்! தமிழ் தேசியம் அல்ல.https://t.co/1s1cwDscBj pic.twitter.com/FSzkbXhGhx

— பூதம் (@angry_birdu) June 30, 2021
'மேதகு' என்றொரு படம். பொதுவா நல்லா இருக்கிறதா சொல்றாங்க. கீழே உள்ளவை, அந்த படத்தின் இயக்குனர் தி.கிட்டு, ஃபேஸ்புக்கில் சமீப காலத்தில் எழுதிய பதிவுகள். ஒவ்வொன்றும் அருவருப்பான அவதூறு, வக்கிரமான வன்மம். pic.twitter.com/nR0cGj6geo

— Barathi Thambi (@barathithambi) June 30, 2021