"Menon Is His Father's Name" – Fans Supported GVM !! Blue Satta Continues To Attack Him
Written by Dhiwaharan Published on Sep 21, 2022 | 20:50 PM IST | 78
Follow Us
Comments: 0
Ever since director Gautham Vasudev Menon expressed his dejection over the way Blue Satta Maaran has been reviewing films, the ovie reviewer has been attacking the filmmaker through his tweets. He has ben posting derogatory tweets against the filmmaker and even questioned the caste name Gautham preferred to have as his surname. While a fan said that the filmmaker kept the name in the remembrance of his father, Blue satta continued to attack the filmmaker.
In an interaction with a news channel, Director Gautham Vasudev Menon expressed his frustration over the kind of reviews "Blue Satta" Maaran has been giving. The filmmaker said that it makes him feel like he has to do something at the ground level to stop him reviewing films that way. The filmmaker also mentioned about how bad Maaran's "Thiruchitrambalam" review was.
#GVM is not a "Jaadhi Veriyan"

In memory of his father, after his demise, he started to add his name along with his name – It started only from #VaaranamAayiram

Credits: @giri_prasadh_r#VTK #VendhuThanindhathuKaadu pic.twitter.com/MBfmYTYnvD

— Karthik Ravivarma (@Karthikravivarm) September 20, 2022
"I don't even want to mention him but I'm so angry. The way he is reviewing movies in a disdainful manner makes me feel extremely frustrated. Just to pull viewers for his YouTube channel and to get sponsors for his videos, he has been making derogatory comments about movies and I'm very much angry about it" Gautham Menon said in an interview that took place after "VTK" release.
"Do reviews, I'm not stopping you from doing that. But do it without sarcasm and disdain. Even while reviewing "Thiruchitrambalam" movie, he did it like trolling the movie and included that the film is "good" in between somewhere " the filmmaker further said.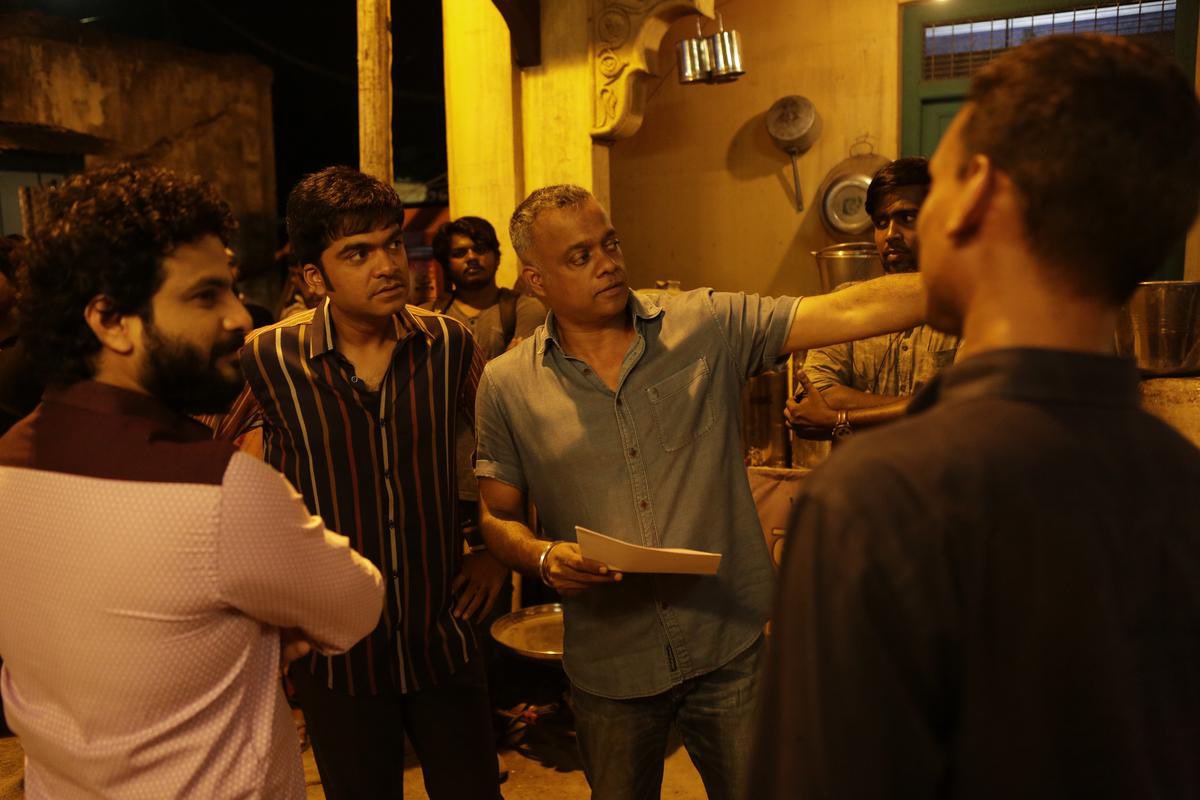 "I'm not telling this to make an issue out of it or to drag him into the topic. I'm so much angry to a level where I want to do something at ground level to stop him. I don't know if others feel the same. Many will say we don't need to talk about him. Classy directors won't even bother about him. Truly, I feel like I need to do something at the ground level to make him stop" he further added.
Watch the video below :
ப்ளூ சட்டை மாறனை @tamiltalkies
இறங்கி செய்ய போகும் @menongautham pic.twitter.com/NUJUa7SZaH

— Name (@YourNanban) September 20, 2022
In his review, Blue Satta Maaran trolled Gautham Vasudev Menon saying that he is obsessed with voice over in his movies and questioned about the mannerisms of Simbu after becoming "Don". He also trolled the characters that were designed by Gautham for the film. "If you don't know how to make a film, why are degrading villagers ??" he asked while reviewing the movie.
Through some of his tweets, Maaran questioned the surname of the filmmaker which represents a particular caste.
சாதிப்பெயரை பின்னால் போட்டுக்கொள்வதை விரும்பாத தமிழகத்தில்..சாதிய அடையாளத்தை பெருமையாக கருதும் ஒரே இயக்குனர்.

கௌதம் வாசுதேவ்..மேனன். pic.twitter.com/cjbuQmf0oL

— Blue Sattai Maran (@tamiltalkies) September 20, 2022
Entered the tamil industry with the name ..Gautham. Then upgraded himself with the upper caste name Gautham MENON. pic.twitter.com/VLbtx6PoCw

— Blue Sattai Maran (@tamiltalkies) September 20, 2022
மேனன்.. நீங்க படிச்சி வாங்குன பட்டமா? pic.twitter.com/kjExqR5JrY

— Blue Sattai Maran (@tamiltalkies) September 20, 2022
A number of fans defended the filmmaker's choice saying that he included "Menon" only after the demise of his father. "It's very sad to see a respected director like
@menongautham being targeted & harassed for his 'menon' surname which he kept in memory of his father. #GVM is being subjected to vile discriminatory slurs due to his ethnic background. These guys should be put behind bars! #VTK #STR" said a fan.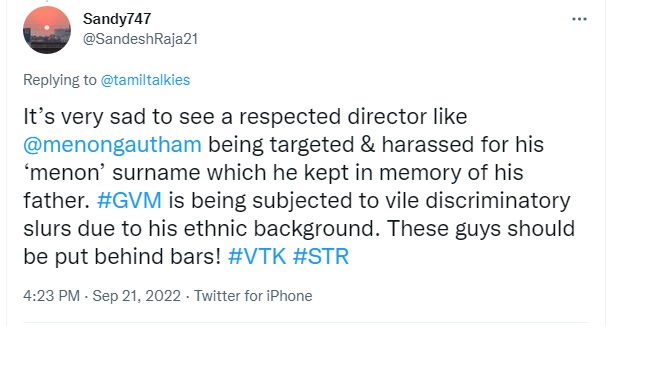 Replying to him, Blue satta replied "No one disrespected his father. Who objected his middle name Vasudev? Do not try to deviate the topic. Artists Janani Iyer and Parvathi Menon dropped their surnames. We.. the people of Tamilnadu have no issues with the name Gautham Vasudev. The topic is MENON only"
No one disrespected his father. Who objected his middle name Vasudev? Do not try to deviate the topic. Artists Janani Iyer and Parvathi Menon dropped their surnames.

We..the people of Tamilnadu have no issues with the name Gautham Vasudev. The topic is MENON only. pic.twitter.com/yPq2mGsk20

— Blue Sattai Maran (@tamiltalkies) September 21, 2022