Memes & Trolls On Vijay Eating 100 Rs. Biryani Are Trending!!
Written by Dhiwaharan Published on Apr 01, 2022 | 00:44 AM IST | 64
Follow Us
Comments: 0
Based on a statement made by director Nelson Dilipkumar for Ananda Vikatan magazine about actor Vijay eating Biryani that worth Rs. 100, trolls and memes are flooding in the internet platforms. Many online users questioned what's wrong in eating 100 rupees Biryani and also asked how could one say that a person is living  a simple life while he is receiving salary Rs. 100 per film and lives in a house that covers a space of 12 ground in ECR.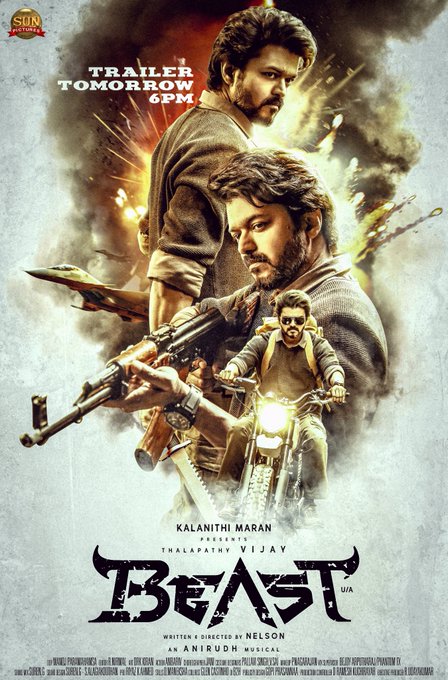 As the film "Beast" is nearing it's release, promotions are going on in full swing. The production house announced that the trailer of the film is going to get released on 2nd of April at 6 PM. Posters and unseen stills of the film are being released in daily basis and filmmaker Nelson Dileepkumar has been interacting with reputed magazines and shared about his experience in directing Vijay for "Beast".
On Friday, Ananda Vikatan uploaded a post in their official Twitter handle, revealing a glimpse of Nelson's interview about "Beast" and actor Vijay in order to make people buy the magazine.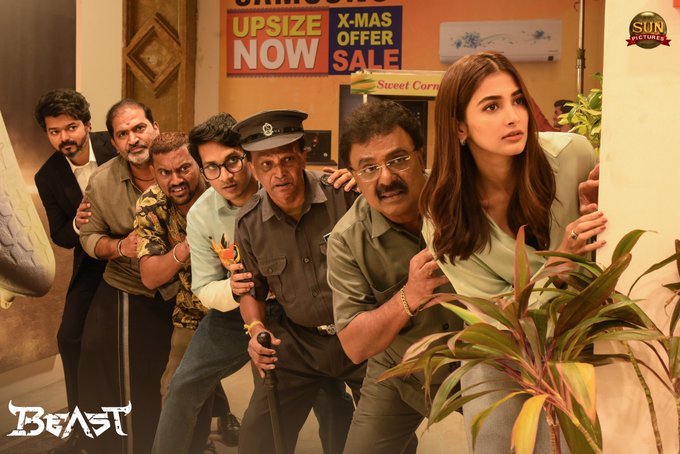 In the interview, Nelson reportedly said that Vijay is buying simple things even while going shopping with him. "Even if it's a Biryani that worth just Rs. 100, he eats it happily. His lifestyle is very simple" Nelson Dileepkumar said.
"We sat with him to eat one day. He was eating an ordinary Biryani. On seeing it, I said "I would have ate the same outside". He replied "This is life" with a smile in his face. "Beast" memories will always be fetched inside me beyond time" the filmmaker added.
Here's the post :
"இவ்ளோதான் லைஃப்'னு சிரிச்சுக்கிட்டே சொன்னார்!" – ஆனந்த விகடன் பேட்டியில் நெல்சன் திலீப்குமார்.

முழு பேட்டி இந்த வார ஆனந்த விகடனில்…#NelsonDilipkumar | #Beast | #Vijay | #AnandaVikatan pic.twitter.com/7Y9fNiYgz2

— ஆனந்த விகடன் (@AnandaVikatan) April 1, 2022
Though the post received love from the Vijay fans of all over internet, it became a subject to troll and criticism among the wider audience. Check out some of the reactions below :
இந்த உச்ச நட்சத்திரங்களுக்கு வர துதிகள் எல்லாம் ஒரே ஃபார்மேட்ல தான் இருக்கு!
அவரு simple ங்க!
எப்படியாம் ?சாதா பிரியாணி தான் சாப்பிடுறாராம்!
100 கோடி சம்பளம் வாங்கி,ECRல பீச் ஓராமா 12 கிரவுண்ட்ல வீடு கட்டி இருக்குறவரு சிம்புளா வாழ்றாராம் !
பிரியாணியே ஆடம்பரம் தான் தினக்கூலிக்கு!

— pablo (@jaghan86) April 1, 2022
Man of simplicity 😂🔥 pic.twitter.com/4DXB5ZYP5L

— கெட்ட பய 😎 (@Thala_Fan_Siva) April 1, 2022
எது சாதாரண பிரியாணி யா டேய்

— Prabu (@Prabhumech8) April 1, 2022
Sambalam – 100 kodi.
Veedu – 70 kodi
Car – 10 kodi
Biriyani – 100 ovaa https://t.co/ZFuMiAzMsE

— Grumpy Periyavar (@GrumpyPeriyavar) April 1, 2022
Yaenda biriyani sapdrathu simple ana life ah🤕🚶‍♂️ https://t.co/nxTfOaEVUe pic.twitter.com/Y8bpQDDy7w

— ` Saravanan AK ` (@SaravananOffl_) April 1, 2022
ரஜினி ஷூட்டிங் ஸ்பாட்ல பாய் விரிச்சு ஒரு ஓரமா தூங்குவார் template https://t.co/G6jXIR0dfh

— itsmerams (@rams_offl) April 1, 2022
பத்து ரூபாய் தாள்களில் தான் சம்பளம் வாங்குகிறார் அந்த நபர் , நூறு ரூபாய் பிரியாணி சாப்பிட்டுகொண்டே இவ்வளவு தான் லைஃப் என சொல்லிட்டு ரோல்ஸ் ராய்ஸ்-ல் கிளம்பினார் அந்த ஏழை விவசாயி ….

இதை நான் கண்ணீருடன் எழுதி முடிக்கிறேன் .

-Donovan https://t.co/4A2DwIZD6P

— 🅺🅰🅸🆂🅴🆁 (@itzDonovan__) April 1, 2022
Anga parra

Naatla irukavan lan daily 1 latcham selavu panni sapudrapo

Vijay Annan simple la 100 rubai Biriyani sapudra azhaga

From ~ Nelson diary kurippu✍🏻 https://t.co/yvP5LK6edJ pic.twitter.com/5oLVBxP8aR

— AK😎 (@AjithStudio) April 1, 2022
'சாதாரண பிரியாணி'க்கும் 'இவ்ளோ தான் லைப்'புக்கும் என்னடா சம்பந்தம் பைத்தியகாரனுகளா டேய். https://t.co/EmS5vA7W56

— L E E ᴹᴵ ⁹³ (@trolee_) April 1, 2022
பல கோடி மதிப்புள்ள சிம்பிளான காரும் அதுக்கான வரிவிலக்கும்னு சிம்பிளா வாழ்ந்துட்ருக்கார்…ப்ச் நான் தான் தயிர்சாதம் எனும் ஆடம்பர உணவை சாப்டுட்டுருக்கேன் போல‌…. 🤢🚶🚶🚶 https://t.co/5ajGHekQvq

— CaptNesan (@iamnesan) April 1, 2022
'எவ்வளவு சிம்பிள்'?

"ரோல்ஸ் ராய்ஸ்க்கு வரி கட்ட முடியாத அளவுக்கு சிம்பிள்"…. https://t.co/HhMl8AwRpO pic.twitter.com/Mn2QaXsq8y

— Villainism (@Karuppu_7) April 1, 2022
நெல்சன் ~

எப்டி சார் சாதாரணமான 100 ரூபாய் பிரியாணி சாப்பிட்டு இருக்கீங்க

விஜய் ~

இவ்ளோ தான் லைப் 😂🤣#Valimai #AjithKumar https://t.co/ETSb7oZerU pic.twitter.com/OfzMe7Si2J

— Abiksh么TEG (@AjithiyanAbi) April 1, 2022
Saadharna Biriyani 🥲 https://t.co/5dnUYmK5uK pic.twitter.com/aYjXpRIDMH

— Toofan 🧑🏼‍🚀 (@Sriram_129) April 1, 2022
நெல்சன் : எப்படி சார் சாதாரணமான 100 ரூபாய் பிரியாணி சாப்பிட்டுட்டு இருக்கீங்க

விஜய் : இவ்ளோ தான் லைஃப் https://t.co/tcmy23DxTB pic.twitter.com/2ZfuRfh6oo

— Suriya Forever (@SuriyaAbi6) April 1, 2022