Memes Trolling "Ponniyin Selvan" Book Readers Are Flooding The Internet !!
Book
Ponniyin Selvan
Readers
CM / Updated: 2022-09-29
23:34 IST
By Dhiwaharan
Memes and posts trolling the readers of Kalki's Ponniyin Selvan" who has been pointing out the flaws and corrections in the film's promotional videos are trending in social media platforms. Ever since the trailer of the film got released, many of those who read the book has been expressing their dejection over it as they feel that the originality has got distorted through the movie version of it.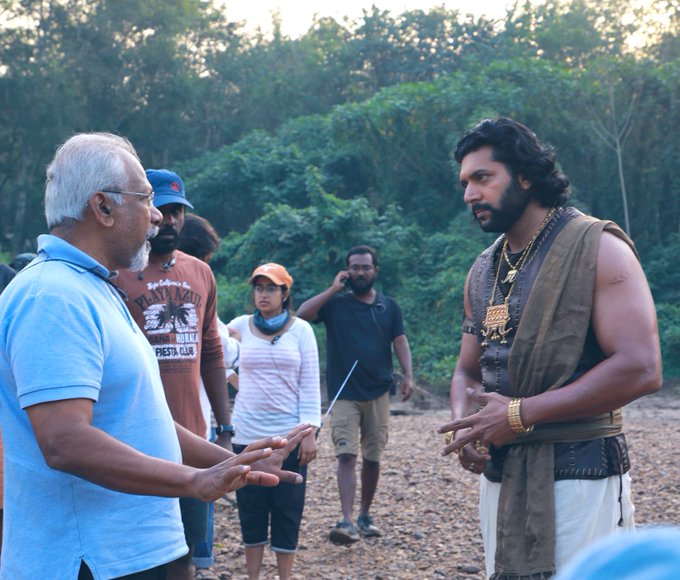 Now, as the film is going to be released in hours, memes and trolls attacking the book readers are trending in the social media platforms. Check out some of the posts below :
பொன்னின் செல்வன் book readers preparing for reviews ryt now..🤗 pic.twitter.com/N1UAcppmf9

— black cat (tribal) (@Cat__offi) September 27, 2022
After noticing that mani sir changed some sequence in #PonniyinSelvan

PS Book Readers arguing with mani sir be lyk ~ pic.twitter.com/y6UIu6OiGM

— Arunmozhi Varman (@karthickvengat7) September 29, 2022
Book reader in theatre : bro intha scene bookla vara matri ila

: appo bookah pudichu bl*wj*b pannitu veetuku ponga bro pic.twitter.com/xRlaA1hWNt

— カーシック (@weirder__) September 29, 2022
PS – 1 Disclaimer: Consumption of alcohol is injurious to health

PS – 1 Book Readers : இது புத்தகத்தில் இல்லையே… pic.twitter.com/guYawqcZOa

— Metro Talkies (@TalkiesMetro) September 29, 2022
* Entering into theatre *

No Smoking Ad : நம்ம ஊருக்கு என்ன தான் ஆச்சு..

PS-1 Book readers : அப்டிலாம் ஏதும் புக் ல இல்லையே .. pic.twitter.com/iWzSGtrIWe

— ROLEX Bakwas👽 (@bakwasfellow) September 29, 2022
PS-1 book readers in theater 🥵
: aathiya karikalan en anga poranu theriuma…
: kundhavai yaaru theriuma….
: Nandhini ivangala thaa kadhalikurange…#PonniyinSelvan1 #PS1fdfs pic.twitter.com/MmFEBXAJRW

— Abu (@itsabu_official) September 29, 2022
PS1 releasing tomorrow

*Smoking causes cancer disclaimer exists*

Book readers :

~ Enna Mani sir Ithella book la ye illayae enga irunthu vanchu ithella pic.twitter.com/VQyPwRK5K5

— prabha (@prabh_here) September 29, 2022
Ponniyin selvan book readers preparing for the review#PonniyinSelvan1 pic.twitter.com/K8sRRw1HtH

— Praka (@FilterCoffeez) September 29, 2022
Ppl on the way to read/watch Orae iravil ponniyin selvan summary just to say "book la padicha feel konjo kooda padatla varla" pic.twitter.com/JrAvYur4VC

— ani 🐾 (@vengayaleviosa) September 29, 2022
Ponniyin selvan book readers in theatre :
Book la page numbers irunthichi but movie la kaanom pic.twitter.com/v5HjiLBbW6

— Foreign Mapula 😷 (@Smartsenthil46) September 28, 2022
Story Guy : Bro Ponniyin Selvan Book uh la …… see more 🙂 #PonniyanSelvan #PonniyanSelvan1 pic.twitter.com/RHIQxIppdp

— Praba ⚡ (@NameisPraba) September 27, 2022
The dream project of converting "Ponniyin Selvan" book into a film was planned by many leading stars including MGR and Kamal Haasan. The dream is coming true only through the seasoned filmmaker who is known for giving master pieces in the history of Indian cinema. The most awaited trailer and songs of the multi starrer got released in the presence of Ulaganaayagan Kamal Haasan and Superstar Rajinikanth.
Starting with the voice over of Kamal haasan, the 3 minute 23 seconds long trailer showed the glimpses of the characters played by prominent stars such as Jayam Ravi, Karthi, Vikram, Aishwarya Rai, Trisha, Jayaram, Aishwarya Lekshmi and others. The film is slated to release on 30th of September and the bookings are going on in full swing across the world. Comment your views on the reactions that surfaced trolling the book reader's of Kalki's "Poniyin Selvan" !!