Memes On "Rugged Boys" Are Trending After An Old Video Of Girl From TV Show Went Viral!!
Written by Dhiwaharan Published on Aug 12, 2022 | 09:30 AM IST | 320
Follow Us
Comments: 0
An old video of a girl saying that she would opt for rugged boys rather than chocolate boys due to their brave attitude in public places resurfaced in internet and is going viral among the users of online platforms. The statement was made by a young girl in a show named "Tamizha Tamizha" of Zee Tamil channel hosted by director cum actor Karu. Pazhaniyappan.
As soon as the video got resurfaced in social media platforms, memes making fun of how "rugged boys" would behave after marriage are being flooded in social media platforms. Video memes trolling the girl for making the statement are also could be seen in the internet after the short video went viral.
In the debate show, the topic, presumably is between those who support the behavior of rugged boys and chocolate boys in a relationship. While a set of boys tried explaining why boys wouldn't act in an impulsive way while being around with a girl, the girl who participated in the show countered with what attributes of rugged boys would impress her.
"If I am going out with a rugged guy and he sees another guy looking at me, he would immediately start questioning him like "nna Paakraa ??", in an aggressive way whereas a chocolate boy would say "Let's leave this place, come soon" to avoid problems" the girl was seen saying in the debate show.
"The way he asks would threaten the other guys and they would leave immediately" she further added. "Nothing is going to happen by confronting him, he might do things voluntarily" A youth in her opposite side said to which the girl replies "That's who choco boys are. You would think of avoiding a problem but rugged boys would ask for it"
However, one of the boys in the opposite side said that the one who looks at the girl in an inappropriate way must be a rugged guy to end the debate. Watch the video below :
The video is trending in social media platforms now with many predicting the future version of "rugged boys" to make fun of the girl's choice. Check out some of the hilarious reactions below :
– இவன ஏன்டி love பன்ற ?

– road la எவனாவது பார்த்துட்டா *ம்மாள_னு கேப்பான்டி..😘😘
.#Rugged_Boys 🤡🤡 pic.twitter.com/1j7FWvB3ba

— பொன்னியின் செல்வன் (@RajVijayDhoni) August 10, 2022
Rugged boys after marriage 😂😂😂😂 pic.twitter.com/3XRedgXvXr

— 🄰🅃🄲 ™ (@ATC_SPACES) August 12, 2022
He : Rugged boys than Ponungala thappa pakuranga.

She : Overall Boys eh Ponungala thappa than Paapanga

K..Palani : Apdi sollu Ela Pasangalum apdi than Kikibiki. .

The Moment when KP forgets that he is also paiyan. Ena nea idhulam. pic.twitter.com/1ShaDiKgNo

— Box ! Box ! (@hariharan1793) August 10, 2022
Muthaya rightly predicted girls weakness on rugged boys pic.twitter.com/Cxq90dtQON

— 𝐆𝐚𝐥𝐚𝐱𝐲 ☆ (@Mr__AAD) August 11, 2022
Rugged boy 😜😜😜 pic.twitter.com/gfqmcYWLHz

— அ.இ.அழகுமுத்து (@azhagumuthu15) August 11, 2022
That rugged boys : pic.twitter.com/aZ3h4JxOD1

— God's Lonely Man (@ImSarva6) August 10, 2022
: neenga rugged boy'ah ila choco boy'ah

: clown boy … pic.twitter.com/jUgHop8qr2

— カーシック (@weirder__) August 11, 2022
Rugged boys😅😂 pic.twitter.com/68LCXXP2l7

— M.D⚡ (@Thalapathy_md) August 12, 2022
Rugged boys in real life pic.twitter.com/85976cE75P

— 🄰🅃🄲 ™ (@ATC_SPACES) August 12, 2022
Rugged boys😂😂😂👇
.
. pic.twitter.com/sxeSttHwx1

— KARTHI (@Karthisiva06) August 11, 2022
Rugged boys vs chocolate boys 😁 pic.twitter.com/Lp3vpNjPF3

— கிரீஸ் டப்பாவை எப்படி உதைச்ச..? (@Greesedabba2) August 12, 2022
Rugged boy pic.twitter.com/RMXjJIj5Pz

— மலடா அண்ணாமல (@MeetShivaG) August 12, 2022
Girls Love Rugged Boys
That Rugged Boys: pic.twitter.com/pJKxoLnreN

— SK💫 (@ltz_Krish) August 11, 2022
Girls after marrying Rugged boys : pic.twitter.com/4Bi9851VzO

— Troll Cinema ( TC ) (@Troll_Cinema) August 12, 2022
Rugged boys after marriage
🥺 pic.twitter.com/0FXSpqzNwM

— 🄰🅃🄲 ™ (@ATC_SPACES) August 11, 2022
Rugged boys in their wedding reception 💥🕺 pic.twitter.com/jqx2y2jfsJ

— VK Siva (@iam_VKSiva) August 11, 2022
Choco boy or rugged boy

Me being innocent all the time: pic.twitter.com/eUF6efle3R

— Aadhi (@alemanyprop) August 11, 2022
Rugged boys 😂😂😂😂 pic.twitter.com/8tk0GcL7kE

— க ட வு ள் 😒 (@k_a_d_a_v_u_l) August 11, 2022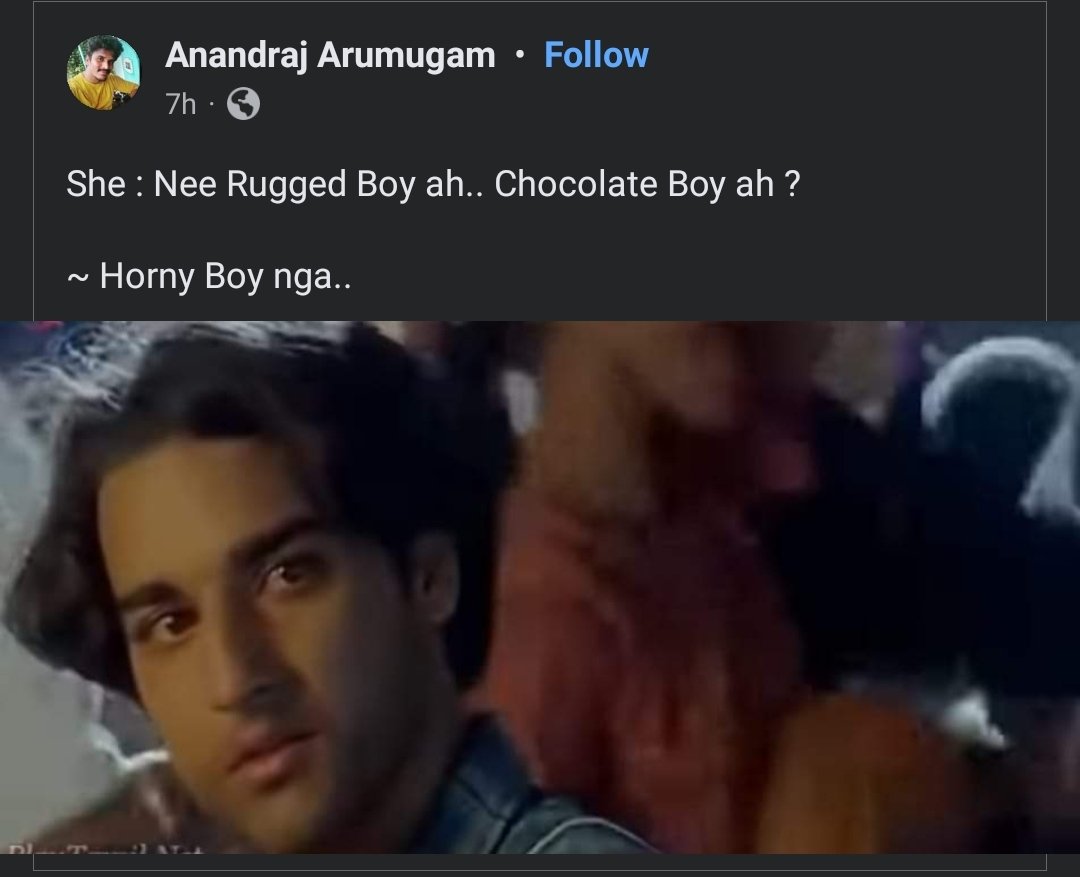 Rugged Boys💥 pic.twitter.com/2jFzhYqju8

— Memes Central (@SINGINTHIRAIN) August 12, 2022
Rugged boy and his wife going to movie pic.twitter.com/zdqG7FrunQ

— 🄰🅃🄲 ™ (@ATC_SPACES) August 12, 2022
Rugged boys after messing with wrong guy 😂😂 https://t.co/H8bCAXk9Ch pic.twitter.com/N2rbBOIhFr

— Ru ❦ (@shadeofcheery) August 11, 2022
* Girl I like rugged boys *

After marrying a rugged guy : pic.twitter.com/Td7IsRBQxP

— Ram (@beingWiseGuy) August 11, 2022