Memes Linking Thalapathy Vijay With "Maanadu" Trailer Are Flooding Internet !!
Maanadu
Simbu
Thalapathy
Vijay
CM / Updated: 2021-10-02
14:40 IST
By Dhiwaharan
As soon as the trailer of Simbu starring "Maanadu" released in youtube, memes and posts linking Thalapathy Vijay with the same are flooding in the Internet. Connecting what really happened between the "Theri" star and his father recently, netizens making memes on Vijay asking "repeat" for the scene where Simbu who played Abdul Khalique shoots S.A Chandrasekhar who played the role of a Chief minister in the film. The trailer released by A.R Murugadoss, Nani, Nivin pauly and Rakshith Shetty in the morning of Saturday with much expectation.
[wp_ad_camp_1]
The 130 seconds long trailer promises a gripping time travel film with Simbu and SJ Suriya clashing with each other. The lead actor looks stylish with his new avatar with Kalyani Priyadarshini playing female lead. With SJ Suryah donning a cop role, SA Chandrasekhar appears in the film as the Chief minister of the state. Watch the trailer below :
With many reacting for the trailer, comparing it with the Hollywood time travel films that they came across, a number of reactions linking Thalapathy Vijay with it are flooding the Internet. It was recently reported that Thalapathy Vijay filed complaint against his own father for launching a political party in his name. The report said that Vijay filed a case against 11 members including his parents to prohibit the use of his or his fan club's name for political reasons.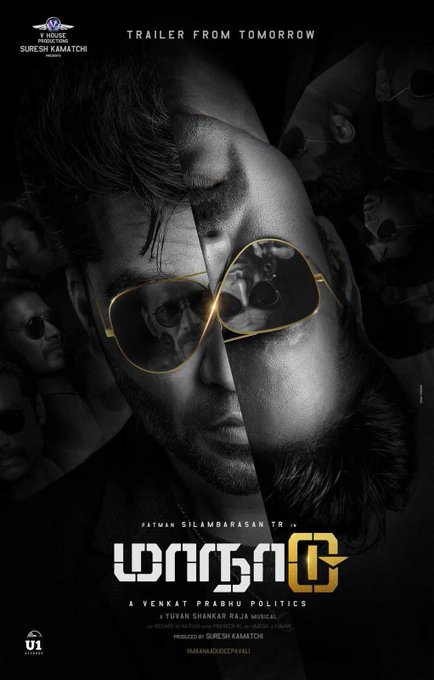 [wp_ad_camp_1]
Last year, SA Chandrasekhar registered a political party with the Election commission of India. Moments after the filmmaker confirmed that he has started a political party in the name of "All India Thalapathy Vijay Makkal Iyakkam", his son actor Vijay issued a statement distancing himself from the party. Vijay, in his statement, made it clear that he has no connection with the political party started by his father and requested his fans not to support the party in any way. "I came to know that my father has started a political party through media portals. I hereby inform that there is no relation between myself and the party, directly or indirectly." Vijay said in his statement. Read : "Vijay Never Had A Good Film After Thuppakki" – SA Chandrasekhar !! WATCH
Linking these contradictions between Vijay and his father, netizens started making fun out of it. A twitter user uploaded a meme denoting that the "Thalapathy" actor would ask "repeat" for the scene where Simbu shoots SAC whereas another uploaded a post saying that Vijay directed "Maanadu". Check out some of the reactions below :
Sources says vijay na booked fdfs for maanadu 💯
#MaanaaduTrailer #Maanaadu #Vijay

— Name changed (@JoelBenitoT) October 2, 2021
vijay na watching maanadu trailer pic.twitter.com/9aPjegJDEN

— 𝙑𝙞𝙞𝙟𝙟𝙟𝙞 (@paruppuurundai) October 2, 2021
maanadu – a vijay anna politics 🥰❤️ pic.twitter.com/q4IgCUun8U

— Bheem Boyyy (@bheemboyyy) October 2, 2021
nobody: …

vijay anna at #Maanadu fdfs:

🤣🤣🤣🤣🤣 pic.twitter.com/JphJm9gu2D

— vintage_vijay (@vintage_vijay01) October 2, 2021
[wp_ad_camp_1]
*Maanadu x Vijay*

Vj bro ~ Athan gun eduthutta la, innum yen bayapudura avanai suttu thallu pic.twitter.com/7k3DTJU8qD

— Adheera 🔪 (@rajni712dhoni) October 2, 2021
மாநாடு ..அனேகமாக நடிகர் விஜய் மறைமுகமாக funding செய்திருக்க வாய்ப்பிருக்கிறது.

அல்லது வெங்.பிரபு ஒரு வெறித்தனமான அணிலாக இருக்க வாய்ப்பிருக்கிறது.

இல்லையென்றால் இத்தனைமுறை time-loopல் SAC யை போட்டுத் தள்ளும் சீன் வந்திருக்க வாய்ப்பில்லை.

— UmaMaheshwaran Panneerselvam (@UMA_1510) October 2, 2021
SAC getting shot at head in MAANADU trailer

Anna at home : Once more pic.twitter.com/ziDNjWZrfp

— Hokage | see my pinned tweet & bio (@hahashisensei) October 2, 2021