Memes Linking Ambani & Powercut Are Trending In Internet!!
AMbani
Chennai
IPL
Mumbai
CM / Updated: 2022-05-12
23:24 IST
By Dhiwaharan
Memes and Trolls linking Mumbai owner Ambani and the power cut that took place during Devon Conway are trending in social media platforms. The bizarre incident raised many eyebrows and questions about the standard of Indian premier league which is considered as one of the cash rich tournaments in the world.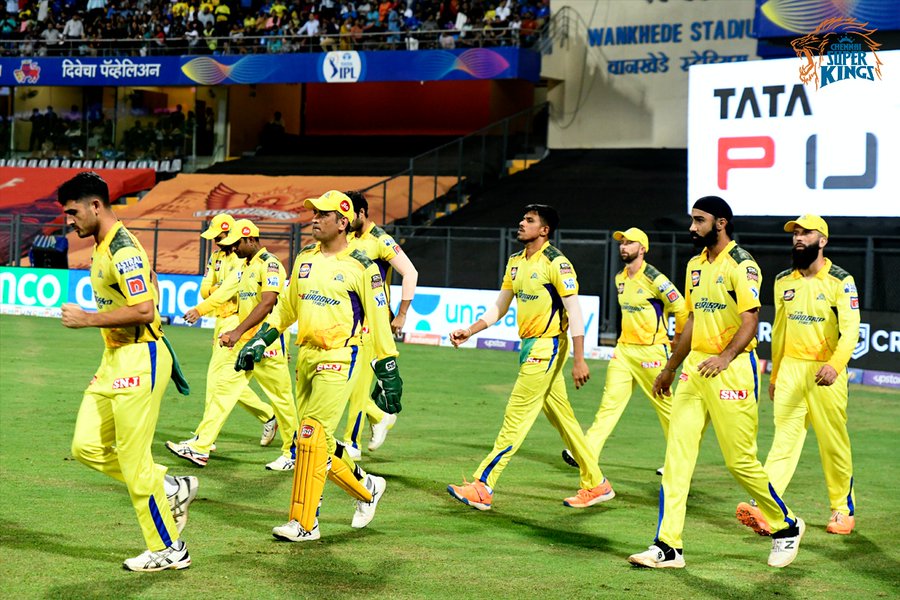 The incident took place right after the second ball of the CSK innings. Daniel Sams bowled a length delivery that shaped in to beat Conway's flick.The latter was struck on the pads around the leg and umpire Chirra Ravikanthreddy gave it out straight away.
After having a chat with his partner Ruturaj Gaikwad, Conway decided to go fot review but nothing worked in his favour. It has been reported that DRS wasn't available then due to power cut in the stadium. Without having much choice, Conway returned to pavilion for a golden duck.
Watch the video below :
— Cred Bounty (@credbounty) May 12, 2022
It seemed like the ball was missing the leg stump but nothing could have been done at that point. The incident didn't go well among the followers of the game with many questioning the arrangement of the management.
Even Chennai Super Kings Franchise came up with a tweet wondering what was happening on the field.
What's happening? ☹️

— Chennai Super Kings (@ChennaiIPL) May 12, 2022
 Trolls, memes and condemnations keeps surfacing in the internet after the yellow team lost the match miserably to the blue team. Many fans linked Mumbai owner Ambani with the powercut as well. Check out some of the reaction below :
Wait what? No drs? Such a huge event! What excuse is this? One wrong decision can crumble a team! Gunslinger reaction on the lbw !? 🤯🤷‍♂️ #IPL

— Vikram Prabhu (@iamVikramPrabhu) May 12, 2022
#powercut #CSKvsMI
Behind the scenes of first innings: pic.twitter.com/fitM00iWIp

— Sarcastic_gopu (@imgopaljal) May 12, 2022
Both Mukesh played well Today for their Teams 👏#CSKvsMI #CSKvMI #Ambani #MukeshAmbani #CSK #MukeshChoudhary pic.twitter.com/A0dNRzOD2s

— GURPREET CHAUDHARY (@GuriChaudhary77) May 12, 2022
No DRS because of a power cut at Wankhede 👀#CSKvsMI #IPL2022 #ambani pic.twitter.com/LErf36XIMp

— रितिक शुक्ला (रजत) (@_rajat_pandit_) May 12, 2022
Umpires need this type of treatment by the way.#CSKvMI #fixing #ambani #electricity pic.twitter.com/bmqeoalHcR

— Deniyal Patel (@heroic_deniyal) May 12, 2022
World's best premier league doesn't have current in ground 🤦…it clearly seems missing the stumps but sometimes justice may be delayed but now absolutely denied #CSK𓃬 #powercut #CSKvsMI #umpires pic.twitter.com/2P73acOT1H

— Mukesh mukie🇮🇳 (@_mukesh_07) May 12, 2022
Well paid MI #NODRS #CONWAY #POWERCUT pic.twitter.com/HFoZoy35tF

— Vadiraj Joshi (@VadirajJoshi19) May 12, 2022
A stadium that hosted a World Cup final lost power all of a sudden what a miracle.👏 .#CSKvMI #powercut #MumbaiIndians pic.twitter.com/uwzoVijVMo

— Partha Sarathi Gupta (@creativepartha) May 12, 2022
#MIvsCSK #umpire #ambani #ipl
No DRS Due to power cut.
Le Ambani: pic.twitter.com/pmZ9Zllpps

— Anonymous (@writerotherwise) May 12, 2022
Best partnership 💙
Blue unites to defeat yellow #MIvsCSK #Ambani #umpire pic.twitter.com/uKHQSz7QlT

— Sagar Yadav (@sagaryadav_2711) May 12, 2022
Reliance supplies Electricity In Mumbai

New Low in IPL

No drs because of Light Cut

Ambani sahab has arrived to save Rohit Sharma & Mumbai Indians from double digit losses #MIvsCSK #CSKvsMI #RohitSharma#MumbaiIndians#CSK
Drs is back after 5-3

Waah #Ambani saab waah. https://t.co/hLBGeHnLje pic.twitter.com/iOHoBrJ5Mk

— SK Chatterjee 🇮🇳🚩 (@SChatterjee02) May 12, 2022
Well played #Ambani pic.twitter.com/3uYRf7NsAr

— Sandeep Kumar (@Sandeep40891668) May 12, 2022