Days ago, after the teaser of Bollywood Netflix film "Meenakshi Sundareshwar" got dropped in Internet, people who belong to Tamil nadu slammed the makers for stereotyping Tamil nadu and the people of it through the excess usage of Rajinikanth references. Now, the Karan-Johar produced film released on Netflix and is getting slammed for the portrayal of Tamil culture and the advantage they took over using Tamil stereotypes. Netizens trolling the film by terming it as "cringe-fest", adding that a little bit of "Thalaivaa" moments and the references of "Idy", "Vada", "Dosa" would make a Meenakshi Sundareshwar.
Fans criticized questioning how the characters are speaking fluent Hindi with the film being set in Madurai, Tamil nadu. Hiring no Tamil actors t play lead also dew flak for the Hindi film. Users of Twitter said that Tamil culture was used by the makers only for the aesthetic purpose and the details are completely missing.
[wp_ad_camp_1]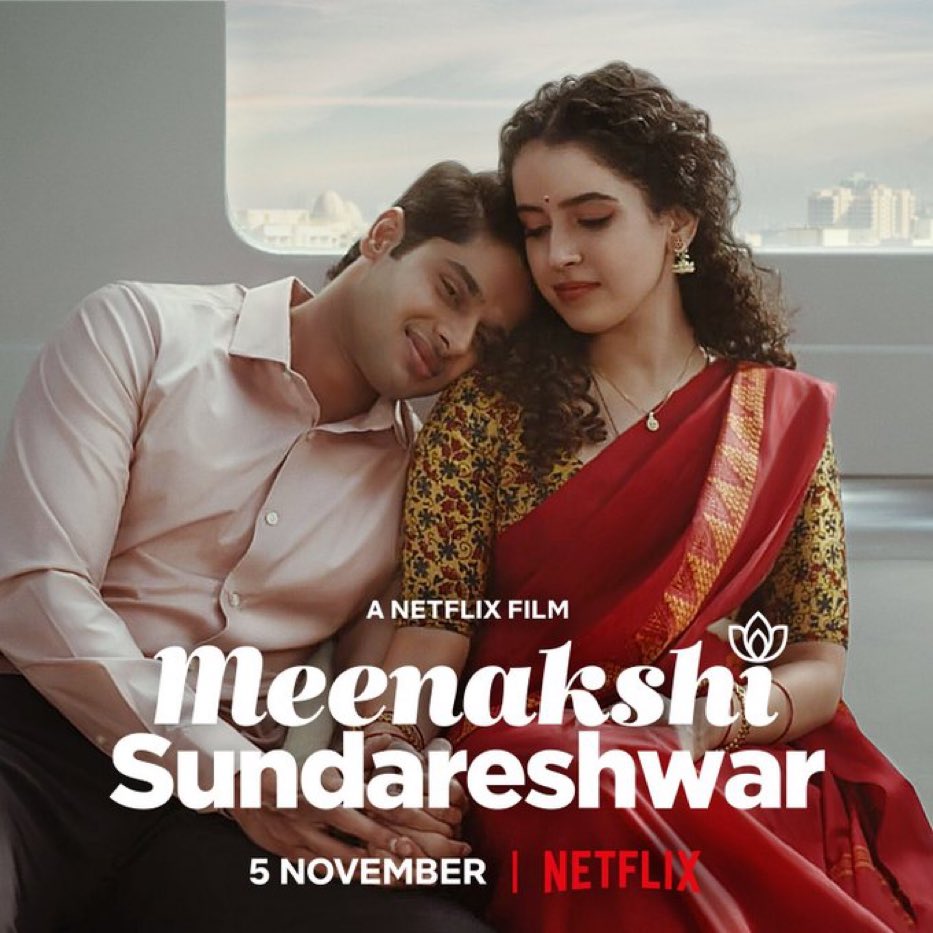 Meenakshi Sundareshwar, a romantic comedy starring Sanya Malhothra and Abhimanyu Dassani which was produced by Karan Johar's Dharmatic Entertainment, appears to be steeped in Tamil culture and is encapsulates the various interlinked aspects of relationships, joint families, the awkwardness in a new marriage and everything in between, according to the official logline of the film.
Though, neither of the actor is of South Indian parentage, the film is set in Mdurai, Tamil nadu. The teaser suggests Abhimanyu playing the role of an engineer who feels he can be a perfect husband as his job teaches him never to give up. Sanya played the role of a feisty woman who likes making nervous people, "more" nervous. The two meet in an arranged marriage setup and through the case of the teaser we see them fall in love, get married.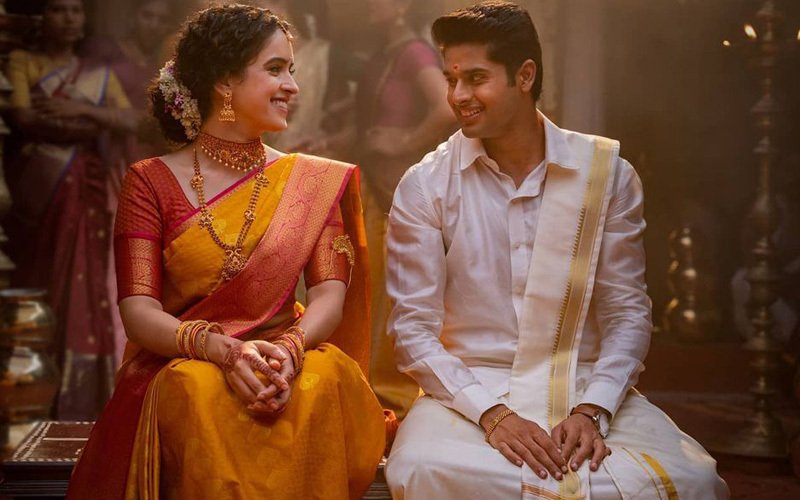 The film marks the debut of Vivek Soni and he handled how newly weds navigate long distance insecurities, their love and the dramas that come with every new marriage. After watching the film that is streaming in Netflix, a fan wrote "One day, when I become a director, l will make a true universal film about REAL Tamil culture. I'll consider that a duty as a partly Tamil, partly Hindi guy. This film doesn't even offend very well. It's a joke on all fronts. Stay away from this shit" with many others tweeted similar reviews.
[wp_ad_camp_1]
Check out some of the reactions below :
One day, when I become a director, l will make a true universal film about REAL Tamil culture. I'll consider that a duty as a partly Tamil, partly Hindi guy. This film doesn't even offend very well. It's a joke on all fronts.

Stay away from this shit #MeenakshiSundareshwar pic.twitter.com/yNsV21UiAB

— Adithya Muthu (@muthuwu) November 5, 2021
#MeenakshiSundareshwar confuses me more than anything else Beautifully shot with such a soulful soundtrack. #SanyaMalhotra in brilliant form

But a Tamil Brahmin family in Madurai speaking shudh Hindi. Stereotypes galore. Slow pace. Odd Tangents in the storyline. What did u think pic.twitter.com/AqhMoErKzS

— ANMOL JAMWAL (@jammypants4) November 5, 2021
Dear Bollywood,
For fucks sake, can you stop making movies based on Tamilians or any south Indians for that matter? If you can't freaking do it the right way don't do it man! We have had enough of your stereotypical portrayal already! #MeenakshiSundareshwar

— Vignesh Suresh | விக்னேஷ் ಸುರೇಶ್ (@iVigneshSuresh) November 5, 2021
#MeenakshiSundareshwar is the DULLEST movie I have watched in years, and "engineers make the best husbands" is the WORST dialogue I have ever heard.

— Somya Lakhani (@somyalakhani) November 7, 2021
Actors like @dulQuer, @roshanmathew22, @kalidas700, @Samanthaprabhu2, @KeerthyOfficial & others could have done a lot better than the chosen leads. Similar thoughts for supporting cast too. There are actors from the South who have proved their worth, & it's time they get noticed.

— Jigar Ganatra (@JigarGanatra_) November 5, 2021
Floridians: Do we look like a Mylapore'ians!? #MeenakshiSundareshwar pic.twitter.com/87XI8gRlMp

— Kailash (@ikailash_) November 6, 2021
This movie is such a crap. What u have shown in the movie is not our culture. Stop misleading people. If you really want to take movie about Tamil and our culture , go with tamil cast & director. Brahmin culture is not Tamilnadu. Majority, are meat eaters #MeenakshiSundareshwar pic.twitter.com/Hjskt8YPW0

— Siva | சிவா🖤❤️💙 (@rationalistsiva) November 5, 2021
[wp_ad_camp_1]
#MeenakshiSundareshwar Horrible Experience. I am from Madurai and this movie doesn't even show 1% of my city. Its really pathetic to hear Hindi in madurai which is unknown to 99% of people and looks unrealistic. This movie neither showcase our Tamil culture nor Madurai tradition pic.twitter.com/ivlWqxfwPb

— Siva | சிவா🖤❤️💙 (@rationalistsiva) November 5, 2021
1 minute 57 seconds into the "movie" and they've already dragged "Thalaiva" into this mess!

That man has suffered enough this week.

— Varadhu Kutty (@KuttyVaradhu) November 8, 2021
Who on Earth eats kari dosa with thenga chutney and thakali chutney…
Ewwwwwwe🤢🤮#MeenakshiSundareshwar pic.twitter.com/R7BI8qtDUC

— You might think I really (@Uma_Ranii) November 8, 2021
Maapla payyan is so mozhuk and shaved that he can play Dhanush's brother in upcoming family dramas!

— Varadhu Kutty (@KuttyVaradhu) November 8, 2021
With the shameful failure to impose hindi in Tamilnadu,the makers of #MeenakshiSundareshwar have made a Tamil film with Hindi dialogues and have proved once again that they can't force us to speak in hindi. Tamil people speaking hindi is a disastrous match.Just like the movie.

— Shalin Maria Lawrence (@TheBluePen25) November 6, 2021
Not every person who lives in Tamil nadu wears vesti and kanchivaram saree all the time. Who fucking eats Rasmalai in Tamil Nadu and Panampuri God. Why on earth did you guys make this movi.

— Thejas Ravi (@45thejas) November 5, 2021
Engineers make the best husbands aa? Engineers don't even make good engineers. Ada ponga saar!

— Varadhu Kutty (@KuttyVaradhu) November 8, 2021
Bollywood filmmakers totally assume we'd break into a Rajnikanth's dialogue at a cafe with plenty of people watching us. Yes, that's exactly what we do! 🙄 #MeenakshiSundareshwar pic.twitter.com/WHrlNO04rK

— Sunaina Patnaik (@sunaina_patnaik) November 5, 2021
It's literally so cringey to watch. Weirdly pronounced tamil phrases and names peppered throughout the film and such ON THE NOSE stereotyping 🤡🤡

— Ammai (@SKVaranasi) November 5, 2021
#MeenakshiSundareshwar If you decide to make a Movie based on tamilans, please do some research, its really embarrassing to see such kind of shameless portrayal. And i think they confused between Mylapore and Madurai . https://t.co/0u1DCnQzTb

— Parry Hotter ❤ (@DeepNikil1997) November 5, 2021