Mayilsamy's Demise Left The Entire Tamil Cinema Fraternity Dejected!!
Actor
demise
Kollywood
Mayilsamy
CM / Updated: 2023-02-19
09:37 IST
By Dhiwaharan
Mayilsamy, famous Tamil supporting actor died at the age of 57 and the entire Tamil film fraternity left dejected which is evident through their social media posts and videos. The news about the actor who is popularly known for his humorous roles and for his onscreen collaboration with late comedy actor Vivekh, is sending shock waves among the public and film celebrities.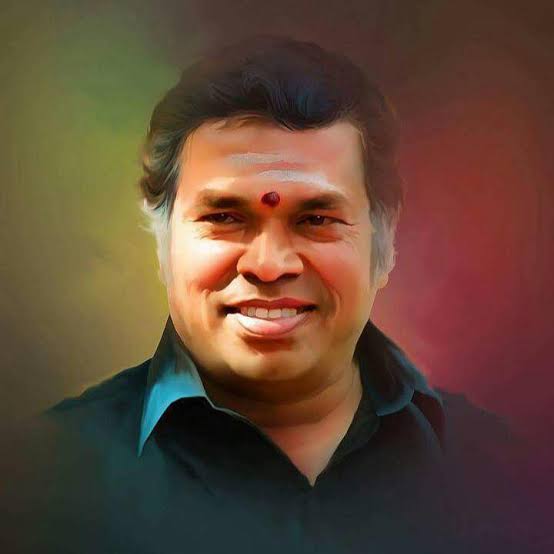 The famous actor reportedly felt some discomfort on Saturday and his family members took him to Porur Ramachandra Hospital. It has been reported that Mayilsamy died on the way due to ill health and declared by the Doctors as brought dead.
Mayilsamy debuted to film industry through veteran filmmaker K. Bhagyaraj's 1984 film "Dhavani Kanavugal" as a man in the crowd. However, he went on to make his mark in Kollywood film industry as a recognized supporting actor. His performances in films such as "Dhool", "Uthama Puthiran", "Thiruvilayadal Arambam" were widely appreciated by fans. For acting in the film "Kangalaal Kaidhu Sei", Mayilsamy received Tamilnadu state award.
With actor Vijay, Mayilsamy shared screen space in "Gilli" and with Ajith, he was seen inna his hit film "Veeram". Many actors including Chiyan Vikram, Yogi Babu, Manobala are expressing their condolences for the unexpected demise of the talented actor.
"Your sweet funny ways will always be remembered dear Mayil. RIP" actor Vikram said in his tweet to pay his last respect to the actor whereas Yogi Babu sent an audio to media portals saying that Mayilsamy helped him since his initial days in the film industry and it is indeed a shocking news for him. "This is so sad and shocking.Just heard from the press. Dont want to believe" actress Radikaa Sarathkumar's tweet read.
Check out some of the reactions from fans and celebrities below :
நகைச்சுவை நடிப்பில் தனக்கென்று ஒரு பாணியை முன்னிறுத்தி வெற்றி கண்டவர் நண்பர் மயில்சாமி. உதவும் சிந்தையால் பலராலும் நினைக்கப்படுவார். அன்பு நண்பருக்கென் அஞ்சலி #Mayilsamy

— Kamal Haasan (@ikamalhaasan) February 19, 2023
Your sweet funny ways will always be remembered dear Mayil. RIP. pic.twitter.com/i4eiQacNt9

— Vikram (@chiyaan) February 19, 2023
This is so sad and shocking.Just heard from the press. Dont want to believe. pic.twitter.com/mPZTIfhi4s

— Radikaa Sarathkumar (@realradikaa) February 19, 2023
"ரொம்ப அதிர்ச்சியா இருக்கு. மிகப்பெரிய இழப்பு"

-நடிகர் யோகி பாபு உருக்கம்!#SunNews | #RIPMayilsamy | #Mayilsamy | @iYogiBabu pic.twitter.com/iwomiHwLCG

— Sun News (@sunnewstamil) February 19, 2023
Rest in peace #mayilsamy anna 🙏
Very sweet person
My heartfelt deepest condolences to his family and friends
May God bless his soul 🙏 pic.twitter.com/oMI7RGacQs

— Shobi Paulraj (@shobimaster) February 19, 2023
Last video of Actor #Mayilsamy where he completes his dubbing for a movie pic.twitter.com/7StX0JeMSP

— Kollywood Talks (@kollywoodtalks) February 19, 2023
RIP actor #Mayilsamy, an actor who worked with all the big stars of Tamil cinema. He always made a mark with his innocence on screen and his unique voice. Deepest condolences to his family. pic.twitter.com/YUVGpjapQi

— Siddarth Srinivas (@sidhuwrites) February 19, 2023
Rest in peace #Mayilsamy sir🙏
Unexpected loss for TN film fraternity! pic.twitter.com/5Qi6NQK2WA

— Rajini✰Followers (@RajiniFollowers) February 19, 2023
Rest in peace , king mayilsamy 😭❤️

From the words of fellow king vivek on how much helping the needful means to mayilsamy #rip #mayilsamy pic.twitter.com/ZVHqkHHT6t

— joey 🐦 (@fsocietyhokage) February 19, 2023
Shocked to hear the news. Your sense of humor and positive attitude always filled the shooting spot with laughter and happiness.. RIP #Mayilsamy sir. Condolences to family and friends😢 pic.twitter.com/h49wHsxHpv

— Sakshi Agarwal (@ssakshiagarwal) February 19, 2023
எனது அன்பு நண்பரும், மிகச்சிறந்த மனிதரும், தமிழ் திரையுலகின் முன்னணி நகைச்சுவை நட்சத்திரமும், சிறந்த விரிவுரையாளருமான அவர்கள் திடீர் உடல்நலக்குறைவால் மறைந்த செய்தி பேரதிர்ச்சியும், தீராத மனவேதனையும் அளிக்கிறது. (2)

— R Sarath Kumar (@realsarathkumar) February 19, 2023
#Watch | மயில்சாமி என்னிடம் கடைசியாக பேசியது… டிரம்ஸ் சிவமணி உருக்கமான பேச்சு!#SunNews | #RIPMayilsamy | #Mayilsamy | @drumssivamani pic.twitter.com/kP2olCLadu

— Sun News (@sunnewstamil) February 19, 2023
RIP #Mayilsamy Anna!!🙏🏽

— ArunVijay (@arunvijayno1) February 19, 2023
#தூள் படத்துல வர அந்த cancer, திருப்பதி ஜிலேபி comedies லாம் மறக்கவே முடியாது. அந்த scene ல வர ரெண்டுபேருமே இப்போ இல்ல ங்கிறது ரொம்ப கவலையா இருக்கு. Miss you so much #மயில்சாமி sir. #RipMayilSaami #mayilsamy #Leo https://t.co/9D9j4GfrFL

— LEO 🔥🔥🔥 (@Vishva1007) February 19, 2023