"Masturbate In Your Own Room"- Circular From Popular University ?? Notice Goes Viral !!
College
Masturbation
students
CM / Updated: 2019-09-04
13:51 IST
By Dhiwaharan
They say masturbation is a normal act and it doesn't affect one mentally and physically unless it exceeds a limit. But it happens to be a major problem for this educational institution which made them to circulate a notice to prevent its students from masturbating. Wait. Prevent from masturbating in shower.
[wp_ad_camp_1]
The notice says that the excessive amount of semen in the drain costs thousands of rupees in maintenance. "It must be reflected in the hostel prices increase for next year." the statements contains. It also says "Please masturbate in your own room" in bold font. "Please see your warden if any problem with the decision. Thanks for your cooperation" it added.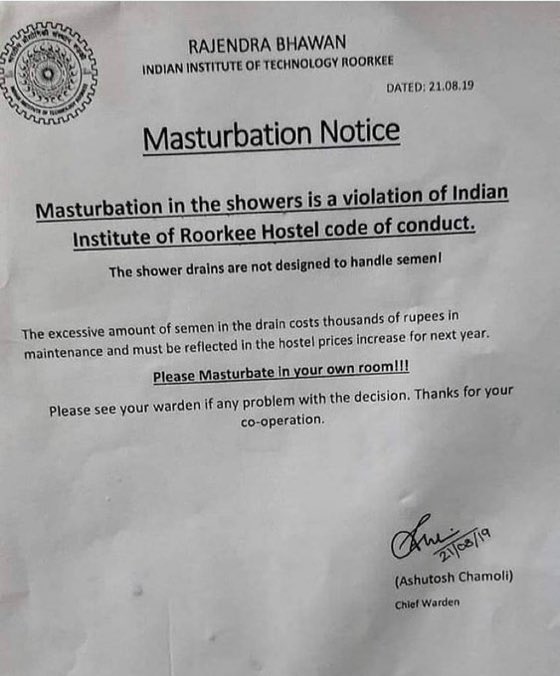 Initially we thought it is just a Whatsapp forward which is made for fun until we saw this post from News7 Tamil . Check out their post here :
This news is going viral and getting enormous number of reactions from the social media platforms. Check out some of their reactions here :
andha alternative solution dan deal breaker 😂😂

— Satish (@SatishSelvam) September 4, 2019
[wp_ad_camp_1]
அடச்சைக் கருமம். இதுக்கெல்லாமாடா notice ஒட்டி கட்டுப்பாடு விதிப்பீங்க!! சங்கீ முண்டைகளா!!😡🤦🏻‍♂🤦🏻‍♂#Masturbation is our birth right. மறைமுகமான இடத்துல கையடிப்பது எங்கள் உரிமை.

— ShotDKuruvi (@SDK_2pointO) September 3, 2019
Some bad news for guys here , can happen in other institutes 😆 #iitroorkee pic.twitter.com/2s301TpsK8

— smilesalotlady_ (@smilesalotlady_) September 3, 2019
However, it has been confirmed that it is a fake news by few of the tweets posted by the students of the university itself.
No!
It's a false notice put up by some mischievous students.
Kindly refrain from believing and sharing such news.
Kindly delete it as it leads to confusion and spread of propaganda by external sources.
I'm a student at IITR so I can confirm this.
Thanks and Cheers! ✌️

— Raghav (@rjjw3) September 3, 2019
[wp_ad_camp_1]
In the Western world, masturbation in private or with a partner is generally considered a normal and healthy part of sexual enjoyment.
What do you think on this bizarre fake notice being circulated ?? Comment your views below !!