Deleted scene from "Master" got released in the official youtube channel of Amazon Prime and garnered 6 million views in no time. Reactions from all over the Internet are pouring for the 5 minute long deleted scene from the Lokesh Kanagaraj directorial and many fans felt that the scene should have been featured in the film. Now, a video clipping from the 1994 tamil film "Nammavar" is doing rounds in social media platforms with netizens believing that it could have inspired Lokesh Kanagraj to write the scene which shows JD schooling his colleagues, spoiled students and parents on the rights of women.
[wp_ad_camp_1]
The scene starts with JD taking class on "Decision Making" to his students. A girl who interrupts the class, says that Parents of Savitha and the accused are getting compromised in the principal room. JD who accompanies Savitha to the principal room, beats the students who physically harassed her and makes them confess their crime.
He also gives a piece of his mind to his colleagues on good touch, bad touch, sex education, parenting and on how not to restrict girls and their clothing. The scene ends with the mother of the accused seeking Police help to arrest her son for the crime he committed.
Watch the scene below :
Many fans felt that the scene seems to be so relevant to the current situation of our country and wondered why the makers have deleted the scene. Fans are also started comparing the scene with a scene from the film "Nammavar" of Kamal Haasan and assuming that Lokesh could have got inspired from it.
In the scene, Kamal, while confronting his colleagues, says that he got the permission from the boys and girls before making them sit beside each other. "You are afraid of me teaching them about sex. I don't need to teach them that and I also feel that there nothing wrong about teaching them about sex. In this period where aids is spreading like a wildfire, we should teach them about sex and also about the positives and negatives in it. We should also tell them "never condemn a condom"." Kamal who played professor says to his colleague and also tells him about how culture differs from person to person.
[wp_ad_camp_1]
Watch the scene below :
Master Deleted scene reminded me of this scene from Nammavar😍🔥

Loki would have most certainly kept that scene inspired by this😅❤

Aandavar @ikamalhaasan 😍🔥 pic.twitter.com/rOEDhGpoAO

— Anbu Seivom ❤🤗 (@parasajoy) February 6, 2021
It is notable that Lokesh Kanagaraj gave filmography credits to "Nammavar" during the end credits of the film "Master" and portrayed JD as a student of "VC Selvam", character name of "Nammavar" Kamal Haasan.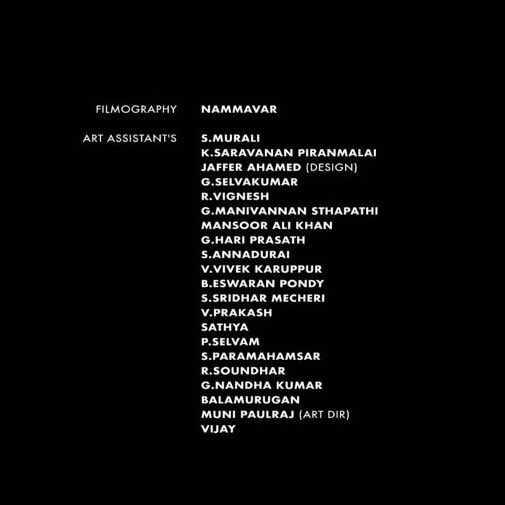 In a scene when Charu (played by Malavika Mohanan) asks Nasser about JD's past, he could be seen saying that the loss of his professor Selvam made a huge impact in his life. In the film "Nammavar", VC Selvam (played by Kamal Hasan), a professor, would try to reform a spoiled brat in his college. The film ends with Selvam leaving to US seeking a cure for his cancer, hoping the college to be reformed.
"Professor VC Selvam changed JD's life. Unfortunately, he died due to cancer. That really shattered JD. He couldn't sleep after the loss. That bloody alcohol took over him" Nasser would say to Malavika Mohanan about his past.
[wp_ad_camp_1]
Director Lokesh Kanagaraj who identifies himself as an ardent fan of legendary actor Kamal Haasan, always had a reference of his films in his directorials. In his debut film "Maanagaram", for the role of Sundeep Kishan, Lokesh referred Kamal Haasan's look in his 1988 action drama "Sathya". The director himself said that he got inspired from "Virumaandi" to do his second film "Kaithi". Now, in his most recent high budget action thriller "Master", Lokesh used Ulaganayagan's 1994 film "Nammavar" for the back story of the lead character.
கொண்டாடப்படாத நம்மவர் தான் #Master

படம் வந்த போது போற்றாதவர்கள் படம் டிவி மற்றும் OTTயில் வரும் போது scene by scene analyse செய்கிறார்கள்

சில சமயம் வெற்றிகள் உடனே வருவதில்லை. தாமதமானாலும் கலைஞனின் வியர்வை தோற்பதில்லை 1/2 @ikamalhaasan@actorvijay@Dir_Lokesh pic.twitter.com/9ERMBUlQXq

— சினிமா🎬 ரசிகன்🎥 (@Cinimarasikan) February 8, 2021