Video of self proclaimed goddess "Annapoorani" appeared in front of media for the first time after her videos went viral in the online platforms. In the interaction, Anna poorani who calls her devotees as "children", said that they are feeling the "power" in her which makes them to follow her. She said that a "power" which functioned in the bodies of herself and her husband "Arasu" is now functioning as one sole "power" and her "children" are very much aware about it.
However, Annapoorani avoided talking about the "Solvathellam Unmai" episode in which se took part as a man's illegal affair. At one point, she shouted at the interviewer for treating her as a normal human being and not as a "special power". The particular video clipping of Annapoorani shouting and breathing heavily is doing rounds in social media platforms.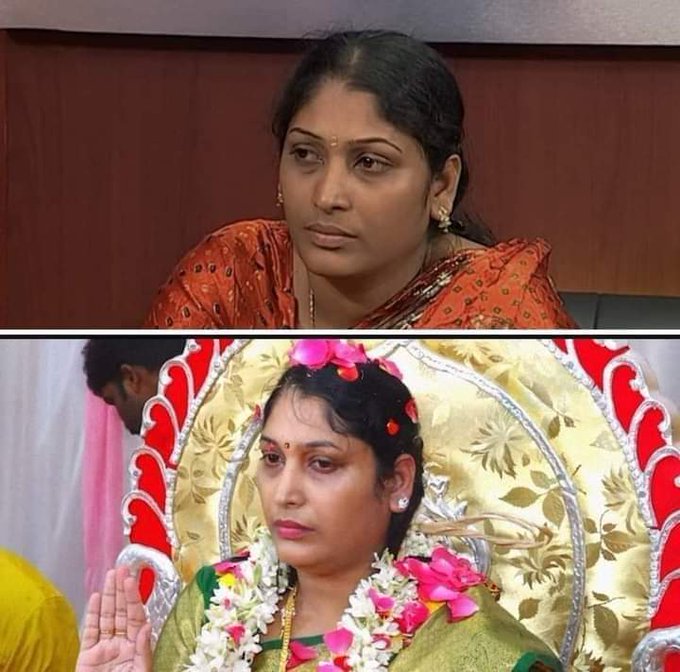 For the past couple of days, a number of videos of people worshipping a woman named "Annapoorani" who is dressed like a goddess are trending in the online platforms. It has been reported that the woman claims herself to be "Goddess Amman" and the posters of a program she scheduled for new year is going viral in online platforms as well. One of the posters dubbed the woman as a reincarnation of goddess "Aathi Parasakthi" who is ruling the world.
The videos show enormous number of women and men crying at "Annapoorani" to get blessings from her and many could be seen conducting "Pooja" for the woman by washing her feet. However, netizens found out that the self-proclaimed god-woman is the one who took part in Lakshmy Ramakrishnan's "Solvathellam Unmai" show. In the show, the alleged "Annapoorani" wanted a married man to divorce his wife with whom he was living for 12 long years in order to lead a life with him.
RT who hate this fake fellow….#annapoorani #dupakur pic.twitter.com/io65LBI8IZ

— kullanare90k (@kullanare90k) December 27, 2021
Now, in her first ever youtube interaction, Annapoorani said that she never identified herself as a Goddess and the "Pooja ceremonies" that are being conducted by her "children" are not for herself but for the "power" they felt in her. "Arasu" with whom Annapoorani took part in the "Solvathellam Unmai" show died of heart attack, said Annapoorani in the show and claims that her service is beyond religions.
When the host of the show asked her to tell about herself and her family, Annapoorani denied to answer. "In the year 2009, me and Arasu got married and participated in the show "Solvathellam Unmai" in 2013. It all happened for a reason and normal people can't understand about it" Annapoorani said.
At one point, when the interviewer insisted Annapoorani to tell about her personal life, the viral woman could be seen shouting at him and breathing heavily. "Can't you hear me saying  that I am functioning as a power ?? You people are thinking me as an ordinary woman, right ?" Annapoorani shouts and continues saying that he is not understanding her completely.
Here's the video :
ஒன்னும் சொல்றதுக்கு இல்லை 🤷🏻‍♀️ pic.twitter.com/VOBRLgmOpU

— Tr Gayathri Srikanth (@Tr_Gayathri) December 27, 2021
Watch the full interview below :
Source : Behindwoods