"Many Celebrities Wished Me Personally" – Mohan G's Emotional Reply To A Fan !!
Draupathy
Mohan G
Ruthrathandavam
CM / Updated: 2021-08-27
22:42 IST
By Dhiwaharan
Mohan G, trailer of whose film released recently, replied to a fan in the micro blogging social media site who appreciated him after watching it. In his reply, Mohan G said that said many celebrities wished him personally but feeling reluctant to wish him in public. He said that such situation will change in the coming days and the truth will get exposed slowly. The fan lauded Mohan saying that the trailer of "Ruthra Thandavam" discussed about something that many would fear to talk about. He indirectly mentioned films such as "Asuran", "Karnan" and "Sarpatta Parambarai" and concluded his tweet by saying that Mohan tasted his victory.
[wp_ad_camp_1]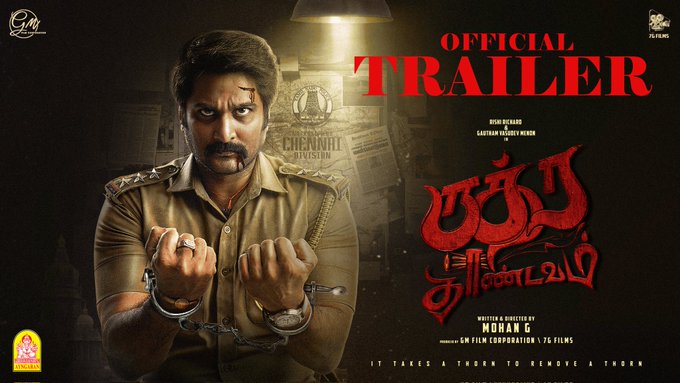 Trailer of "Ruthra Thaandavam", directed by Mohan G of "Draupathy" fame released on You tube on Tuesday and receiving reviews from all over the Internet. The 2 minute 51 seconds long trailer shows the protagonist as a police officer who is being accused as a caste-fanatic for the way he handles one of his cases. With Richard playing the lead role, the film's caste includes Gautham vasudev Menon, Dharsha Gupta, Thambi Ramaiyah, Radha Ravi and others.
The trailer also promises a perfect action thriller with Richard handling the drugs trafficking of miscreants. The Glimpse of filmmaker cum director Gautham Vasudev Menon that was shown in the trailer excites fans as his role looks crucial. "This is just a start, with the blessings of "Draupathy" and "Lord Shiva" said director Mohan G while sharing the trailer in his official twitter account.
[wp_ad_camp_1]
Watch the trailer below :
The trailer ends with Richard uttering the dialogue, "I was just doing my job. You people made others to say that I am a caste-fanatic. Why are you doing this dirty politics ?". The film has been censored as U/A and the film is set to release. Considering the recent announcement of government about the 50% occupancy in theatres, the film is expected to release in theatres.
Within three days, the trailer has garnered 3 million views from the youtube audience. Among the several reactions that surfaced, a Twitter user came up with a tweet saying "Ruthra Thandavam had talked about a politics that others would fear to talk about. A group of people are fearing to appreciate it. Another group are looking to make politics through the appreciations if the film gets it. Even if thousand "Karnan" comes, it is hard to change the narrative of the "Asura", "Parambarai". You succeeded in this" the fan said in his comment.
[wp_ad_camp_1]
Check out his tweet below :
பேச பயப்படும் அரசியலை #ருத்ரதாண்டவம் பேசி இருக்கு. ஆனால் அதை பாராட்டா பயப்படும் ஒரு கும்பல், அதை பாராட்டினா அதுலயும் அரசியல் செய்யும் அதே கும்பல். ஆயிரம் "கர்ணன்" வந்தாலும் இந்த "அசுர" "பரம்பரை" அரசியலை மாற்றுவது கடினம் தான். இதுல நீங்க ஜெயசீட்ங்க @mohandreamer

— Tamil Pokkisham – Vicky (@vickneswarang) August 26, 2021
Replying to the tweet, Mohan G said "Many celebrities wished me personally. It is true that they are they are reluctant to wish me in a public forum. It will change by the time. Truth will get exposed slowly brother, Big thanks to you" by writing "தனிப்பட்ட முறையில் பல பிரபலங்கள் வாழ்த்து சொல்லிட்டாங்க.. பொது தளங்களில் வாழ்த்த தயக்கம் இருப்பது உண்மைதான்.. இந்த நிலை போக போக மாறும்.. உண்மை நிதானமாகதான் வெளிவரும் சகோ.. உங்களுக்கு பெரும் நன்றி.."
Check out his tweet below :
தனிப்பட்ட முறையில் பல பிரபலங்கள் வாழ்த்து சொல்லிட்டாங்க.. பொது தளங்களில் வாழ்த்த தயக்கம் இருப்பது உண்மைதான்.. இந்த நிலை போக போக மாறும்.. உண்மை நிதானமாகதான் வெளிவரும் சகோ.. உங்களுக்கு பெரும் நன்றி.. https://t.co/9iQzgpOhYF

— Mohan G Kshatriyan (@mohandreamer) August 26, 2021