After popular stand-up comedian Manoj Prabakar was abused online for his comments on Tollywood actor Mahesh Babu, the Telugu Movie Artist Association (MAA) has now sent a notice to the Nadigar Sangam in Chennai, asking the film body to enquire and take appropriate action against the comedian.
[wp_ad_camp_1]
The letter comes in the wake of the vicious abuse that Manoj Prabakar has been facing for the past two days after a video of his, that was shot almost a year ago, surfaced on the Internet. In the video, the comedian can be seen making fun of Mahesh Babu for his movie Spyder and comparing him to Bollywood actor Katrina Kaif.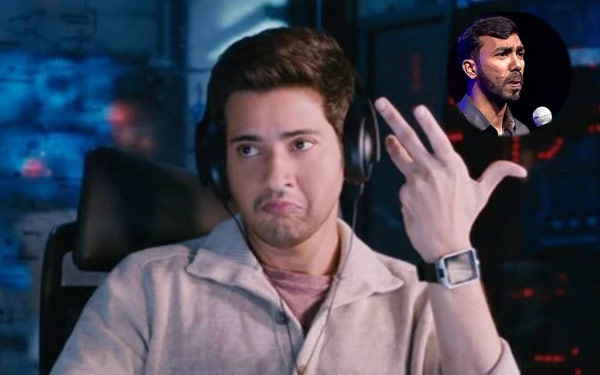 In the letter issued by MAA, the organisation has called the comments 'extremely derogatory', and suggested that it may create bad vibes with the Tamil film industry. "Though these are irresponsible comments of an individual, we fear that this will reflect to a certain extent on the esteemed Nadigar Sangam," the letter read.
While the letter alleges that the comments were made by Manoj Prabakar during an award function, the truth remains that the artist had performed the stand-up during a mock-award function organised by a comedy club in Chennai.
The letter further calls the Tamil industry the 'Banyan Tree of South Indian cinema' and requests the Nadigar Sangam to enquire into it and take action against the 'actor' to restore the 'beautiful' relationship between both the industries.
While the letter berates the comedian for his 'irresponsible' comments on the actor, it's unclear why MAA sent it to the Nadigar Sangam. Manoj Prabakar is a stand-up comedian and is neither an actor nor a member of the organisation. Therefore, Nadigar Sangam, as an organisation, has no accountability for the comedian's actions.
[wp_ad_camp_1]
In the video that has gone viral, Manoj compares Mahesh Babu to Bollywood actor Katrina Kaif. Manoj says that Mahesh Babu has a face similar to Katrina's, beautiful yet devoid of any expressions.
Manoj mocks the actor's choice to play the role of a hacker in Spyder and compares Mahesh Babu to Mark Zuckerberg, with a dig over the infamous Cambridge Analytica scam. He further jokes that when Mahesh Babu's personal WhatsApp account was hacked, all that could be found were emojis with a single expression.
The comments, for sure, didn't go down well with Mahesh Babu's self-proclaimed fans. Manoj has since been targeted with vile comments and personal attacks across his social media profiles.
In the apology video of Manoj Prabakar, he says that he has been receiving constant phone calls and text messages where they disturbing him and threatening. He says that those "bunch of people" also calling his family and friends.
[wp_ad_camp_1]
Though he apologized in this video lot of Facebook users thrashed him even this time. Check out the comments here :
What do you think on his apology ?? Let us know !!