Man Who Rejected Muslim Delivery Boy, Getting Thrashed For This Reason !! Check Out !!
Written by Dhiwaharan Published on Aug 01, 2019 | 22:35 PM IST | 129
Follow Us
Comments: 0
"I am hurt, but what can I do … we are poor people," said the Muslim delivery executive from food aggregator Zomato who is a key character in the raging debate on social media over bigotry. Faiyaz, a food delivery executive with Zomato, was assigned the task of completing an order placed by Amit Shukla, a resident of Jabalpur.
[wp_ad_camp_1]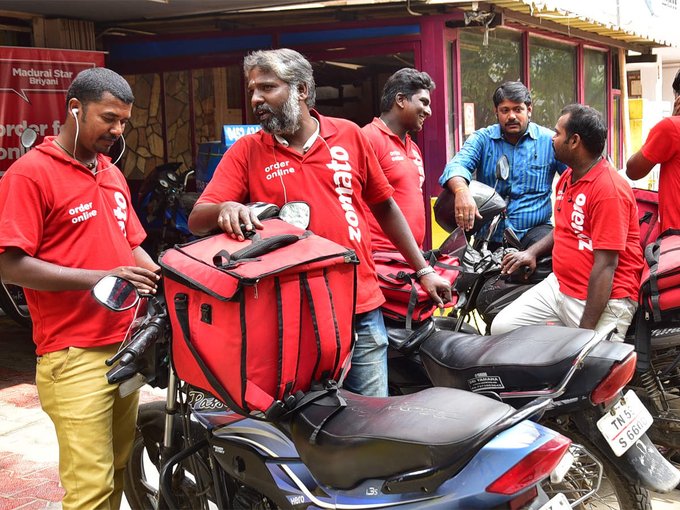 Online food delivery method, not only created highest number of job opportunities but also satisfies people who could not cook at home. Just receiving food at doorstep with a reduced price is a favourite part of a foodie's day. There are many online apps emerged to do this service and Zomato grabbed headlines for various reasons while doing this service. Now, on Tuesday night, Shukla tweeted about cancelling his order placed on Zomato as the designated rider was a "non-Hindu".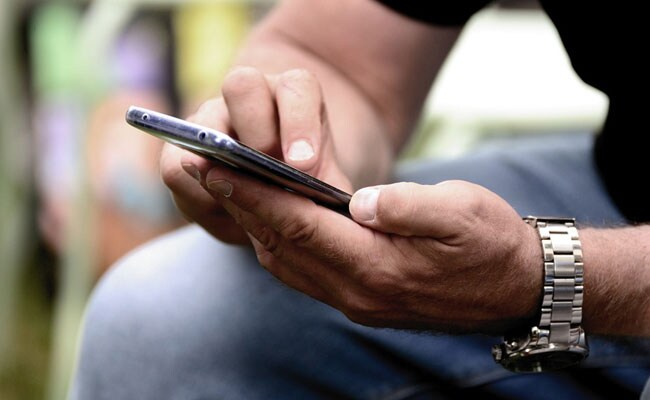 "Just cancelled an order on @ZomatoIN they allocated a non hindu rider for my food they said they can't change rider and can't refund on cancellation I said you can't force me to take a delivery I don't want don't refund just cancel," Shukla tweeted.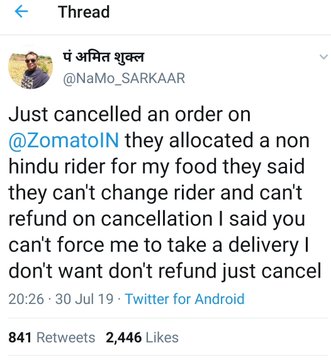 However, the company stood its ground and refused to change the delivery executive. "Food doesn't have a religion. It is a religion," the company tweeted in response to the customer's request for change of the rider.
Food doesn't have a religion. It is a religion. https://t.co/H8P5FlAw6y

— Zomato India (@ZomatoIN) July 31, 2019
Narrating the sequence of events, Faiyaz said, "I called the person who had placed the order to know the location of his house. But he said he had cancelled the order." Asked about the customer's refusal to take delivery from him, the Zomato executive admitted he is feeling hurt over whatever happened.
[wp_ad_camp_1]
Now it has been revealed that the user who cancelled the order because of a muslim delivery boy, has commented inappropriately in a Muslim woman's post. His comment got surfaced in twitter during 2013, that is 6 years ago. Netizens who dug the comment from his timeline, posted the screenshot of it only to troll him ruthlessly.
To a picture post of a Muslim woman, Amit Shukla wrote "well I will say you have grt boobs hope you like my comment"
Check out the screenshot here :
This screenshot is trending across internet which led online users to thrash Amith for his hypocritical statements. Check out some of the reactions here :
Can't take food delivered by Non Hindu guy, but can comment on Non Hindu woman's boobs!! pic.twitter.com/SSd0jqWEXF

— Cherry Dimple (@realshailimore) July 31, 2019
Someone make a Drake meme out of this.

No to non-Hindu delivery man

Yes to non-Hindu boobs. pic.twitter.com/wtc8OZRvGU

— Mystic Tamil (@Mystic_Tamil) July 31, 2019
Boobs has no religion plz

— Mask (@Mr_LoLwa) July 31, 2019
Hypocrisy to the core…bhakt hoga 🤣🤣🤣

— dr _chloroform😴👨‍🔬💉 (@sirfyou) July 31, 2019
Kudos to you for digging this up😂👏🙌

— Akshay Waghmare (@adeptwaghmare) July 31, 2019
[wp_ad_camp_1]
What if it was food delivery girl and not boy…Then..??

— enn gee ess (@nee_el) August 1, 2019
This is how mafia works.

— ViveK KunaL (@realvivekkunal) July 31, 2019
What do you think on the man's contradictory statements ?? Comment your views below !!