Man Who Married Twin Sisters Landed In Huge Trouble!!
Written by Dhiwaharan Published on Dec 05, 2022 | 18:57 PM IST | 85
Follow Us
Comments: 0
On Friday, various media portals reported about an incident where a man named Akluj marrying two sisters on the same event with the consent of both of them. As soon as the marriage event made the headlines, the groom landed in huge trouble as Police registered a case against him.
अकलूज तालुका माळशिरस येथे दोन जुळ्या बहिणींनी एकाच मुलाशी केला विवाह. कांदिवलीमधील उच्च शिक्षित पिंकी आणि रिंकी या जुळ्या बहिणी आहेत.#Solapur #Mumbai #Marriage #MaharashtraNews #News18Lokmat pic.twitter.com/XF2eAt9dcR

— News18Lokmat (@News18lokmat) December 3, 2022
The twin sisters reportedly decided to wed the same man as they couldn't imagine parting ways after marriage. Their family consented to the strange demand of the sisters and found a groom who agreed to marry both of them.
However, things didn't go as per their wish for the newlywed twin sisters and the groom. A non-cognizable offences case under IPC section 494 was booked against Atul for marrying the two sisters, Solapur Superintendent of Police Shirish Sardeshpande was quoted as saying by news agency.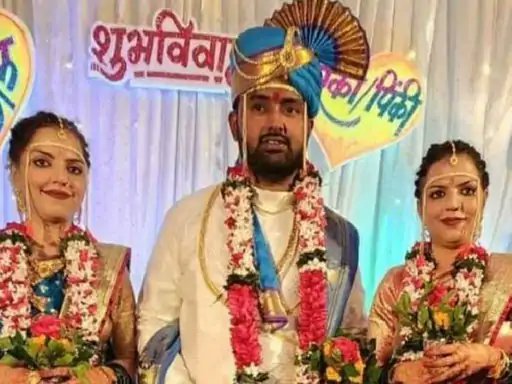 "Whoever having a husband or wife living, married in any case in which such marriage is void because of it's taking place during the life of such husband or wife, shall be punished with imprisonment of either description for a term which may extend to seven years, and shall also be liable to fine" says the section 494 of Indian Penal Code.
It is also notable that several netizens questioned the legal validity of Atul's marriage with sisters Pinky and Rinky.
Check out some of the reactions below :
494 cannot be applied unless the first wife is the complainant. This is the loophole used by Karunanidhi, Kumaraswamy etc to escape from punishment. Even in this case, the police will have egg on their faces.

— Raj🚩 (@Kshatriya05) December 4, 2022
What problem do you have with their marriage? Did they hurt anyone? All 3 seem happy

— Coffee Bhattāraka (@bytwocoffeee) December 4, 2022
Polygamy was normal for Hindus even till 1956. Anyways Maharashtra has an anti Hindu TMC Government led by Mamata Banerjee, so this is normal… https://t.co/BDaRIgAUqJ

— Āsurā (@iAsura_) December 4, 2022
Both his wives married him with free consent. If live-in relationships could be legalized, why not this? https://t.co/th6VmEmfrI

— Divya Kumar Soti (@DivyaSoti) December 4, 2022
Legally Police can't do anything until and unless one of the bride gives a police complaint

— Pracheesh (@babachd) December 4, 2022
Wait… Why only the man… Why not against the the twins ? https://t.co/VDtVwdqITz

— シューター神 (@MarksXman308) December 4, 2022
Fair enough. But why no case against those two girls? It was their decision too, right? @DeepikaBhardwaj, you've any light to throw here pls? https://t.co/XR4Xwoct9C

— Madhukar Pandey (@MadhukarPandey) December 4, 2022
"The girls were living with their mother after their father passed away a few days ago. Once when the two sisters and their mother fell ill, they used to go in Atul's car. During this time, Atul happened to come close to the two young women" an online media portal said.